VA scandal spotlights Obama's inaction
By Chris Stirewalt, ,
Published June 23, 2016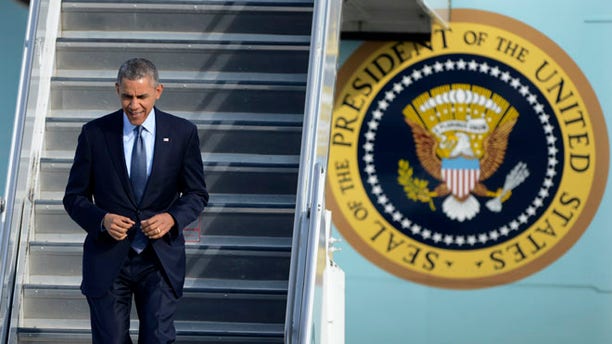 **Want FOX News First in your inbox every day? Sign up here.**
Buzz Cut:
• VA scandal spotlights Obama's inaction
• Dems could feel heat from ObamaCare rate hikes
• Liberals hound Hillary for specifics
• Power Play: Political pros from Bluegrass to the Frontier
• Mission accomplished
VA SCANDAL SPOTLIGHTS OBAMA'S INACTION
You pick: Benghazi, IRS, ObamaCare, the VA...President Obama's ineffectual leadership and mismanagement of the administration's scandals paints the same picture: a surprised, reactionary White House that didn't know, quick with rhetorical outrage and meek in response and accountability. The current scandal has understandably provoked an outcry for swift and decisive action by the president over the mistreatment of veterans at VA hospitals. Don't hold your breath. The studious go-slow Obama approach is once again onscreen. For Republicans looking to gain control of the Senate the president's inaction paints a perfect target on Democrats, especially vulnerable incumbent Senators. Truly, the GOP couldn't ask for a better scenario to drive home its point that government is too big and poorly run by this group. What Speaker John Boehner calls "systemic failure" is becoming a common phrase heard from Republicans. A point they will no doubt be driving home when it comes to the midterm contests.
["President Obama, the most powerful man in the free world, always seems to be the last to know about what's going on in his own administration." – Senate Minority Leader Mitch McConnell on the Senate floor Thursday.]
Kelly File: yells for help unanswered -  A year after President Obama signed legislation from Sen. Patty Murray, D-Wash., aimed at curtailing false reporting at the nation's VA hospitals, Rep. Jeff Miller, R-Fla., wrote VA Affairs head Eric Shinseki asking him to brief a House Panel on the agency's plans to improve medical appointment wait times and scheduling. During a Thursday appearance on the "Kelly File" Miller expressed his outrage over the VA head issuing a statement saying the allegations of misconduct just surfaced over the past several weeks. Miller told Megyn Kelly, "This has been going on for years." Miller went on to say, "this secretary has been in office now for well over five years and has had an opportunity to make a difference and hasn't done it." When pressed by Kelly as to whether he would call for Shinseki's resignation Miller said, "removing him may be a one-day story but you'll have veterans not receiving the health care they have earned." Watch the full interview courtesy of the "Kelly File" here.
Shinseki storm scatters Dems - As more voices call for Shinseki to resign, the issue is now front and center on the campaign trail as Democrats try to distance themselves from the VA chief and scandal, and Republicans pin Democratic candidates to the controversy. The Hill: "Democrat Alison Lundergan Grimes, who is challenging Senate GOP Leader Mitch McConnell (R-Ky.)… called Thursday for Shinseki's head…Two endangered Senate Democratic incumbents, meanwhile, stood behind Shinseki, "[T]here must be a full investigation to immediately determine the extent of the problem and hold accountable those responsible, no matter who it is," said Sen. Kay Hagan (D-N.C.). Her GOP opponent, state Rep. Thom Tillis, called for Shinseki's resignation last week and has sought to make it an issue in the race…Sen. Mary Landrieu (D-La.) may have some room on the issue as her most prominent Republican opponent, Rep. Bill Cassidy, hasn't explicitly called for Shinseki to resign either. 'I don't think he should resign, he should fix the problem immediately,' Landrieu told The Hill just off the Senate floor."
[New Today at Fox News Opinion: Former Pentagon Spokesman J.D. Gordon argues how prisoners at Guantanamo Bay, Cuba are treated better than our nation's veterans.]
Fox News Sunday: Sorting through the VA scandal - Host Chris Wallace will discuss the allegations of shady record keeping at VA hospitals across the country with Derek Bennett, of Iraq and Afghanistan Veterans of America, and Dr. Margaret Moxness, a VA hospital whistleblower. And as fighting escalates in Ukraine ahead of Sunday's election, Sen. Kelly Ayotte, R-N.H., will join Wallace live from Kiev. "Fox News Sunday with Chris Wallace" airs at 2 p.m. and 6 p.m. ET on Fox News. Check local listings for air times in your area.
UNDER FIRE, IRS WALKS BACK CONTROVERSIAL RULE
A year after the IRS proposed new regulations that would limit the activities of political groups who oppose to the president's agenda, the agency is pulling back.  Fox News: "The new rules have been in the works ever since the IRS came under fire for its targeting of Tea Party and other conservative groups. Republicans, as well as some on the left, worried the new rules would only exacerbate the kind of targeting that stonewalled Tea Party groups in the first place…At issue were new rules that would prohibit so-called 501(c)(4) groups from counting 'candidate-related political activity' and other political work as activities that qualify them to be tax-exempt 'social welfare' organizations. Critics of the proposal warned that this would effectively force many grassroots organizations to shut down. In a statement on Thursday, the IRS said it received a record 150,000 written comments on the proposed regulation."
DEMS COULD FEEL HEAT FROM OBAMACARE RATE HIKES
The first summer of ObamaCare looks long and hot for vulnerable Democrats as states prepare to release 2015 premium rates. A new survey from the Hill suggests the GOP could stand to benefit nearly every week this summer as state insurance release data pointing to rate hikes under the president's health law. House Democrats claim there is "no basis for the dire predictions that health insurance premiums will skyrocket in 2015." We don't have long to wait and see. Next month Democrats in Colorado and Louisiana will be biting their nails as those competitive midterm states reveal their rates.
[KUTV shares how a first time dad, seeking coverage for his child via ObamaCare, had his insurance cancelled the same day he signed up, but only found out about weeks later.]
WITH YOUR SECOND CUP OF COFFEE...
On Monday Americans will honor those who have made the ultimate sacrifice for their country. Memorial Day, as we know it today began as Decoration Day to honor the fallen during the Civil War. The first Decoration Day was celebrated on May 30, 1868 when then Ohio congressman and future president James Garfield addressed a gathering at Arlington National Cemetery saying, "Now consider this silent assembly of the dead. What does it represent? Nay, rather, what does it not represent? It is an epitome of the war. Here are sheaves reaped in the harvest of death, from every battlefield of Virginia. If each grave had a voice to tell us what its silent tenant last saw and heard on earth, we might stand, with uncovered heads, and hear the whole story of the war." Read the full address here.
Got a TIP from the RIGHT or LEFT? Email FoxNewsFirst@FOXNEWS.COM
POLL CHECK
Real Clear Politics Averages
Obama Job Approval: Approve – 43.9 percent/Disapprove – 51.3 percent
Direction of Country: Right Direction – 28.4  percent/Wrong Track – 63.3 percent
Generic Congressional Ballot:  Democrats – 42.8 percent/Republicans 42.2 percent
LIBERALS HOUND HILLARY FOR SPECIFICS
Democratic 2016 frontrunner Hillary Clinton is apparently being pressured to fess up on issues dear to the party's left wing. WSJ: "Liberal groups say Hillary Clinton is a blank slate when it comes to certain policies and are pressing her to side with them on the Keystone XL pipeline, deportations, financial regulation and other matters… On Wednesday, a collection of 30 environmental groups sent Mrs. Clinton a letter asking her to oppose the Keystone XL project…Immigration groups angry about the Obama administration's deportation policies are planning to shadow Mrs. Clinton's public events this summer, hoping to get her to commit to a policy of scaled-back deportations of illegal immigrants... she also is likely to hear from Democrats who want her to commit to tough enforcement of lawbreaking on Wall Street and in the financial services industry… 'She hasn't really spoken yet on economic populism or issues of corporate power. So thats really the big, unchecked box,' said Adam Green, co-founder of the Progressive Change Campaign Committee."
Populists wail for Warren run - The Hill: "Sen. Elizabeth Warren (D-Mass.) received a standing ovation at a progressive conference in Washington on Thursday, as the left continues to urge her to run for president in 2016. 'Run, Elizabeth, run!' they chanted, as one supporter asked her whether she'd launch a presidential campaign. 'I appreciate the thought,' Warren told the crowd, smiling. 'I am not running for president.'''
NO VIVA LAS VEGAS FOR GOP CONVENTION
Las Vegas withdrew its bid Thursday to host the 2016 Republican National Convention citing facility problems and scheduling issues. Cincinnati also backed out. That leaves Cleveland, Denver, Kansas City, Mo., along with Dallas which is believed to be leading contender to host the GOP confab given to the city's strong ties to the Bush family.
GRIMES STILL NOT QUACKING ON OBAMACARE VOTE
How toxic is ObamaCare for vulnerable southern Democrats? Even after being called out by the AP Thursday for dodging the question, Kentucky Democratic Senate candidate Allison Lundergan Grimes is continuing to duck on whether or not she would have voted for President Obama's signature health law. When pressed by HuffPost, Grimes insisted, "If I had been in the Senate, it would have been a different law."
POWER PLAY:POLITICAL PROS FROM BLUEGRASS TO THE FRONTIER
The Senate races in Kentucky and Alaska are the agenda for Fox News Contributor Julie Roginsky and FPI Strategies' Lauren Zelt. A contentious primary challenge in the Bluegrass State did not happen this week as  Senate Minority Leader Mitch McConnell won comfortably  (60%-35%) over Tea Party challenger Matt Bevin. Think the general will be close? These predictions may surprise you. Watch here. In Alaska, former Alaska Attorney General and veteran Marine Corps officer Dan Sullivan, Lt. Gov. Meade Treadwell and Tea Party candidate Joe Miller must battle until August to secure the GOP nomination. Will any of these candidates emerge to unseat incumbent Sen. Mark Begich, D-Alaska?  There is no consensus on this one--watch the bold predictions here.
MCDANIEL NOT CLEARED IN SUPPORTERS MISCONDUCT
Top Mississippi law enforcement officials are pushing back on claims by Sen. Thad Cochran's, R-Miss., primary challenger, state Sen. Chris McDaniel that he did not have a connection with a supporter who posted photos from the nursing-home room of Cochran's incapacitated wife. While McDaniel's has seized on local reports saying Madison County District Attorney Michael Guest does not believe the state senator had any connection to the situation, Guest told WaPo Monday McDaniel has not been cleared in the on-going investigation.  Guest says he will present the findings to a grand jury in the coming days and they "will determine against whom indictments should be returned."  The vice chairman of the Mississippi Tea Party Mark Mayfield has been arrested along with two other men for conspiring with McDaniel supporter Clayton Kelly to photograph Cochran's bedridden wife, The [Jackson, Miss.] Clarion-Ledger reports. This comes as the Cochran camp continues to hammer McDaniel over what they say are inconsistent answers the McDaniel campaign gave following Kelly's arrest last Friday.
[New On Fox News Radio - The Balance of Power: Is this America's Nastiest Primary? Check out the podcast.]
ROMNEY MAKES HAWKEYE RETURN FOR ERNST
Former Gov. Mitt Romney, R-Mass., will return to Iowa for the first time since his 2012 presidential bid to pitch for Republican Senate hopeful Joni Ernst. Romney will headline two campaign stops May 30 ahead of the June 3 primary. "Her commitment to the values that were passed on to her as a girl on a Montgomery County farm make it clear to me that she is the very best Iowa has to offer," Romney said in a statement.
REID PAC BLASTS BROWN ON ENERGY
Sen. Harry Reid's Senate Majority PAC is putting $350,000 into attacking New Hampshire Republican Senate contender Scott Brown for reportedly lobbying against a recent energy efficiency bill backed by Sens. Jeanne Shaheen, D-N.H., and Rob Portman, R-Ohio.  From the ad: "Scott Brown lobbied Republican leaders to kill the bill, hurting Shaheen and helping himself gain another Senate seat."
Brown touts New Hampshire roots - Scott Brown's campaign released an ad Thursday playing up his ties to New Hampshire's seacoast.  The ad features pictures of his childhood and shots of his parents' Portsmouth, N.H., home with Brown saying, "I've been a homeowner in Rye [N.H.] for over 20 years."
WARREN WADES INTO OREGON RACE
Sen. Jeff Merkley, D-Ore., is looking to score points with Oregon's progressives when Sen. Elizabeth Warren, D-Mass., stumps for him Wednesday in Portland. Warren is likely to be a fixture on the campaign trail heading into November, having raised over a million dollars for 22 candidates this cycle, including embattled Sen. Al Franken, D-Minn.
Merkley doubles down on Wehby - Team Merkley has hired Jamal Raad as its spokesman. The news comes days after a report that the Oregon Democratic Party, where Raad served as spokesman, was the originator of opposition research that sought to portray Republican Sen. candidate Monica Wehby as a "stalker."
[Strassel: "Dr. Wehby is… Democrats' worst nightmare. A nationally recognized pediatric neurosurgeon who was on the board of the American Medical Association, she got into this race to fight ObamaCare. She's a policy wonk, able to run rings around Oregon's junior senator, especially on health-care reform. She's pro-choice (personally pro-life) and supports gay marriage and medical marijuana -- so the left can't hit her with the social-issue agenda. She's a fiscal conservative and a tort reformer -- positions that hold appeal even among Oregon's more liberal electorate… If Monica Wehby is whackadoodle, she's hidden it well for 30 years from a dozen schools and hospitals, dozens more boards and organizations, and thousands of parents who credit her with helping their kids. Her challenge is to embrace her history and keep the debate on the policy reforms voters care about. Because that's the last thing Democrats want."]
UNIONS LAMBASTE LAND
The Service Employees International Union is putting $300,000 behind an ad slamming Republican Terri Lynn Land. The ad blasts Land for receiving support from the Koch brothers and claims she would cut access for women's preventive healthcare.
HAGAN SCORES ENVIRO SUPPORT
Despite her public backing of the Keystone XL pipeline, the League of Conservation Voters Action Fund is throwing its support behind Sen. Kay Hagan's, D-N.C., re-election bid. Though Hagan has departed from her Democratic colleagues on the oil sands pipeline's construction, she supports other aspects of the Democratic climate change agenda. "Senator Kay Hagan is committed to protecting public health and the environment for future generations, including supporting commonsense solutions to tackle climate disruption," Gene Karpinski, president of the action said in a statement.
PICK SIX: TRASH TALK WON'T WORK FOR OREGON DEMS
Republicans can capture the Senate with a net gain of six seats this cycle. Which six Democrat-held Senate seats are the most vulnerable in November? The current consensus among Fox News First readers: Arkansas, Montana, Louisiana, South Dakota, North Carolina and West Virginia. Reader Jeff Tracy adds Oregon to the list saying, "Dr. Monica Wehby did a great job in the [Republican] primary. Dems tried to trash her at the end, backfired big time. I think Oregon will change Senators and keep Dr. Wehby." Did Tuesday's primary results make you reconsider any races? We want to hear from you.
Share your top six picks. Email them – just your top six, please – to FOXNEWSFIRST@FOXNEWS.COM or tweet @cstirewalt.
#mediabuzz: A STINGING RESPONSE
Howard Kurtz has an exclusive interview with actress and environmental activist Mariel Hemingway to discuss how she and Ed Begley Jr. dealt with an undercover video sting featuring an encounter with a fake Middle East oilman that was orchestrated by conservative filmmaker James O'Keefe. Author Jennifer Senior will share her thoughts on N.Y. tabloids labeling the city's first lady Chirlane McCray a "bad mom". Howie will also host a panel discussion of the media's treatment of the VA scandal with David Frum, Craig Crawford, and Lauren Ashburn. Watch "#mediabuzz" Sunday at 11 a.m. ET, with a second airing at 5 p.m.
THE FIRST RULE OF SPECIAL OPS
U.S. Navy Admiral William H. McRaven took the opportunity during his commencement address at the University of Texas at Austin to share his secret of success.  He told the graduates, "If you want to change the world, start out by making your bed." McRaven, who led the U.S. Special Operations Command that resulted in the capture and death of Osama Bin Laden added, "By the end of the day, that one task completed will have turned into many tasks completed. Making your bed will also reinforce the fact that little things in life matter." Watch the speech courtesy of WJBK.
MISSION ACCOMPLISHED
He heard the good news that he was going home back in March and hatched his plan. It had to be meticulously crafted and expertly executed, secrecy was a must but his training made him well-suited to the task. This week U.S. Army Engineer Brian Gardner was ready, hiding out in an Olive Garden kitchen, pretending to be a waiter. He was almost discovered at the last moment. But then the time came. Gardner headed out to the table with a drink order and achieved complete surprise. His mom, Tammy Coats was overwhelmed with joy at seeing her son, who had been serving in Afghanistan for the past nine months (watch here). As KMIZ reports, "It wasn't just his family that was excited to see him.  Strangers came over to give their well wishes and thank him too. Tammy's husband, Brian's stepdad, is also currently serving in Afghanistan.  The family says he should be back in January of 2015."
AND NOW, A WORD FROM CHARLES…
"These problems are systemic and chronic, and they are from the bureaucrat inner structure of a government-run system.  Why wouldn't you contemplate voucherizing and privatizing it" –Charles Krauthammer, discussing the Veterans Affairs scandal on "Special Report with Bret Baier."
Chris Stirewalt is digital politics editor for Fox News. Want FOX News First in your inbox every day? Sign up here.
https://www.foxnews.com/politics/va-scandal-spotlights-obamas-inaction