U.S. to Give Pakistan $2B in New Military Aid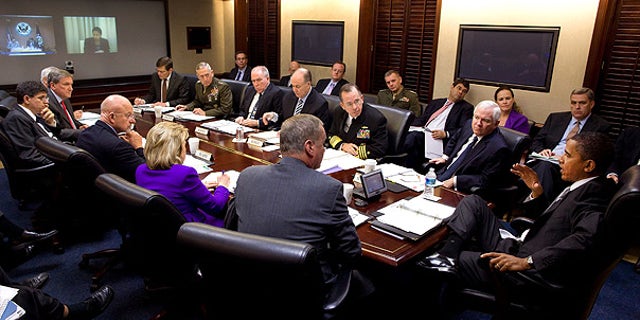 WASHINGTON -- The Obama administration is laying out a new multiyear, multibillion-dollar military aid package for Pakistan as it presses the Islamabad government to step up the fight against extremists there and in neighboring Afghanistan, U.S. officials say.
Secretary of State Hillary Rodham Clinton and Pakistani Foreign Minister Shah Mahmood Qureshi were to unveil the plan Friday at the end of the latest round of high-level U.S.-Pakistani strategic talks here, the officials said.
The money will be provided over the next five years under the State Department's Foreign Military Financing program that funds other countries' purchases of U.S.-made arms, ammunition and accessories, the officials said. Precise details of what Pakistan will receive under the program were still being determined, they said.
The officials would speak only on condition of anonymity ahead of the announcement, which the administration hoped would reassure Pakistan of the longterm U.S. commitment to Pakistan's military needs and help it bolster its efforts to go after Taliban and Al Qaeda affiliates on its territory.
The new aid package will not benefit Pakistani military units suspected of human rights abuses. The Obama administration already has cut off aid to some Pakistani units over concerns they may have been involved in abuses that include extrajudicial killings and torture, a senior U.S. official said late Thursday.
The official said aid to a handful of Pakistani units believed to have committed, encouraged or tolerated abuses were suspended under 1997 legislation championed by Democratic Sen. Patrick Leahy. The so-called Leahy Amendment bars U.S. military assistance from going to foreign armed forces suspected of committing atrocities.
"In accordance with the Leahy Amendment, we have withheld assistance from a small number of units linked to gross human rights violations," the official said. "At the same time, we have encouraged Pakistan to improve its human rights training, and it is taking steps in that direction."
The official spoke on condition of anonymity because he was not authorized to speak publicly on the matter.
It was not immediately clear when the decision to withhold the assistance was first taken or exactly how many Pakistani military units were affected.
Halting assistance to certain units will not affect broader U.S. support for Pakistan's military, which is considered key to counterterrorism efforts in the region.
The new military aid replaces a similar but less valuable package that began in 2005 and expired on Oct. 1 that the Pakistanis have been keen to renew. It also complements $7.5 billion in civilian assistance the administration has already committed to Pakistan over five years, some of which has been diverted to help the country deal with devastating floods.
Although the exact terms of the deal are still being negotiated, the goal is to ramp up U.S. military aid to Pakistan incrementally over the five-year period, from $300 million next year, to $350 million in 2012 until the $2 billion is met, officials said. The previous agreement was for about $500 million less, they said.
State Department officials have declined to discuss the specifics of the new program although they have acknowledged it is being negotiated. On Tuesday, Frank Ruggiero, the U.S. deputy special representative for Afghanistan and Pakistan, told reporters there was a fresh "need for a multiyear planning process for Pakistani security assistance."
This week's talks in Washington -- the third round of the U.S.-Pakistan Strategic Dialogue -- come as the countries try to ease tensions over American military incursions across the border from Afghanistan and allegations that Islamabad is not doing enough to target Taliban militants.
The U.S. has signaled that its patience is running out with Islamabad's reluctance to fight insurgents, a stance that has not changed despite billions of dollars in American aid.
During the last round in Islamabad in July, Clinton announced more than $500 million in aid for a variety of projects, including renovating hospitals, improving water distribution and upgrading hydroelectric dams. The U.S. had to re-examine its plans after the meeting, however, after Pakistan was hit by the worst floods in the country's history.