Trump kicks off G-7 summit with dings at Canada, Europe over trade policies
By Adam Shaw, ,
Published June 08, 2018
President Trump came out swinging as he entered the G-7 summit in Quebec on Friday, vowing to fight "unfair" trade policies despite terse warnings from U.S. allies over his administration's tough new tariffs.
Trump was saluted by Canadian Mounties as he arrived at a military base in Quebec Friday afternoon -- but it is unclear if greetings from G-7 leaders will be as warm.
The Trump administration recently imposed a 25 percent tariff on imported steel and 10 percent on aluminum from Canada, Mexico and the European Union.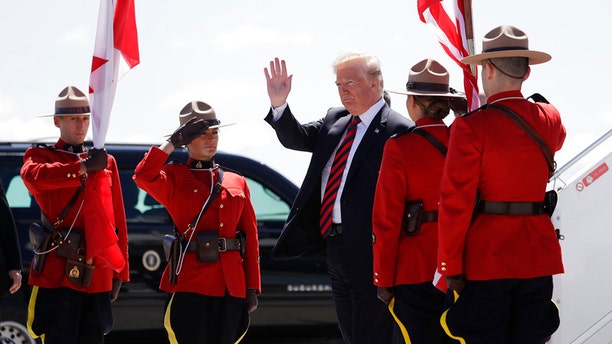 The move was met with a chorus of condemnation from leaders of the affected countries, tensions likely to carry into the G-7 summit. But Trump, for whom trade has long been an issue close to his heart, has appeared to relish the battle, particularly with left-wing Canadian Prime Minister Justin Trudeau -- who has repeatedly criticized the tariffs in recent days. Trump says American workers have long suffered from bad trade deals, and that he plans to fix it.
"Canada charges the U.S. a 270% tariff on Dairy Products! They didn't tell you that, did they? Not fair to our farmers!" Trump tweeted Friday morning.
Trump, before boarding Air Force One to fly to Canada, told reporters that things must change and floated the possibility again of pulling out of the North American Free Trade Agreement (NAFTA).
"We are going to deal with the unfair trade practices. If you look what Canada, Mexico, the European Union, what all of them have been doing to us for many decades, we have to change it," he said. "And they understand it's going to happen."
"If we're unable to make a deal, we'll terminate NAFTA, we'll have a better deal," he said. "If we're unable to make a deal, we will be better off...we're not going to live with the deals the way they are."
But he added: "That being said, I think we'll very easily make a deal."
French President Emmanuel Macron, who repeatedly embraced Trump in a visit last month to Washington, took to the president's favored platform to take a jab at Trump on Thursday.
"The American President may not mind being isolated, but neither do we mind signing a 6 country agreement if need be. Because these 6 countries represent values, they represent an economic market which has the weight of history behind it and which is now a true international force."
But Trump brushed off the barb and threat of a six-country deal.
"Please tell Prime Minister Trudeau and President Macron that they are charging the U.S. massive tariffs and create non-monetary barriers. The EU trade surplus with the U.S. is $151 Billion, and Canada keeps our farmers and others out," he tweeted.
"Look forward to seeing them tomorrow," he added. He is expected to have one-on-one meetings with Trudeau and Macron as well as other G-7 leaders.
While the tense stand-off would typically be seen as a possible diplomatic crisis in prior administrations, Trump has embraced sharp-elbowed approaches and appears more comfortable in such scraps.
He upset other world leaders with moves such as the travel ban and the withdrawal of the U.S. from the Paris climate deal and the Iran nuclear deal. International opinion appears to have had little effect on the "America First" president.
On Friday, he remarked that Russia, which was kicked out of the now Group of Seven in 2014, should be reinstated.
"Russia should be in this meeting. Whether you like it or not and it may not be politically correct, but we have a world to run. G-7 threw Russia out. They should let Russia come back in," he said.
Senate Minority Leader Chuck Schumer, D-N.Y., said in response that Trump is turning U.S. foreign policy into an "international joke."
TRUMP CALLS FOR RUSSIA TO BE REINSTATED TO G7 
CNN reported that, in a recent phone call between Trump and Trudeau, Trudeau objected to Trump justifying the tariffs as a "national security" issue. Trump reportedly quipped: "Didn't you guys burn down the White House?" in reference to the War of 1812.
The White House was set on fire by British forces in 1814 during the War of 1812 with the United States. The U.S. attempted to invade British colonies, in territory that is today Canada.
This will be Trump's second G-7. The member countries are: Canada, France, Italy, Japan, Germany, the United States and Britain. The European Union also attends.
Fox News' Brooke Singman and The Associated Press contributed to this report.
https://www.foxnews.com/politics/trump-kicks-off-g-7-summit-with-dings-at-canada-europe-over-trade-policies