Thousands of Venezuelans Have Gotten Political Asylum in the U.S.
By ,
Published December 09, 2016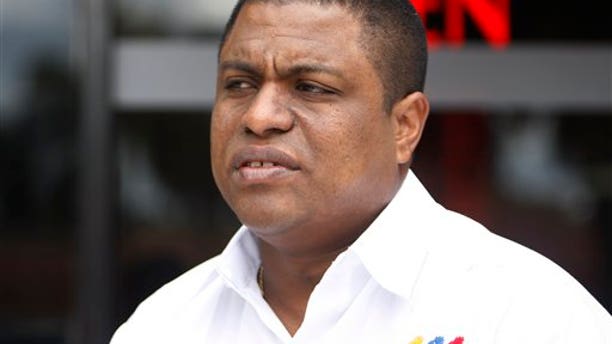 When two men dressed in black made Oliver Gaviria stop his car on a Caracas highway and held a gun to his head, accusing him of being a traitor to President Hugo Chavez's government, the businessman knew he had to leave his  homeland.
"They told me they knew that I was against the regime and that I was a traitor, and because of that I'd pay with my life," Gaviria said about the 2007 incident.
Gaviria headed to Miami and sought political asylum.
The 40-year-old is among thousands of Venezuelans who have left their homeland over the last decade, some of them citing political persecution and saying they have been targeted for their opposition to Chavez's government.
At least 4,500 political asylum requests by Venezuelans have been granted between 2000 and 2010, according to the U.S. Department of Homeland Security. The number of Venezuelans granted asylum could be higher because a single request can involve multiple people or an entire family.
That's about five times more than the previous decade.
In Latin America, the number of Venezuelan asylum seekers was surpassed only by those from neighboring Colombia, which continues to struggle with a decades-long armed conflict involving Latin America's largest rebel army.
Officials at Venezuela's embassy in Washington declined to comment about the issue.
Chavez has repeatedly denied targeting his opponents. Chavez argues that human rights are fully respected in the country, and that some government foes have faced charges because they committed crimes.
Those who have sought asylum in United States are a small portion of a Venezuelan population that has grown steadily, from about 91,000 people in 2000 to about 215,000 in 2010, according to U.S. Census figures.
The new arrivals from Venezuela tend to be young professionals and business leaders, and many have moved into South Florida suburbs such as Weston, Doral, Pembroke Pines and Aventura. They have increasingly started cafes and restaurants that serve Venezuelan food such as arepas — corn cakes served with meat, chicken, cheese or other fillings.
Some of the Venezuelans who have moved to Florida say they left to escape rampant crime and a difficult economy.
Others who have sought asylum say they were forced to leave their homeland, and that they have no plans to return as long as Chavez remains in power.
Some government opponents have faced criminal charges that they say are trumped up, such as corruption charges that led former presidential candidate Manuel Rosales to seek asylum in Peru.
Critics accuse Chavez of using prosecutors and judges to crack down on dissent. Chavez denies it, saying the country's prosecutors are fully independent.
Eduardo Gamarra, a Latin American politics expert at Florida International University, said there are increasing concerns that Chavez is using the judicial system to bring politically motivated charges in order to "silence and banish potential government opponents."
Juan Fernandez, a former executive of Venezuela's state-run oil company, fled the South American nation in 2004 after he helped lead a two-month strike aimed at forcing Chavez's ouster.
Venezuelan authorities have sought to prosecute leaders of the strike, which severely slowed the economy.
Fernandez said that in addition to facing rebellion and conspiracy charges, he was threatened and had gone into hiding fearing for his life. When he left, Fernandez expected to return to Caracas before long.
But Chavez survived a 2004 recall referendum and was re-elected in 2006. The president's repeated victories have dashed Fernandez's hopes. He said if he were to return, he would be arrested.
"You feel anguish because you can't return to your home, especially when you feel persecuted," said Fernandez, who lived in Spain, Germany and the Caribbean island of Curacao before settling in Miami. "I can't go home to see my family, my friends, and challenge Chavez's power."
This is based on a story by The Associated Press.
Follow us on twitter.com/foxnewslatino
Like us at facebook.com/foxnewslatino
https://www.foxnews.com/politics/thousands-of-venezuelans-have-gotten-political-asylum-in-the-u-s