Taking Page From GOP Playbook, Obama Orders Review of Federal Regulations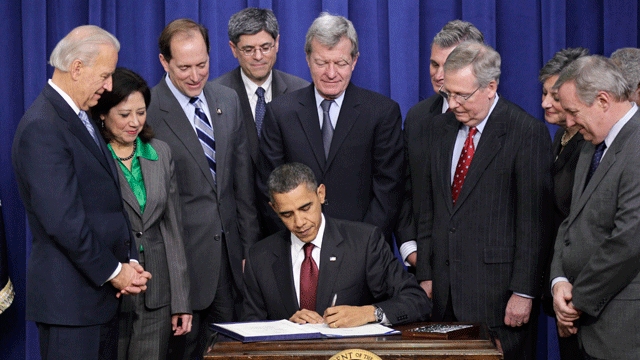 WASHINGTON— Taking a page from the Republican playbook, President Obama is ordering a review of federal regulations in an effort designed to eliminate rules that stifle job creation and strangle economic growth.
Obama planned to sign an executive order Tuesday telling federal agencies to look for rules that place an unreasonable burden on businesses.
In an opinion article published in The Wall Street Journal, Obama said he wants his administration to strike a balance between protecting the public and promoting economic growth.
The move comes as the Obama administration works to repair its relationship with corporate America, which has been reluctant to make investments and hire more people, in part because of uncertainty over government regulations and tax policies. Companies are sitting on nearly $2 trillion in cash and liquid assets, the most since World War II.
Following his party's sweeping defeats in November's midterm elections, Obama acknowledged that he needed to better manage his relationship with the private sector.
Since then, the White House has steadily courted support from the business community: Obama held a five-hour meeting with CEOs in December; he named William Daley, a business executive, as his new chief of staff; and next month he'll speak at the Chamber of Commerce, a trade group that has battled his top policy initiatives on health care and financial regulation.
The Chamber welcomed Obama's new regulatory review and called on further action from Congress.
"While a positive first step, a robust and globally competitive economy requires fundamental reform of our broken regulatory system," the Chamber said in a statement. "Congress should reclaim some of the authority it has delegated to the agencies and implement effective checks and balances on agency power."
House Majority Leader Eric Cantor, who released a similar proposal in his "No Cost Jobs Plan," applauded the president's move.
"Today's executive order from President Obama shows that he heard the same message I did in the last election -- that Americans are sick and tired of Washington's excessive overreach and overspending," he said in a statement.
"While I applaud his efforts on this new executive order today, we must go further," he added. "That's why I'm relaunching the 'No Cost Jobs Plan' today -- a plan we presented to the president and his party last year. Interestingly, though he and his administration didn't embrace it last year, we have noticed pieces of the plan being incorporated by the president, including trade agreements and rolling back barriers to job creation found in the regulatory system."
The chief Republican investigator, Rep. Darrell Issa, also took similar action. Issa, chairman of the House Oversight and Government Reform Committee, wrote 150 trade associations, companies and think tanks last month seeking to identify regulations that businesses believe hurt job creation -- a move that came under withering attack from liberals who said Republicans were giving the store away to businesses.
Issa praised Obama's effort.
"I applaud President Obama for joining what must be an effort that stretches beyond ideological entrenchments to identify the regulatory impediments that have prevented real and sustained job growth in the private sector," Issa said in a statement, adding that he will share the insights gained from his review with the president. "It's in the interest of every American that we create a modern, regulatory environment that fosters economic growth and makes U.S. companies globally competitive."
But Public Citizen, a Congress watchdog that criticized Issa's move, also criticized the president's review, calling it "misguided."
"This is the wrong way to think about regulations, and it is the wrong direction for the American people," Robert Weissman, president of the group, said in a statement. "Markets cannot function without proper regulation. That means businesses cannot function without proper regulation. We do not need a 'balance' between regulation and the free market. We need effective regulations that foster the right types of markets."
The review, Obama wrote, tells agencies to look for outdated regulations that make the U.S. economy less competitive.
"It's a review that will help bring order to regulations that have become a patchwork of overlapping rules, the result of tinkering by administrations and legislators of both parties and the influence of special interests in Washington over decades," Obama wrote.
Federal agencies also won't shy away from addressing gaps in regulations, such as new safety rules for infant formula and procedures that stop preventable infections from spreading in hospitals, Obama wrote.
"We are also making it our mission to root out regulations that conflict, that are not worth the cost, or that are just plain dumb," the president wrote.
Other regulations, such as the Clean Air Act or child labor laws, are necessary to prevent abuse, he wrote, and "strengthen our country without unduly interfering with the pursuit of progress and the growth of our economy," he wrote.
The Associated Press contributed to this report.