Reid Sets Showdown For Controversial Obama Nominee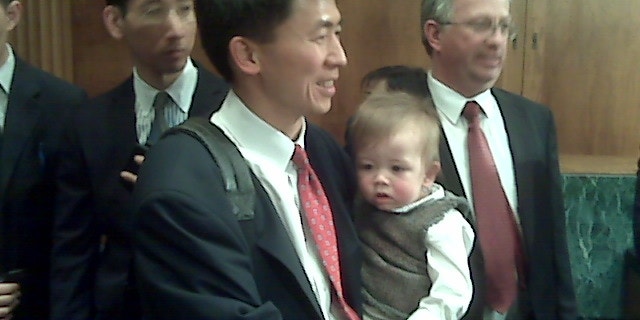 The stalled nomination of Goodwin Liu for a seat on the Ninth Circuit U.S. Court of Appeals moved into high gear late Tuesday when Senate Majority Leader Harry Reid, D-Nev., announced that a vote on the controversial pick will held by week's end.
Liu, a University of California-Berkeley law professor, passed through the Senate Judiciary Committee on a party line vote in April. Critics say he's an activist and argue his legal views are too liberal to merit a lifetime appointment as a federal judge.
Supporters point to Liu's background as a Yale Law School graduate and Rhodes Scholar as proof of his intellectual prowess. They also suspect opposition stems from Liu's age--he's only 40 years old, meaning a long tenure as federal judge--and potential as a future Supreme Court nominee.
In a sign of how hard Democrats are pushing for Liu's confirmation, Reid has invited the media to take pictures of a meeting on Capitol Hill Wednesday with Liu, along with other senators and White House Counsel Bob Bauer. This treatment is usually reserved for Supreme Court nominees.
Since the start of the year, lawmakers have made a concerted effort to move on a backlog of judicial nominations. In his most recent annual report on the federal judiciary, Supreme Court Chief Justice John Roberts all but begged for the political branches to work through their differences and get judges seated.
So far those votes have largely been on non-controversial nominees. Liu has been the most controversial of President Obama's judicial selections, aside from his picks for the Supreme Court. Liu passed through a divided Senate Judiciary Committee in the last Congress but never made it to a vote on the Senate floor. This fact was noted by Republicans in March, when Liu, re-nominated by Obama, made a second appearance before the committee.
"I am concerned about his understanding or appreciation of the proper role of a judge in our system of checks and balances," Ranking Member Charles Grassley, R-Iowa, said at the hearing.
Another issue repeatedly raised by Republicans was Liu's scathing critique of then-Judge Samuel Alito. Liu's contrition about his testimony during Alito's high court confirmation hearing apparently didn't convince the committee's Republicans to vote for him.
Senator Dianne Feinstein, D-Calif., said Liu hadn't gotten a fair shake and bemoaned the fact that some of her Republican colleagues hadn't taken the opportunity to meet with the nominee. Senator Tom Coburn, R-Okla., did meet with Liu and still voted against him.
Liu has been an associate dean at Berkeley since 2008. He also worked on the Obama transition team.
"I remind my Republican colleagues once again that public servants are not political pawns," Reid said on the floor late Tuesday, announcing the planned vote. "Goodwin Liu has dedicated his life to justice and fairness. As we consider his nomination, we owe someone of his caliber those same considerations."
Fox News Senior Producer Trish Turner contributed to this report.