Rangel to Temporarily Step Aside Relinquish Ways and Means Gavel
By Chad Pergram, ,
Published December 23, 2015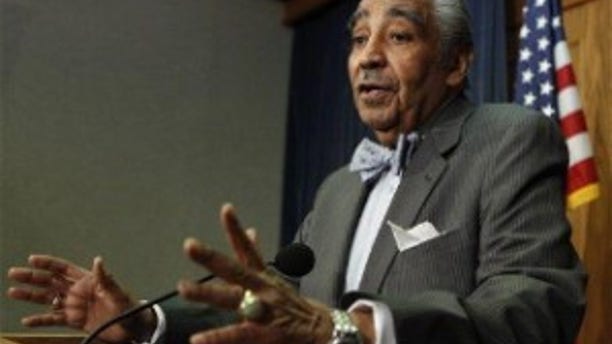 Embattled House Ways and Means Committee Chairman Charlie Rangel (D-NY) shocked the press corps early Wednesday by announcing he would temporarily stepped aside as the head of the tax writing panel.
"I respectfully request a leave of absence from my duties and responsibilities as chairmanship of the Committee on Ways and Means Committee until such a time as the Committee on Standards completes its findings o the review currently underway," Rangel wrote in a terse letter addressed to House Speaker Nancy Pelosi (D-CA).
Just 13 hours before, a scrum of reporters dogged the Harlem Democrat down a Capitol hallway, asking him if he would  remain the Ways and Means Chairman,
"You bet your life," Rangel said emphatically.
He later added "I don't lie to the press."
But Pelosi was noncommittal about Rangel's future Tuesday night.
"No comment," Pelosi said as she slipped into another elevator at the conclusion of a 30-minute meeting with Rangel.
Rangel's move comes days after the House Ethics Committee publicly admonished him last week for accepting two trips to the Caribbean that were paid for by corporate sponsors. The Ethics Committee approved the trips. But the panel later sanctioned him and indicated that Rangel should have known who was footing the bill for the travel.
Rangel's decision comes as support for him to retain his gavel began to wane amid a swirling ethics furor. Tuesday night, with more and more House Democrats publicly announced that Rangel should step aside. This coupled with a plan by Rep. John Carter (R-TX) to introduce a resolution Wednesday to relieve Rangel of his chairmanship. Carter's resolution would have put many Democrats in a tough spot, deciding whether to back Rangel or support his ouster.
"If this was only them (the Republicans), he would be fine," said a senior Democratic aide who asked not to be identified. "This is the other shoe."
An ethics cloud has loomed over Rangel for two years now.
Rangel took the unprecedented step in July, 2008 of referring himself to the Ethics Committee. At the time, Rangel told FOX was confident he would be exonerated because he was as "clean as the driven snow." And late in November, 2008, House Speaker Nancy Pelosi (D-CA) announced she expected the Ethics panel would complete its probe of Rangel by early January of 2009.
The Ethics Committee inquiry remains open. It is specifically probing slate of five points of alleged misconduct by Rangel. They include 1) His use of official House stationary to solicit funds for a school of public service named after the Congressman at City College of New York. Rangel did not name the center. 2) His failure to pay taxes and report rental income made on a villa Rangel owns in the Dominican Republic. 3) The possibility that he broke the law by filing incomplete Congressional financial disclosure reforms. 4) His utilization of four rent-controlled apartments in Harlem. And 5) Improper storage of a 1972 broken-down Mercedes-Benz in a House garage. House rules require vehicles stored in House parking areas be in running order and bear up-to-date registrations and license plates. Rangel's car did not.
Republicans were quick to pounce on Rangel's decision.
"Nancy Pelosi's promise to run the 'most ethical congress in history' has been reduced to a punch line, and as a result she is presiding over a caucus in chaos," said Ken Spain, spokesman for the National Republican Congressional Committee. "This embarrassing episode is a self-inflicted wound that could have easily been averted had the Speaker taken the obvious step to remove a scandal-plagued individual as chairman of the powerful tax-writing committee."
First elected in 1970, Rangel defeated the late-Rep. Adam Clayton Powell (D-NY) in a primary. Powell himself was accused of political corruption. At one point, the House refused voted not to seat Powell after allegations arose about his use of House funds for personal use.
But Rangel's decision to step away comes as many in the House Democratic Caucus remained supportive.
"My feeling in my gut is that Mr. Rangel still has the support of the members," said Rep. Gregory Meeks (D-NY) Tuesday night.
Rangel's temporary step aside also leaves Democrats in a quandary. As chairman of Ways and Means, Rangel was charged with helping shepherd the health care reform package and a major jobs bill through the House.
https://www.foxnews.com/politics/rangel-to-temporarily-step-aside-relinquish-ways-and-means-gavel