Pink slips and promotions fly at White House in chaotic day of turnover
By Alex Pappas, ,
Published March 13, 2018
A key Cabinet official was canned and another promoted, while one of the president's closest aides was escorted from the White House on Tuesday in one of the busiest – and most chaotic – days of the Trump administration.
It all started when President Donald Trump unceremoniously fired his embattled Secretary of State Rex Tillerson in an unexpected morning tweet and announced he was giving Tillerson's job to CIA Director Mike Pompeo.
In the same tweet, Trump named Gina Haspel, Pompeo's deputy at the spy agency, the new director of the CIA.
News then broke that John McEntee, a former UConn quarterback who serves as the president's personal aide, was ousted from his official job, given a new job with the Trump campaign and escorted from the White House under mysterious circumstances.
Then a few hours later, a top Tillerson aide, Steve Goldstein, lost his job at the State Department after issuing a statement about how Tillerson didn't understand why he was being fired.
In all the chaos, though, Trump is expressing confidence that the changes will be positive for his administration.
"I'm really at a point where we're getting very close to having the Cabinet and other things that I want," Trump told reporters Tuesday at the White House.
REX TILLERSON OUT AS SECRETARY OF STATE, REPLACED BY MIKE POMPEO
A senior White House official told Fox News the president decided to swap out Tillerson for Pompeo ahead of his coming meeting with North Korean dictator Kim Jong Un.
"The president wanted to make sure to have his new team in place in advance of the upcoming talks with North Korea and various ongoing trade negotiations," the adviser said.
Speaking to reporters before leaving for California, Trump acknowledged he and Tillerson have had disagreements. The president said he and Pompeo have a "similar thought process."
"We got along actually quite well, but we disagreed on things," Trump said of Tillerson. "When you look at the Iran deal, I think it's terrible. I guess he felt it was okay…So we were not really thinking the same."
Trump praised Pompeo for his "tremendous energy, tremendous intellect."
"We're always on the same wave length," he said. "The relationship has always been very good. That's what I need as secretary of state."
Tillerson, the former chief executive of ExxonMobil, was tapped as Trump's first secretary of state. But the two have clashed over foreign policy strategies over the last year.
A White House source told Fox News that Chief of Staff John Kelly called Tillerson Friday to tell him Trump wanted him to step aside.  Tillerson, the source said, asked if Trump could wait for him to get back from his trip to Africa.
Tillerson returned to the United States on Tuesday morning, as Trump pulled the trigger on his firing.
During remarks at the State Department on Tuesday afternoon, Tillerson said Trump called him "a little after noontime" from Air Force One, several hours after he was fired.
"What is most important is to ensure an orderly and smooth transition during a time that the country continues to face significant policy and national security challenges," he said.
Goldstein, a State Department spokesman, said in a statement Tillerson did not speak to Trump before he was fired and was not sure why he was being dismissed.
"The secretary did not speak to the president this morning and is unaware of the reason, but he is grateful for the opportunity to serve, and still believes strongly that public service is a noble calling and not to be regretted," Goldstein said.
Several hours after that statement, Goldstein, too, was fired from his job at the State Department.
Trump also said Tuesday he is nominating Gina Haspel as the new director of the CIA. Haspel has served as Pompeo's deputy and would become the first woman to serve as director.
"I am grateful to President Trump for the opportunity, and humbled by his confidence in me, to be nominated to be the next Director of the Central Intelligence Agency," Haspel said in a statement.
Haspel is a seasoned spymaster who has avoided the limelight during a 32-year career that has included stints running overseas "black sites" where dangerous terrorists were waterboarded.
5 THINGS TO KNOW ABOUT GINA HASPEL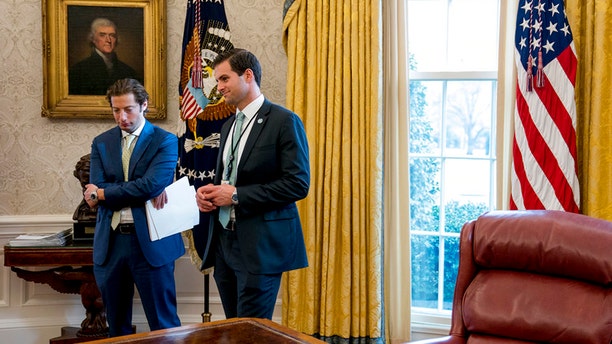 While she has won praise from Washington insiders – including Obama Director of National Intelligence James Clapper and former CIA Director Michael Hayden – she will likely face questions on the Hill about her connection to sites where waterboarding took place.
Meanwhile, back at the White House, McEntee, Trump's longtime so-called "bodyman," on Tuesday was moved to a position at Trump's 2020 campaign – but was seen being escorted out of the White House.
TRUMP AIDE JOHN MCENTEE ESCORTED OUT OF WHITE HOUSE, MOVES TO CAMPAIGN
The Wall Street Journal first reported on McEntee's departure, citing an unspecified security issue.
CNN reported that he was under investigation by the Department of Homeland Security for financial crimes. The Secret Service offered "no comment" when asked to confirm that report. Sources also told Fox News that security clearance was not the issue.
Fox News' Adam Shaw and Jennifer Earl and The Associated Press contributed to this report.
https://www.foxnews.com/politics/pink-slips-and-promotions-fly-at-white-house-in-chaotic-day-of-turnover