Pelosi embraces famous NFL maxim: 'Just win, baby'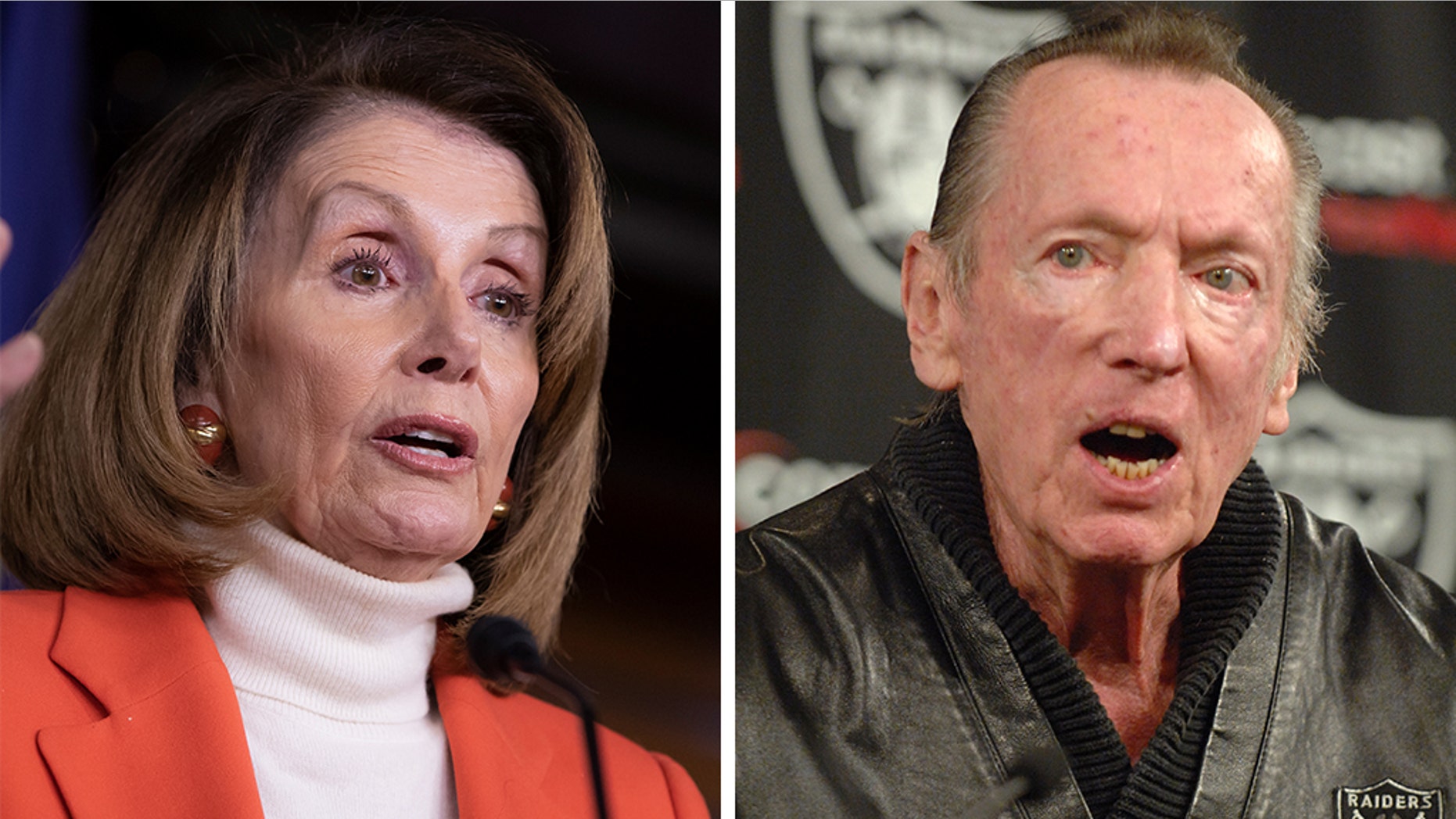 House Minority Leader Nancy Pelosi, D-Calif., may root for her hometown San Francisco 49ers. But Pelosi's bid to return to the speakership in 2019 is steeped in a mantra made famous across the Bay by Oakland Raiders owner Al Davis, who famously told his teams: "Just win, baby."
Pelosi appropriated Davis' motto for the 2018 midterms. She told Democratic candidates to "just win, baby." They did. But it's uncertain if Pelosi has the support to again become speaker next year.
Sixteen incumbent or incoming House Democrats have signed a letter announcing their opposition to Pelosi as speaker. More than 20 Democrats either oppose Pelosi or have refused to publicly back her.
How the San Francisco Democrat mathematically overcomes this much opposition is unclear. Pelosi unquestionably has the majority of support among most Democrats. But she has to prevail on the House floor by a majority vote. There are questions as to whether Pelosi will back down if it's apparent she lacks the votes.
"It's who blinks first," said one House Democrat who asked they not be identified. "Is it Nancy or the caucus?"
"It's going to get ugly," predicted one senior caucus member.
But Pelosi is supremely confident she'll once again clasp the gavel as speaker in 2019. You might say her catchphrase is "just win, baby."
Whatever it takes. The powers of persuasion. Handing out chits and plum committee assignments. Making the case that only she has the experience and wherewithal to take on the Trump administration and Senate Majority Leader Mitch McConnell, R-Ky., in this era of divided government.
If anyone can commandeer the votes, it's Nancy Pelosi. As a little girl, she maintained a "favor file" for her father when he was mayor of Baltimore. It was Pelosi who knew that adding a key amendment to ObamaCare would garner precisely the right amount of support to lug it to passage by a mere five votes. It was Pelosi who engineered a plan alongside then-Rep. Rahm Emanuel for Democrats to reclaim control of the House in 2006 for the first time in 12 years.
"We don't need someone with a learning curve," Rep. Pramila Jayapal, D-Wash., a co-leader of the House's Progressive Caucus, told reporters last week.
But Democrats are divided when it comes to Pelosi. A fractured Democratic Caucus may hamstring efforts to probe President Trump and serve as a counterbalance to the Republican-held Senate. For the moment, Democrats aren't fighting Mr. Trump. They're fighting themselves.
"I think chaos is good if it's productive," said Jayapal, who noted that Democrats don't have much time to act. "It's not a two-year cycle. It's a six-month cycle. There's not a lot of time."
House Democrats will privately vote on their leadership slate on Nov. 28. But the full House must select the Speaker when the House convenes at noon on Jan. 3.
Rep. Marcia Fudge, D-Ohio, a former chairwoman of the Congressional Black Caucus, mulled a bid to challenge Pelosi. But Fudge backed down Tuesday after Pelosi announced her plan to re-establish a subcommittee to probe elections and named the Ohio Democrat the chair.
FUDGE WON'T RUN  FOR SPEAKER, BACKS PELOSI 
"Pelosi has granted me the opportunity so that the protections of the Voting Rights Act will be reinstated and improved," said Fudge. "I now join my colleagues in support of the leadership team of Pelosi (House Minority Whip Steny) Hoyer and (Assistant Minority Leader Jim) Clyburn."
But Fudge sounded a different tune this past Friday.
"She has been a great leader for us," Fudge said of Pelosi then. "She has been a wonderful Speaker and Minority Leader. I just think we need some change. We ran on change and I think we should have that change."
Pelosi huddled in her office with Fudge at the Capitol late last week. But when asked about a prospective Fudge candidacy for Speaker, Pelosi responded with her signature, cheeky conviction.
"Come on in. The water's warm," she said.
Rep. Tim Ryan, D-Ohio, waited in a hallway near Pelosi's office as Fudge sought her audience with the Minority Leader. Ryan challenged Pelosi for her leadership post two years ago, scoring 63 votes. Fudge worked behind the scenes on Ryan's behalf as his unofficial campaign manager.
"There's a number of us trying to protect new members," Ryan said. "These new members said they weren't going to vote for Pelosi. That's how they got elected. They were agents of change."
And about the internecine Democratic conflict?
"The whole thing that the world is going to fall apart if we have a family discussion is not relevant," Ryan said.
At the time, Ryan suggested the debate could spill over into January, potentially teeing up the first multi-ballot speaker election since Frederick Gillett, R-Mass., won re-election on the fourth ballot in 1923.
"There may be a floor fight," suggested Ryan, noting his support for Fudge. "I don't think anyone would be interested in blocking the first African-American to be Speaker."
That won't be the case now with Fudge out of the way. Still, Pelosi isn't out of the woods yet. Here are a couple of things to watch for.
Democrats conduct their elections on Nov. 28 and Pelosi will likely command a majority. Hoyer is running unchallenged for majority leader. Clyburn also faces no competition in his race for majority whip.
For the sake of argument, let's say Pelosi secures 185 Democratic votes. That's far and away the majority of her caucus, but not anywhere near the magic number of 218 that would assure Pelosi's return to the speaker's suite. Remember that Pelosi lost 63 Democrats at this same time two years ago.
Then Democrats vote for majority leader. As of this writing, Hoyer is believed to have commitments from more than 190 Democrats. Then, Democrats vote for Whip and Clyburn should have no problem wrapping that up. In fact, with the support of the Congressional Black Caucus and other minority caucuses, it's plausible Clyburn's winning total could surpass Hoyer's figure.
At that moment, one wonders whether Democrats will experience a psychological revelation. Why are they wrestling with one another over the Pelosi tumult when it's clear there is greater consensus in the caucus for Hoyer and Clyburn? Should Democrats instead draft one of them? And could Clyburn potentially be the one to watch, given the sway he holds with the minority caucuses and his senior status in the House?
For the record, both Hoyer and Clyburn have said they won't challenge Pelosi.
Here's another scenario.
A fight over Trump's border wall could spark a partial government shutdown in early December. In a twisted way, a standoff over the wall could be the best thing that ever happened to Pelosi. A government shutdown could give her an opportunity to go toe-to-toe with the president, flex her political muscles and remind skeptical Democrats of her bona fides.
If there is a shutdown, expect Pelosi to show House Democrats what they face in the White House. Pelosi may be able to write her own ticket to the speaker's office if she staves off the wall and secures other key Democratic demands in the negotiations. Pelosi may then ask opponents if someone else could have pulled that political rabbit out of a hat.
Rep.-elect Max Rose, D-N.Y., was next up on Pelosi's dance card once Fudge concluded her conclave with the San Francisco Democrat. Rose campaigned on opposing Pelosi and upended incumbent Dan Donovan. When Rose emerged from Pelosi's office, he told reporters "nothing changed: in the meeting.
Did Pelosi offer Rose anything?
"I was offered Coca-Cola," replied Rose. "Some dark chocolate."
As he cut through the Capitol Rotunda, Rose then spoke about his transportation policy goals in Congress.
"We need to get more ferries and more buses on Staten Island," said Rose, noting that many of his new constituents endure two-hour commutes to Manhattan.
And if Pelosi is elected Speaker, who might help Rose secure those priorities for Staten Island?
And if Pelosi is elected Speaker, and Rose doesn't back her ...
Remember that favor file Pelosi kept for her Dad back in Baltimore?
It's not a done deal that Pelosi gets to the speakership. But if she pulls it off, how she got there won't matter. The only thing that will matter is that she did.
Or, as football's philosopher-king Al Davis would have said, "Just win, baby."