Ohio Governor Says Collective Bargaining Bill is Certain to Become Law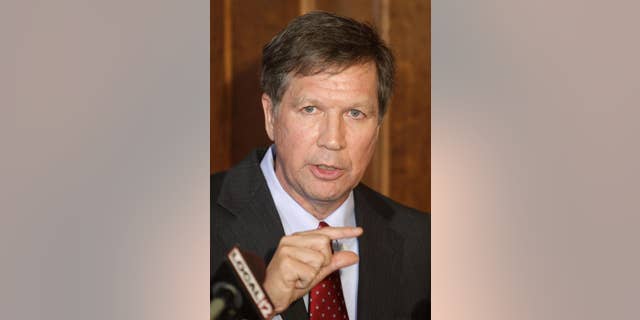 NEWYou can now listen to Fox News articles!
Protestors shouted "shame" in the chamber Wednesday as Ohio's State Senate narrowly passed a bill that limits collective bargaining rights for public workers. House-side hearings on the proposal could drag on for weeks, and the political repercussions for Governor and potential 2012 presidential challenger John Kasich could reverberate for even longer. But the Republican has four words for that: "I really don't care."
The G.O.P.-drafted bill, which would restrict the collective bargaining rights of some 350,000 teachers, firefighters, and other public employees, passed the Senate 17-16 Wednesday, with six Republicans voting against it. The proposal is now headed to the state House, where Speaker William Batchelder has indicated he intends to hold extended hearings before bringing the measure to a vote.
It's "fine" if the House delays a vote on the bill, Kasich, who supports the proposal as a necessary means to cut costs, told FOX & Friends Friday morning. "Let's find out what the needs are of labor and what the affordability is for the cities and school boards, and then let the people who were elected cast a vote on that. I think that's very, very fair."
"We just don't have any doubt that the bill will come to me. It will be signed into law," he said.
Kasich says that the bill is part of a larger reform agenda to spur economic growth in Ohio, a state that has been hit hard by unemployment and a wider population shift from the Midwest toward more southern states. He plans to introduce his agenda March 15.
"We're getting killed by the South and the Southwest," he says. "We are being picked apart by nations overseas, in here stealing our jobs and driving our jobs to other places...We don't have a choice but to lower our cost, become competitive, and be in a position where instead of people flying over Ohio, they stop and say, 'I'd like to create a job there.'"
And though state scuffles with union workers in Wisconsin, Indiana, and Ohio have captured the nation's attention, Kasich brushed off any suggestion that the measure will negatively impact a potential bid for the presidency, saying "I don't really care, that's not my interest."
"I was not elected to...make political decisions. I was elected to fix this state so families could be lifted, and we would have more opportunity and more hope in this state," he says. "And whatever happens in 2012, I mean, that's forever from now. I'm not interested in that."