Obama's speech: Big media buildup, little lasting impact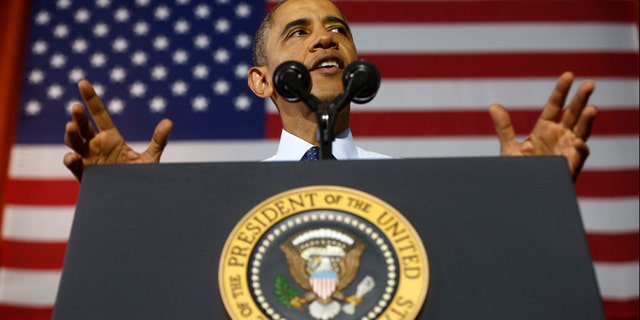 Quick: What did Barack Obama say in last year's State of the Union?
It's not your fault if you can't remember, and it's not necessarily the president's, either.
Nor is Tuesday's address, as Obama begins his sixth year in office, likely to be one for the history books. As he noted in a New Yorker interview, he's overexposed.
The SOTU has become one of the great media rituals, training a bright spotlight on the annual speech to Congress, but creating a story line that fades within a day or two.
Part of this is the nature of the beast. The speeches have become glorified laundry lists with a few catch phrases thrown in. Many of the proposals are destined to go nowhere; others have already been ignored by Congress.
But the media go into full battle-dress mode for the Washington event: Live coverage, plenty of punditry, post-game analysis, insta-polls. The president calls in the big network and cable anchors for an off-the-record lunch that day, providing background and spin about the speech.
The process begins with a series of calculated administration leaks designed to stoke interest in the speech and mollify certain constituency groups.
As if on cue, Sunday's New York Times had unnamed aides conveying that Obama "will present a blueprint for 'a year of action' on issues like income inequality and the environment that bypasses Congress and exercises his authority to the maximum extent.
"Mr. Obama will still use the speech to push for an immigration overhaul, with aides guardedly optimistic that he may reach a compromise with Republicans."
Jay Carney was on "This Week" and Dan Pfieffer on "Fox News Sunday" as well as "State of the Union" talking up the speech. Reuters has Pfeiffer saying that "President Barack Obama will announce a new plan next week to help Americans who continue to struggle to find jobs even as the economy recovers from recession."
In recent years, the opposition response has become a bigger deal. The Tea Party started offering a separate rebuttal.
On Tuesday, Rep. Cathy McMorris Rodgers delivers the GOP response. Sen. Mike Lee is the Tea Party spokesman. But Rand Paul — who delivered last year's Tea Party response — is promoting his own speech, according to Politico. It's all about grabbing airtime.
But is there any lasting benefit? What tends to be remembered are off-script moments. Bill Clinton's split-screen speech on the night of the O.J. verdict. Samuel Alito mouthing "not true" during an Obama speech. Marco Rubio's water bottle.
So my question about Obama's 2013 address? He called for gun control legislation. He urged a rise in the minimum wage. Oh, and his big-ticket item for the year was immigration reform. None of which happened. Which is why his aides are carefully lowering expectations for Tuesday's speech.