Obama Signs Small Piece of Jobs Stimulus; Implores Congress To Do More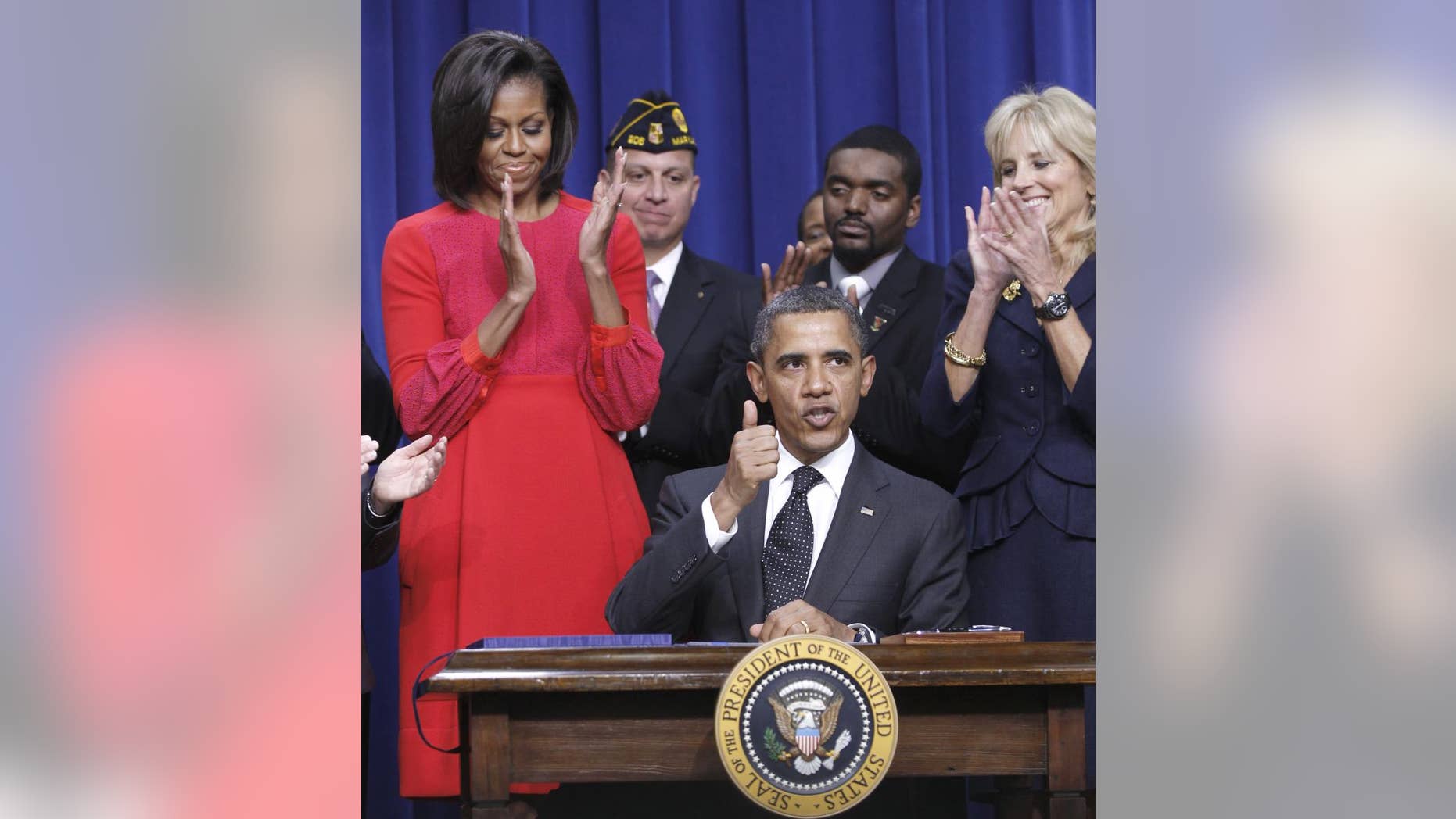 President Obama signed a small piece of his jobs stimulus Monday despite Capitol Hill gridlock that has kept Congress from voting on other provisions of the proposal. The bill he signed includes a tax break for businesses that hire veterans and also withholds 3 percent of payments to government contractors. It was one of the only parts of the package to get broad bipartisan support.
"I'm pleased that both parties came together to make this happen so... I want to thank all the members of Congress who were involved," the president said. "It is important to note that in addition to our veterans, there are millions of other Americans looking for work right now."
Veterans have been hit especially by the downturn in the nation's economy, facing an 11.5 percent unemployment rate, with younger veterans of wars in Iraq and Afghanistan dealing with unemployment rates of over 20 percent. The president noted that 850,000 veterans can't find work and though he has repeatedly called on Congress to support teachers, firefighters and construction workers by voting for his entire stimulus proposal, those veterans will be the ones to see relief from this smaller part of the bill.
"Today a deeply grateful nation is doing right by our military and paying back just a little bit of what we owe to our veterans," the president said.
The veterans' legislation President Obama signed Monday is but a sliver of the proposal he introduced to Congress during a joint session in September when he implored members to "pass the bill." But the massive partisan split in a divided Congress has only grown greater since the president presented the measure. He used the bill signing as a way to push Congress to bridge the divide that has stymied it .
"They deserve the kind of bold bipartisan action that we've seen here today," Obama said of out-of-work Americans. "That's what people have sent us here to do. So my message to every member of Congress is keep going. Keep working. Keep finding more ways to put partisanship aside and put more Americans back to work."
There was no mention of the stalled Super Committee talks that threaten to enact mandatory federal budget cuts, despite the fact that committee co-chair Sen. Patty Murray, D-Wash., and member Sen. Max Baucus, D-Mont., stood alongside Obama as he signed the legislation. Democrats' insistence on tax increases protecting certain social programs coupled with Republican opposition to tax increases protection of those programs have led to the Super Committee stalemate. And the tax issue is also the main reason Republicans refuse to support the president's full jobs plan.
Still, Obama urged members to work through their differences.
"Let's keep at it," he said. "No politics, no delays, no excuses."