Moderate Democrat Says No Debt Reduction? No Debt Ceiling Increase.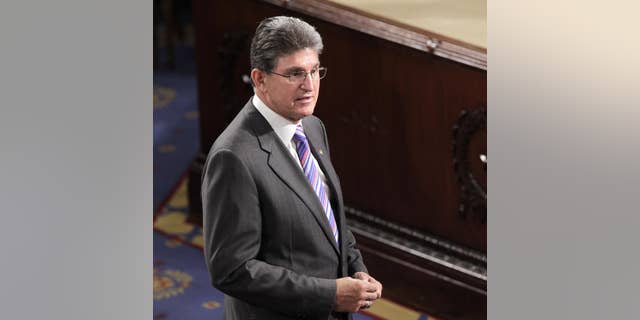 NEWYou can now listen to Fox News articles!
West Virginia Senator Joe Manchin vowed Monday to oppose any increase in the nation's debt ceiling unless Congress also approves, in tandem, a debt and deficit reduction package, a combative stance from the moderate Democrat as he prepares for what could be a tough re-election bid in 2012 in his red state.
"I will vote against raising the debt ceiling unless the vote is linked to a real budget plan that begins to fix our fiscal mess. We cannot make budgets based on the next election; they must be based on the next generation," Manchin told an audience at the University of Charleston, part of a week-long, state-wide tour dubbed, "Our Jobs, Our Priorities."
The Treasury Department said recently that the nation is scheduled to hit its current $14.3 trillion debt ceiling sometime between April 15 and May 31. Congress must vote to authorize an increase in the borrowing limit, or the nation could default on its debts.
Some in Washington see politics at play, nonetheless, where Manchin is concerned. The National Republican Senatorial Committee immediately pounced on the former governor's Monday remarks, calling the speech a mere "rhetoric nod."
"If Joe Manchin is serious about the debt, why did he support the Obama health care bill which will increase the deficit by at least $260 billion and costs West Virginians at least $217 million in just the first five years?" asked NRSC spokesman Brian Walsh.
In a state where Obama has some of his lowest approval ratings in the country, the NRSC is, once again, trying to tie the popular former governor to an unpopular president, a strategy employed unsuccessfully by Manchin's 2010 opponent. But with the economy only sputtering along and unemployment remaining stubbornly high, Republicans are hoping that a replay in 2012 will benefit their cause as Manchin must appear down ballot from Obama.
To that end, the senator's statements have grown increasingly confrontational with the Administration lately. In voting against his own party's $4.7 billion in spending cuts in early March, Manchin took it to President Obama, "Why are we doing all this when the most powerful person in these negotiations - our president - has failed to lead this debate or offer a serious proposal for spending and cuts he would be willing to fight for?"
The senator then signed onto a letter to the president with 63 of his colleagues, both Republican and Democrat, calling for "comprehensive deficit reduction measures" during the ongoing talks over how to fund the government for the remainder of the fiscal year, and for greater presidential involvement.
"We urge you to engage in a broader discussion about a comprehensive deficit reduction package. Specifically, we hope that the discussions will include discretionary spending cuts, entitlement changes, and tax reform," the letter read.
Manchin has planned speeches through the balance of the week focusing on children, seniors, and small businesses, and he is saving the most combustible of all topics in coal state West Virginia for last, "energy independence," with a town hall in Fairmont, aka: coal country. It's a topic on which Manchin happily bucks the Obama Administration as he often criticizes the "overreach" of the Environmental Protection Agency.
But for now, the moderate senator is focused on debt and deficit reduction, as he joins a growing crowd of lawmakers in favor of requiring the Administration and congressional leaders to craft a plan to shrink the rising tide of red ink.
"In the coming weeks, we will face many difficult budget decisions. I know it will not be easy," Manchin said Monday, "I know that it will take compromise. I know it will be partisan and difficult. I know that everyone will have to give up something and no one will want to relinquish anything. But we cannot ignore the fiscal Titanic of our national debt and deficit."