Michael Avenatti touts unverified video he claims will refute 'bogus' allegations of domestic violence
Attorney Michael Avenatti has touted, as evidence of his innocence, an unverified video posted by his accuser in a now-deleted Instagram story just hours after he allegedly assaulted her.
Mareli Miniutti, an actress who appeared in Ocean's 8, filed a domestic violence restraining order Monday in Los Angeles against Avenatti, who represents adult film actress Stormy Daniels and has openly floated a 2020 presidential run.
Law enforcement sources told TMZ that the woman's face was "swollen and bruised" and left with "red marks" on both cheeks. Avenatti was formally charged last week with felony domestic violence, LAPD Officer Rosario Herrera told Fox News.
AVENATTI BAILED OUT AFTER BEING ARRESTED ON SUSPICION OF FELONY DOMESTIC VIOLENCE, SAYS HE'LL BE EXONERATED
After the name of the accuser was revealed by the Blast, Avenatti was insistent he would be exonerated.
"I look forward to a full clearing of my name and disclosure of all of the facts. I have NEVER abused a woman or committed domestic violence against anyone. Any claim to the contrary is completely bogus and fabricated. I am a target. And I will be exonerated," Avenatti tweeted.
He went on to allude to a video and said it will clear him of any wrongdoing.
"People think they are so smart. Until they post stuff on IG that undercuts their bogus, fabricated claims they made less than 24 hrs earlier. We can't wait for justice!" he tweeted.
ACTRESS FILES RESTRAINING ORDER AGAINST AVENATTI, COURT RECORDS SHOW
Avenatti is referring to a report at the Hill Reporter, an outlet co-founded by Brian and Ed Krassenstein, open anti-Trump activists, who were subject to a federal investigation for allegedly boosting online Ponzi Schemes. Krassenstein told Fox News they were never charged with a crime.
On the day of Avenatti's arrest, one of the co-founders tweeted at the embattled lawyer saying: "Let me know how we can help."
The article claims Miniutti posted a video on her Instagram account within hours of Avenatti being taken into custody.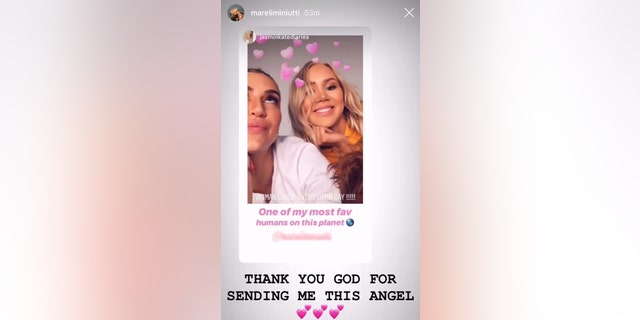 In the post, shared first by Miniutti's friend, it shows her laughing and apparently without any bruises, though the report noted she may have concealed the alleged injuries.
"There is nothing more powerful than video evidence. NOTHING! I will be fully exonerated," Avenatti wrote on Tuesday.
Avenatti is free on $50,000 bail and a hearing has been set for Dec. 10.