McConnell wary on dealing with Obama, as newly elected lawmakers arrive in DC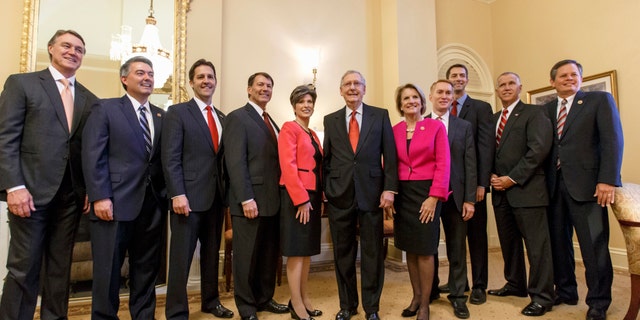 As newly elected lawmakers arrived Wednesday on Capitol Hill, Senate GOP Leader Mitch McConnell said he hopes the midterm elections which handed control of Congress to Republicans will nudge President Obama to compromise -- but suggested the post-election period is not getting off to a good start.
"We are here to make [Washington] function again," said McConnell, flanked inside the Old Senate Chambers by 10 GOP senators-elect who helped their party take control of the upper chamber.
"The problem is that the president continues to send signals that he has no intention of moving toward the middle."
The Kentucky lawmaker, in line to become Senate majority leader when the new congressional session starts in January, said he was "particularly distressed" over a climate deal Obama reached overnight with China. It calls for the U.S. to cut emissions significantly over the next decade, while allowing China to merely set a target for emissions to peak.
"As I read the agreement, it requires the Chinese to do nothing for 16 years while carbon-emissions regulations are creating havoc in my state and other states," said McConnell, whose home-state economy is dependent on the coal industry.
Beyond the emissions deal, McConnell and other Republican leaders already have warned Obama against taking executive action on immigration during the current, lame duck congressional session, as the president has vowed to do.
McConnell said last week that sidestepping Congress -- particularly before the next session -- would be like waving a flag in a bull's face.
However, McConnell sounded more upbeat about compromise during his opening remarks later Wednesday on the Senate floor.
"There's a lot both parties can accomplish together over the next couple years," said McConnell, who met with Obama and other GOP and Democratic congressional leaders at the White House after the elections. "I hope that happens. I'm optimistic."
His remarks followed those of Senate Majority Leader Harry Reid, who listed his top priorities for the roughly 14-working day session as passing bills on student loans, pay equality for women and an increase in the federal minimum wage.
"There's no reason we cannot work together on these issues," the Nevada lawmaker said in his floor remarks.
McConnell suggested the parties could work together in the coming weeks to perhaps pass legislation on tax reform and on an international trade agreement.