Marine who emailed threat warning now getting bipartisan Hill support
By ,
Published December 20, 2015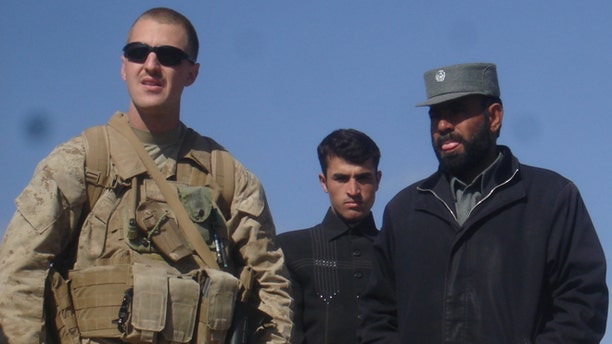 A Marine facing military discharge for mistakenly sending a threat warning from an unclassified email account is now getting bipartisan support on Capitol Hill from members who say he used the fastest and only method available to respond.
New York Democratic Sen. Kirsten Gillibrand is among the most recent congressional lawmakers to support Maj. Jason Brezler, a Marine Corps reservist, who faces a military hearing for his actions.
Gillbrand, a member of the Senate Armed Services Committee, sent a letter earlier this week to a Marine general arguing Brezler was responding to an "urgent" request from fellow soldiers in Afghanistan concerned about a senior Afghan police official and that he immediately reported the potential security breach.
Brezler told his fellow Marines the official was a security risk, in part because of allegations he sexually abused minors on U.S. bases in Afghanistan.
Days later, one of the official's assistants and purported victims opened fire and killed three U.S. Marines.
The senator said Brezler, a New York City firefighter, was somewhere in Oklahoma at the time of 2012 request that "precluded him from accessing … classified military networks" and that officials please "exercise discretion and leniency" when considering punishment, considering the circumstances.
"Maj. Brezler was in a position where lives were in danger and time was of the essence. And in the end his assessment of the threat proved true," Gillibrand wrote Brigadier Gen. Richard L. Simcock, of the Marine Senate Liaison Office.
Brezler's lawyer Kevin Carroll said his client's immediate chain-of-command in the United States is not recommending punitive action, and the Marine command in Afghanistan called for the relevant document in the case to be declassified "because there is no information in the document which, if released, would damage national security."
Brezler now faces a board of inquiry as early as next month where he could be forced from the Marine Corps. He could get what amounts to an "other than honorable" separation for sending the warning from a Yahoo account.
Brezler received the urgent request in summer 2012 from fellow Marines in Helmand Province, Afghanistan looking for background information on the official, Sarwar Jan, who was routinely allowed on base as part of the U.S. strategy to train local security forces before the 2014 withdrawal.
Brezler immediately responded, but there is no evidence that immediate action was taken. And days later, one of Jan's assistants allegedly opened fire on the Marines.
In September, Rep. Peter King, R-N.Y., wrote to the Defense Department inspector general that Brezler "suspected Jan had committed sex crimes against juveniles at U.S. Department of Defense facilities in Afghanistan. On August 10, 2012 one of Jan's subordinates and sex-crime victims killed three U.S. Marines, including my constituent Lance Corporal Greg Buckley, Jr."
Buckley, along with Staff Sgt. Scott Dickinson and Cpl. Richard Rivera, were all murdered at Forward Operating Base Delhi after the alleged shooter, a teenage boy who worked for Sarwar Jan as an "assistant," opened fire on the men while they worked out at the gym. Another Marine, Staff Sgt. Cody Rhode, was shot five times and survived.
In a July letter to Commandant Gen. Jim Amos, King said Jan was believed to be a security risk, and Brezler was only trying to save lives. It is "unfair for Maj. Brezler's good-faith effort to warn his fellow Marines, of what sadly proved to be mortal danger, to derail his reserve career. The Marines and the (New York City) Fire Department need more good men such as Maj. Brezler, not less," King wrote. The congressman, who also sits on the Homeland Security and Intelligence committees, said the report about Brezler's actions from March 12, 2013 "contains several administrative irregularities."
Francis Piccoli, a spokesman at the Marine Corps Forces Reserve headquarters in New Orleans, told Fox News: "Due to the impending Board of Inquiry for Maj. Brezler, it is inappropriate for me to address this issue at this time other than stating that pursuant to a NCIS investigation that substantiated the mishandling of classified information, Maj Brezler has been ordered to show cause for retention in the U.S. Marine Corps before a Board of Inquiry."
Fox News' Catherine Herridge contributed to this report.
https://www.foxnews.com/politics/marine-who-emailed-threat-warning-now-getting-bipartisan-hill-support