Lawmakers Ask Treasury to Stem Flow of Cash to Mexico on Prepaid Gift Cards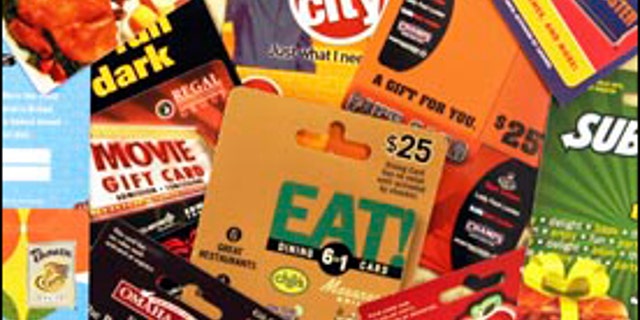 NEWYou can now listen to Fox News articles!
Three U.S. senators are asking the Treasury Department to finish long-awaited rules on prepaid gift and credit cards that cross the U.S. border with Mexico bypassing anti-money laundering requirements that anyone transporting more than $10,000 declare his or her holdings.
Two years ago, Congress gave the Treasury Department until January 2011 to come up with a plan to make stored value cards subject to border reporting requirements. But that deadline has passed without proposed final rules.
U.S. Sens. Dianne Feinstein, D-Calif., Chuck Grassley, R-Iowa and Sheldon Whitehouse, D-R.I., members of the Senate Caucus on International Narcotics Control, wrote in a letter penned Monday to Treasury Secretary Tim Geithner that the substitution of cash for prepaid cards is enabling drug traffickers to escape anti-money laundering laws.
"Under current law, a criminal, drug trafficker, or terrorist with hundreds of thousands of dollars on prepaid cards could literally walk across the U.S.-Mexico border without penalty. While the department continues to contemplate a rule, law enforcement's hands are tied as they observe stored value cards crossing to Mexico and are unable to do anything," the lawmakers wrote.
Stored value cards are currently not subject to any reporting requirements. The Treasury developed interim rules published last June that included excluding from reporting any cards that have a $1,000 maximum fill-up or cards meant solely for specific retailers. But the final rules have not been completed.
"The illicit proceeds that are funneled across the border by drug trafficking organizations fuel organized crime at an unprecedented level. It's unacceptable that next to nothing has been done to stop the unfettered movement of these proceeds via prepaid access cards, which can carry an unlimited value without being declared to Customs officials," Grassley said in a statement.
The Aite Group, a research and advisory firm dealing with financial services, estimated in 2007 that branded and private label prepaid card transactions would total $178 billion by 2010. The National Drug Intelligence Center, an agency of the Justice Department, reported in 2006 that an estimated $8.3 billion to $24.2 billion in Mexican and Colombian wholesale drug proceeds is generated annually in the United States. The bulk of it is transferred through cash smuggling.
"Absent a renewed effort from the department to propose and finalize a cross-border reporting requirement for prepaid access programs, including stored value, Congress will have to take action via the legislative process," the lawmakers wrote to Geithner.
Last year, Reps. Gabrielle Giffords, D-Ariz., and Brian Bilbray, R-Calif., introduced legislation to regulate stored value cards, but it didn't make it into law.