Latino Voters Let Down by Obama, Not Enthused by Mitt Romney
By Roque Planas, ,
Published January 10, 2017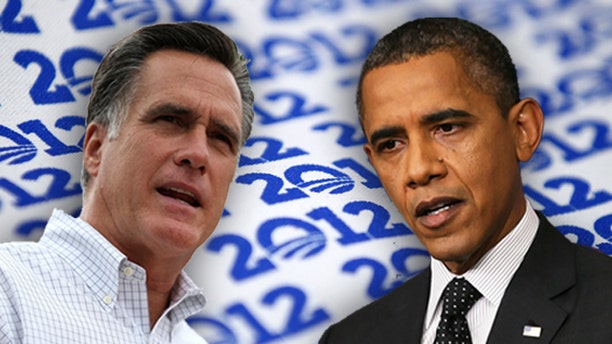 Three years after he won more than two-thirds of their vote, President Barack Obama is struggling to persuade Latinos that he deserves a second term.
But with a commanding lead among Latinos over GOP nominee Mitt Romney in the polls, Obama's challenge isn't winning over more voters—it's motivating them to head to the polls.
On Nov. 4, 2008, a record-breaking 10.2 million Latino voters cast ballots in the U.S. presidential election—a 25 percent jump over the 2004 tally. Obama won nearly 70 percent of those votes, targeting the fastest-growing segment of the electorate with bumper stickers reading "Obámanos," promises of immigration reform, and a vague-but-positive slogan of "hope."
Four years later, the economy remains stalled and the unemployment rate for Latinos hovering between 10 and 11 percent.
And while Obama made promises on immigration -- a message he used to gain Latino support in 2008, his failure to deliver has Hispanics wondering whether he ever will.
Obama set new records for deporting undocumented immigrants and failed to pass the DREAM Act -- let alone the comprehensive immigration reform he promised. In January, a Latino Decisions poll found 53 percent of Latino voters were "less enthusiastic" about Obama than in 2009.
Unable to run on a record of achievements, the president now depends largely on anti-illegal immigration hawks in the GOP's conservative wing to alienate Latino voters enough to motivate them to the polls, some experts say.
"If anything's going to motivate Latinos to show up, it's the Republican Party's stance on issues affecting Latinos," Angelo Falcon of the left-leaning National Institute on Latino Policy told Fox News Latino. "More than Obama motivating Latinos to get out there, it's going to be Republicans motivating Latinos to come out and vote against them."
"It's unlikely that anything that Romney does negatively or Obama does positively will turn off any more Latino voters than they have."
For many Latino voters, this year's election could come down to a choice between the lesser of two evils: a Democratic president that failed to live up to the hype of 2008, or a Republican that has embraced the immigration hardliners that turn off some Hispanics.
"It's unlikely that anything that Romney does negatively or Obama does positively will turn off any more Latino voters than they have," said political science professor Mark Jones, who studies Latino politics at Rice University. "So now the objective for Romney is to capture a larger share."
Whether that can happen is another story. The second in a weekly series of Latino Decisions polls tracking the Hispanic vote released on Monday found just 30 percent respondents favored Romney, compared to Obama's 64 percent. The poll of 300 respondents has a 5.6 percent margin of error.
Having alienated some Latino voters with the tough stances he took during the primary season, the Romney campaign has tried to shift the focus to the economy.
Jennifer Korn, who was Associate Director for Hispanic Affairs for the White House under George W. Bush and now is executive director of the Hispanic Leadership Network, a conservative-leaning group, says Republicans will focus on jobs because it is the issue that matters most to Latinos.
"Obama is pandering," she said of Obama's "hammering" away on the immigration issue as a talking point to the Hispanic community. "When you go the community and only talk about one issue, and try to scare them on one issue, that's when it becomes pandering."
But Romney also faces an uphill battle campaigning to Latinos on the economy, according to pollster Matt Barreto of Latino Decisions.
"When we ask people who they trust more to fix the economy moving forward, they're telling us by a 2 to 1 margin that they favor Democratic policies," Barreto told Fox News Latino. "I really think Republican leaders need to talk to Latino voters about the issues that are in the community, instead of assuming that all Latino voters blame Obama for the state of the economy, because that's just not the case."
Israel Ortega of the Heritage Foundation, a think tank that supports free enterprise, agreed that Romney's views are not dominant among Latinos, though Ortega thinks the challenge can be overcome with the right message.
"People who, like Marco Rubio, can tell that personal story will help the Romney campaign's efforts," Ortega said. "Republicans need to actually personalize why the free enterprise system has been so successful in this country, and what policies contribute to creating economic prosperity."
Rubio, the Tea Party-backed senator from Florida, has emerged as a bridge in recent months between the Republican presidential candidate and the Latino community.
He has called on his party to drop harsh rhetoric when discussing immigration and this month he traveled through Texas and Nevada to speak to voters and raise campaign funds for Romney.
And though he did not reap the political reward for it, Rubio's attempt to turn the table on Democrats by proposing a conservative alternative to the DREAM Act likely prompted Obama to defer deportation for young undocumented immigrants. Rubio abandoned the proposal after Obama announced the change to deportation policy on June 15.
But while Rubio made headway toward a solution to the problem faced by those brought to the United States illegally as children, Romney never openly endorsed the idea.
"I think that was the biggest missed opportunity that Romney had to show the Latino community he was willing to work with us," said Falcon of the National Institute for Latino Policy. "If Romney had done something with that DREAM Act-light, I think people would have said, 'hey maybe we can engage with him.'"
The episode highlighted the wide gulf that separates Romney from some Latino voter on immigration.
The former Massachusetts governor says he supports strengthening the country's legal immigration system, though he has not proposed a plan on how to deal with the estimated 11 million immigrants who reside here illegally.
During a hard-fought Republican primary, Romney played to the party's energized right-wing base, a move that many observers viewed as a way for the northeastern moderate to reassure voters that he would hew to conservative principles if elected.
Part of that strategy meant advocating hard positions on illegal immigration and aligning himself with some of the GOP's toughest critics on illegal immigration. On the campaign trail, Romney said he'd veto the DREAM Act and support crackdowns that would lead immigrants to "self-deport" by supporting enforcement measures that would make living here illegally too difficult.
"The 2012 Republican primary really offered a very sharp contrast for Latino voters," said Barreto, with Latino Decisions. "They were seeing a lot more anti-immigrant and anti-Latino rhetoric being used by the candidates."
The strategy may have helped shore up Romney's conservative base, but some say it did not play well among Latino voters.
The 26 percent of Latinos who support Romney, according to a recent Latino Decisions poll, puts him below Sen. John McCain's 31 percent. Romney announced last week that they had a target 38 percent of Latinos the campaign was aiming for.
The Romney campaign has been quick to point out that polls generally place immigration fourth from the top of Latinos' most pressing concerns.
Nevertheless, immigration remains an emotional issue for many Hispanics.
Of the estimated 11 million undocumented immigrants living in the United States, some 9 million came from Latin American countries—the vast majority from Mexico and Central America. A Fox News Latino poll released in March found that 90 percent of Latinos support the DREAM Act and 85 percent support opening a path to citizenship for the undocumented.
If Obama inspires Latinos to cast ballots in record numbers again this year, it will likely be because of his decision to exempt undocumented immigrants from deportation if they are under 31 with clean criminal records.
Romney has not said whether he would undo Obama's "deferred action" if he were to become president.
Latino voter enthusiasm for Obama has flagged since the 2010 congressional elections, but began climbing again after he announced the new deportation policy on June 15, according to polls by Latino Decisions.
Some 49 percent of Latino voters in five swing states said the decision made them "more enthusiastic" about Obama, the poll said.
https://www.foxnews.com/politics/latino-voters-let-down-by-obama-not-enthused-by-mitt-romney