Judge extends early voting in central Florida following lawsuits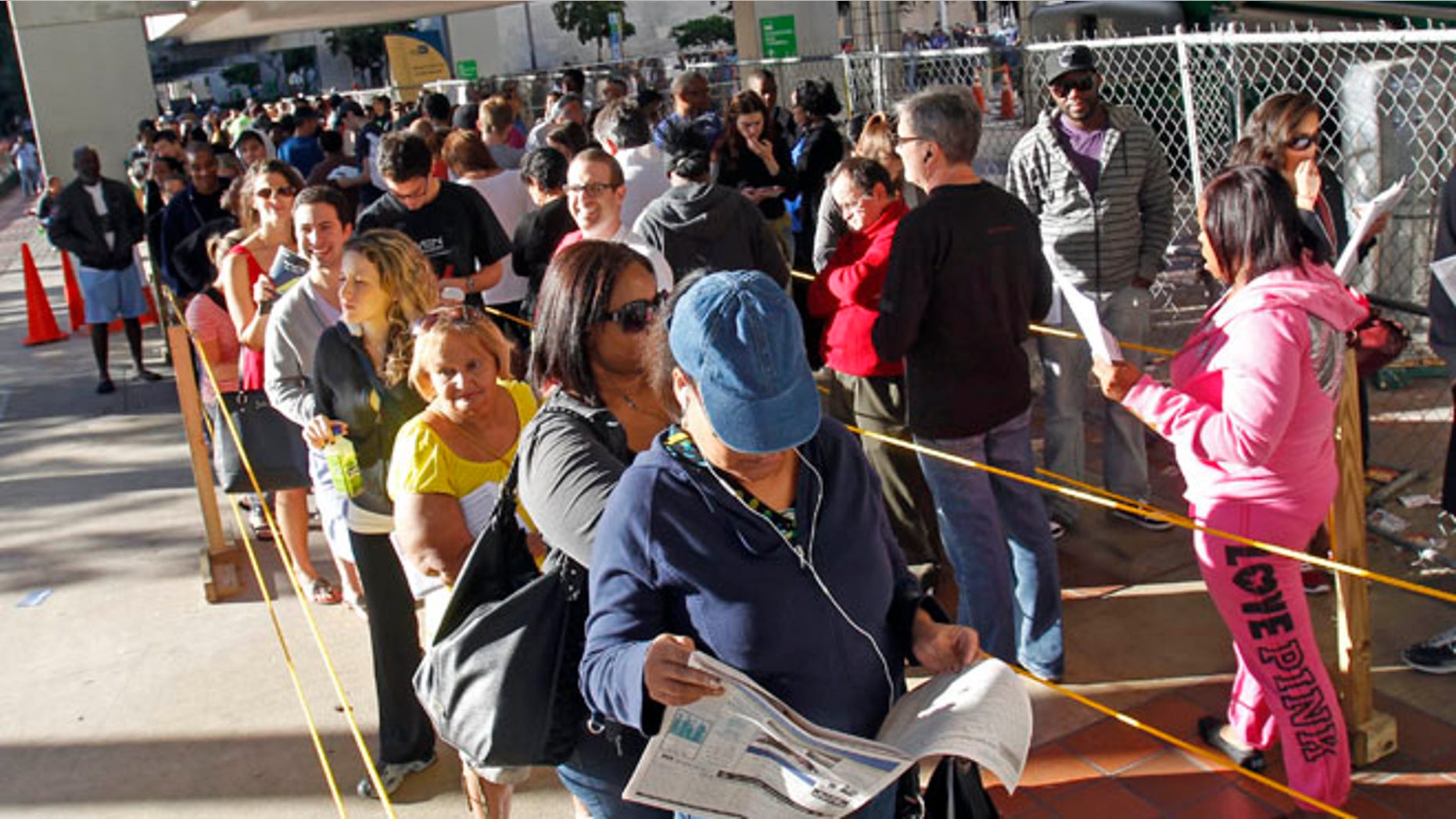 A judge has ordered an early-voting site in central Florida to stay open an additional four hours Sunday, following lawsuits filed by the state Democratic party.
The judge ordered the polling site in Orange County to extend its hours because it was shut down Saturday while authorities investigated a suspicious package.
Bill Cowles, the county's elections supervisor, said voters who are showing up Sunday are being asked to use a provisional ballot because they can be found should the order be overturned, per Florida law.
The Florida Democratic Party filed separate lawsuits to get four counties to offer more time for voting before Election Day. The other counties are Palm Beach, Miami-Dade and Broward.
Voters in those counties had to wait as long as six hours Saturday, the last scheduled day of early voting.
The state Republican party will not appeal the cases, filed in a Miami courthouse, though the group was reportedly considering such a move.
Voting in Miami-Dade County didn't conclude until about 1 a.m. Sunday because voters standing in line when the polls closed were allowed to vote.
The judge ruled on the lawsuit late Saturday.
The Orange County site is a library in the city of Winter Park.  The suspicious package turned out to be a cooler.
Winter Park police told Fox News a polling official called at 11:45 a.m. after being alerted to a small cooler that appeared to have protruding wires and had been left on the side of the building for hours.
The police then called the county sheriff office's bomb squad, which destroyed the cooler and a black plastic bag found by a dog team.  No explosives were detected, and authorities gave the all clear sign at about 4 p.m.
Police had to evacuate the building and move the voting line down the street and try to keep voters' spots in line.
Sen. Bill Nelson and other Democrats asked Republican Gov. Rick Scott this past week to use his emergency powers to extend early voting.
The Republican-controlled state legislature last year cut the number of days available for early voting from a maximum of 14 days to eight days.
However, Scott and state election officials turned down the requests. Secretary of State Ken Detzner maintained that there was not a true emergency that justified the extension.
The lawsuits state counties should offer absentee ballot voting at local election offices if early voting cannot be extended.
Christina White, deputy supervisor with Miami-Dade County, said the county had already planned to accept absentee ballots for four hours at its main office.
Absentee ballot voting differs from early voting in that voters must fill out their ballot, place it in an envelope and then sign it. The ballot envelopes are opened later and then fed into voting machines.
During early voting, voters place their ballots directly into the voting machines.
The lawsuits included requests for TV and radio to tell voters about the extended hours and sworn statements from several voters who said they waited in line for hours and were turned away because voting was suspended at the site.
A volunteer with the campaign of President Obama said that the crowd of voters dwindled from 300 to just 40 after voting was halted.
The Associated Press and Fox News reporter Kathleen Reuschle contributed to this report.