John Kelly fights report he called Trump an 'idiot,' says story is 'total BS'
By Samuel Chamberlain, ,
Published April 30, 2018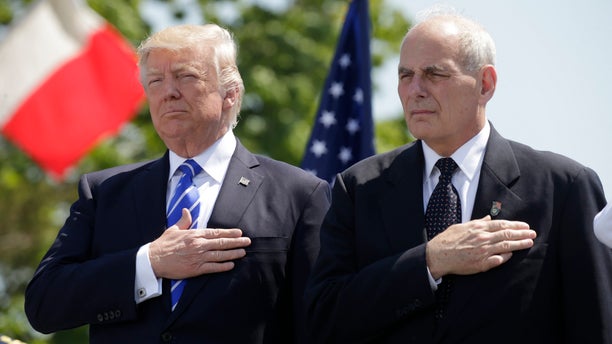 White House Chief of Staff John Kelly emphatically denied an NBC News report Monday that he has repeatedly called President Trump "an idiot" in conversations with aides.
Less than an hour after the NBC report was published, Kelly issued a statement calling the story "total BS."
"I spend more time with the President than anyone else and we have an incredibly candid and strong relationship," said Kelly, who added that Trump "always knows where I stand."
"I am committed to the President, his agenda, and our country," Kelly went on. "This is another pathetic attempt to smear people close to President Trump and distract from the administration's many successes."
The NBC report, which cited "eight current and former White House officials" described a meeting earlier this year between Kelly and lawmakers to negotiate funding for border security and a resolution on the fate of the Obama-era Deferred Action for Childhood Arrivals (DACA) program.
During the meeting, Kelly reportedly said that Trump "doesn't even understand what DACA is. He's an idiot."
A senior administration official who was in that meeting flatly denied to Fox News that Kelly called Trump an "idiot."
Kelly is Trump's second chief of staff, having been appointed to the position this past July to replace Reince Priebus.
The NBC report also stated that Kelly has cast himself as a protecting the country from Trump's impulses and that Trump was growing tired of Kelly's attitude.
The Associated Press reported Trump has chafed at Kelly's controlling management style, and has talked with friends occasionally about replacing him.
Fox News' John Roberts, Serafin Gomez and The Associated Press contributed to this report.
https://www.foxnews.com/politics/john-kelly-fights-report-he-called-trump-an-idiot-says-story-is-total-bs