Jason Kander withdraws from Kansas City mayoral race to focus on treating depression, PTSD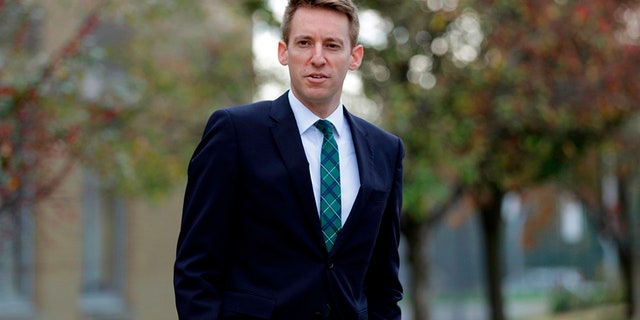 Army veteran and Kansas City, Missouri, mayoral contender Jason Kander announced Tuesday that he is withdrawing his candidacy to focus on his mental health.
Kander, a Democrat largely seen as the frontrunner for the 2019 election, said he's struggled with suicidal thoughts, depression and post-traumatic stress disorder.
"Instead of dealing with these issues, I've always tried to find a way around them. Most recently, I thought that if I could come home and work for the city I love so much as its mayor, I could finally solve my problems," Kander, 37, said in a lengthy Facebook post. "I thought if I focused exclusively on service to my neighbors in my hometown, that I could fill the hole inside of me. But it's just getting worse."
Kander will also be taking a step back from his political nonprofit, Let America Vote, as he seeks treatment from the Veterans Affairs facility in Kansas City, he said.
"After 11 years of trying to outrun depression and PTSD symptoms, I have finally concluded that it's faster than me. That I have to stop running, turn around, and confront it," Kander said.
FOX NEWS MIDTERM ELECTION HEADQUARTERS
Kander deployed to Afghanistan in 2006, where he served as an intelligence officer. He was tasked with investigating those suspected of espionage, drug trafficking and facilitating Al Qaeda and the Taliban, according to an online biography. He later became a combat leadership instructor for the Missouri Army National Guard's Officer Candidate School.
He has served as Missouri's secretary of state and as a state legislator for a number of years. Kander also challenged GOP Sen. Roy Blunt last year, losing by less than 3 percentage points.
Quinton Lucas, a city councilman who has also launched a mayoral bid, praised Kander on social media following the announcement.
"Jason and I have been friends for years. He's always been a leader and he's shown that even more clearly now," Lucas said. "Thank you for telling other veterans, and all of us really, that we don't need to suffer in silence. The impact he made today on so many is profound and I'm proud of him."
EMANUEL'S EXIT HEATS UP CROWDED, CHAOTIC CHICAGO MAYORAL RACE
Sen. Claire McCaskill, D-Mo., called Kander's decision to publicly address why he was dropping out of the race "very courageous" and said it could "help a lot of people."
"Obviously we are friends," McCaskill told the St. Louis Post-Dispatch. "He is a tremendous person, and he's got a great family, and I know he will have a great support system. A lot of us out here are rooting for him."
Kander concluded his post by letting his followers know that he "fully intend[s] to be working shoulder to shoulder with all of you again."
"But I'm passing my oar to you for a bit. I hope you'll grab it and fight like hell to make this country the place we know it can be," Kander said.
Potential candidates still have until Jan. 8, 2019 to file to run for mayor, KSHB-TV reported.