Immigration Looms Large in New Mexico's Gubernatorial Primary
By Stephen Clark, ,
Published December 12, 2016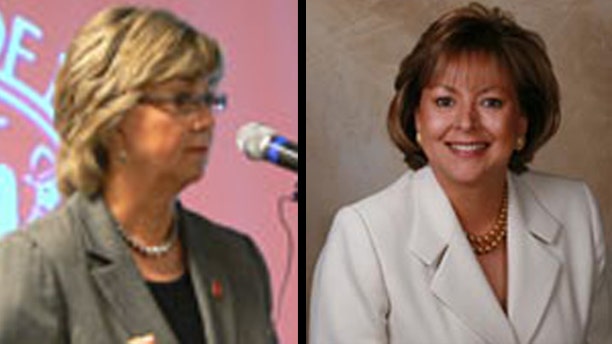 As New Mexico Republicans headed to the polls Tuesday to choose a nominee to take on Democrat Diane Denish this fall in the governor's race, immigration has played a key role in the primary and looms large in November's general election.
The frontrunner for the GOP nomination, Dona Ana County District Attorney Susana Martinez, is a conservative Hispanic woman who takes a hard line on illegal immigrants. She has lobbed criticism at Denish, the lieutenant governor since 2003, for her administration's policies that she says encourages illegal immigration to the state and makes it difficult for law enforcement to secure the border.
An estimated 60,000 illegal immigrants reside in New Mexico and Gov. Bill Richardson has rolled out the welcome mat for them, pledging to integrate them into the broader society. The two-term-limited governor has signed into law a bill that allows undocumented workers to get driver's licenses and another that provides illegals with free tuition through taxpayer-funded lottery scholarships.
Last week, Richardson praised President Obama's decision to send 1,200 National Guard to the border.
Martinez has vowed to repeal the driver's license law and opposes free tuition for illegals.
"While other candidates talk about border security, Susana Martinez is the only one with actual experience taking on the issue," her campaign website reads, noting that her office prosecutes more than 600 cases related to border security each year, including cases against members of Mexico's violent drug cartels.
"Martinez understands first-hand the threat these criminals pose to our state and will make securing the border a top priority," the website says.
But Denish, who is unopposed on the Democratic primary ballot, does not run in lockstep with her boss, Denish campaign spokesman Chris Cervini told FoxNews.com. They have different positions on a variety of issues, including immigration, Cervini said.
Denish is not Richardson despite Martinez's tactic "to corral them together every chance she gets," Cervini said.
Though Denish doesn't list the subject of immigration or border security on her campaign website's issues page and doesn't want to repeal the driver's license law, she has said she does support making changes to it, including tightening restrictions to prevent fraud.
Denish said she does not support providing licenses to illegal immigrants.
"Based on evidence that suggests the law has not worked as intended, the law needs to change," Denish said in a written statement. "As governor, I would approach changes to the law with a thoughtful discussion that focuses on fact -- not ideology, fear and divisive rhetoric."
The Martinez campaign quickly pounced on Denish's statement.
"After the Richardson/Denish administration doled out thousands of driver's licenses to illegal immigrants, now gubernatorial candidate Diane Denish is in favor of 'making changes,' saying 'the law has not worked as intended,'" Martinez campaign manager Adam Deguire said in a written statement to FoxNews.com.
"Common sense dictated that this law wasn't smart from the very beginning, yet even now, Denish is against repealing it," he said. "As governor, Susana Martinez will fight to repeal the law that gives driver's licenses to illegal immigrants and correct the failed leadership of the last seven years."
While Martinez is hoping for a one-on-one matchup against Denish, whom she leads by 6 points in a hypothetical general election match-up poll conducted by KOB-TV in Albequerque, she still needs to get by four other candidates in what has been a bruising and costly five-way contest.
The other candidates for the GOP nomination are former state Republican chairman Allen Weh; Doug Turner, who owns an Albuquerque public relations company; Pete Domenici Jr., an Albuquerque lawyer and son of former U.S. Sen. Pete Domenici; and state Rep. Janice Arnold-Jones of Albuquerque.
Only voters registered as Democrats and Republicans can vote because of New Mexico's closed primary system.
Martinez's hard-line stance on illegal immigration has inflamed the primary in the closing weeks of the campaign, as Martinez and her most competitive challenger, Allen Weh, exchanged television attack ads in which Martinez suggested Weh was soft on illegals.
Martinez criticized Weh's backing of an immigration reform initiative by former GOP President George W. Bush, describing it as support for amnesty for illegal immigrants.
Weh, a former state GOP chairman and Albuquerque businessman, cried foul.
He said he opposed amnesty but backed Bush's proposal for a guest worker program for immigrants who aren't U.S. citizens. The Bush plan also included the possibility of citizenship for unlawful immigrants who met certain conditions, including paying a fine and learning English.
Weh responded to Martinez with an ad alleging misspending by her district attorney's office and suggesting that taxes weren't paid. Her campaign said the allegations were false and the party's state chairman, Harvey Yates, backed Martinez, waded into the dispute a week before the election to declare one of Weh's ads as "dishonest" and "inappropriate." He said that a state financial agency had approved all spending and travel reimbursements in the prosecutor's office.
Albuquerque pollster Brian Sanderoff said Weh and Martinez risked a voter backlash with their bare-knuckle TV ad tactics late in the campaign. Negative ads, he said, "play both ways."
"All of a sudden they are slamming each other. That's going to affect the favorability of both of them," said Sanderoff.
The Associated Press contributed to this report.
https://www.foxnews.com/politics/immigration-looms-large-in-new-mexicos-gubernatorial-primary