House Republicans Unveil 'Pledge to America,' Call for Tax and Spending Cuts
By ,
Published December 23, 2015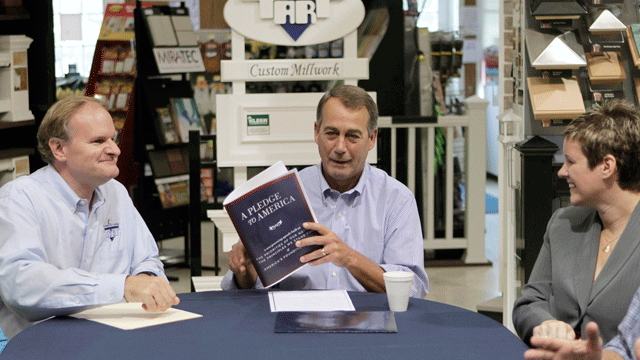 House Republicans on Thursday rolled out their "Pledge to America," a sweeping conservative agenda that calls for reining in federal spending, permanently extending all of the Bush tax cuts, and repealing President Obama's signature health care law.
Republicans are hoping the agenda, released just five weeks before crucial midterm elections, will help power them back into the majority in the House.
"Across America, the people see a government in Washington that isn't listening, doesn't get it, and doesn't care," House Minority Leader John Boehner said as he and other Republican leaders released the 21-page document at a news conference at a hardware story and lumber yard in Sterling, Va.
"This new governing agenda, built by listening to the people, offers plans to create jobs, cut spending, and put power where it belongs: in the hands of the people," he said. "'A Pledge to America' offers a new way forward  that hasn't been tried in Washington: an approach focused on cutting spending instead of accelerating spending, and eliminating uncertainty for the private-sector innovators and entrepreneurs who create jobs."
The plan is divided into five policy areas: the economy, government spending, health care, government reform and national security. Republicans are calling for, among other things, a reduction in federal spending to fiscal 2008 levels except for national security, cite constitutional authority when introducing legislation, and require all bills to be posted online three days before votes.
But the plan didn't delve into specifics on critical issues, such as how it will "put government on a path to a balanced budget. It also steers clear of social issues.
Former House Speaker Newt Gingrich, whose "Contract with America," helped Republicans take control of Congress in 1994, gave his blessing of the latest agenda.
He said in a statement that it offers a "choice between the job killing, big government, high tax agenda of the Democratic Party and a Republican Party agenda to reverse out-of-control spending, restore fiscal accountability leading to a balanced budget, create confidence in the private sector to spur new job creation, and strengthen the family."
Democrats immediately dismissed the pledge.
"If it sounds familiar, it's because it's the same litany that got us into this mess -- tax cuts for the rich that costs millions of dollars," White House chief spokesman Robert Gibbs said.
House Majority Whip Jim Clyburn said if the GOP plan is implemented, it "will visit a plague on Americans.
"Just imagine what plague would be visited on your family if we were to repeal the patient's bill of rights," he said.
A spokesman for House Speaker Nancy Pelosi said in an e-mail, "Congressional Republicans are pledging to ship jobs overseas, blow a $700 billion hole in the deficit to give tax cuts to millionaires and billionaires; turn Social Security from a guaranteed benefit into a guaranteed gamble; once again, subject American families to the recklessness of Wall Street; and take away patients' rights."
Fox News' Chad Pergram contributed to this report.
https://www.foxnews.com/politics/house-republicans-unveil-pledge-to-america-call-for-tax-and-spending-cuts