House Republicans Eye Top Committee Posts, Promise Wave of Obama Oversight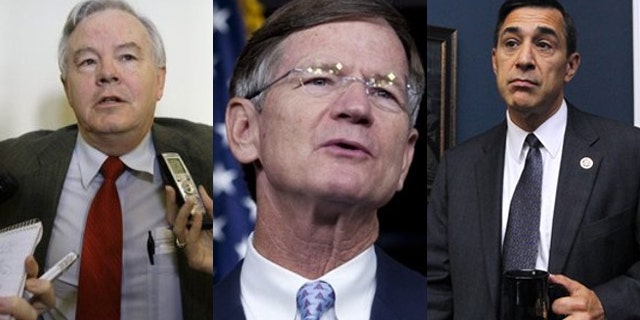 President Obama said last week that even if Republicans want to work with him, they'll have to "sit in back."
But Democrats are the ones who could soon be out of the driver's seat on Capitol Hill. If Republicans seize the House of Representatives on Election Day, their members would win the chairman's gavel on nearly two dozen committees with oversight power covering everything from health care to environmental policy to the military.
Expect a game of musical chairs to sort this all out. If Republicans win, they would have about two months to pick their leadership and from there, nominate and select committee chairs through the House Republican Conference. But the change-up would be more than symbolic -- the Republicans looking to take charge come January are vowing to crack down on what they see as the Obama administration's regulatory excesses.
After two years in which the White House and the majority Democrats in Congress worked hand in hand, a Congress with Republicans at the committee dais would be poised to hassle the administration with subpoenas while drawing attention to whatever the party pleases with its own rapid-fire schedule of hearings. They're calling for a change in tone.
"We have had more hearings on NFL head injuries than on the terror threat facing America," said an aide to Rep. Lamar Smith, R-Texas, currently the ranking Republican on the House Judiciary Committee.
"There's just going to be more hearings on issues that are important to the American people," the aide said. That, and more subpoenas.
On the Judiciary Committee, Smith wants to take over for Chairman John Conyers, D-Mich. If that happens, committee business could quickly turn to illegal immigration and national security and other issues. The Smith aide said the Texas congressman wants to call on the Justice Department to provide information about prosecutions for employers who knowingly hire illegal immigrants. He would hold more hearings on terror threats. He would hold hearings on Mexico violence.
He could hold hearings, the aide said, on civil rights enforcement at the Justice Department, in light of the controversy over the department's decision to mostly abandon a voter intimidation case against the New Black Panther Party. A separate inquiry into that decision uncovered allegations within the department that civil rights lawyers were avoiding cases that involved white victims, something Smith has already drawn public attention to.
The aide said that if California passes Prop 19 legalizing marijuana, a Judiciary Committee led by Smith would also likely press the Justice Department to file suit.
But that's just one committee. Republicans are jockeying for position across the Hill, and the potential succession is not always so clear cut.
On the House Energy and Commerce Committee, ranking Republican Rep. Joe Barton of Texas is hoping to replace Chairman Henry Waxman, D-Calif. But the rules, as well as some controversial comments, could get in the way. Under Republican House rules, nobody can serve more than three terms as chairman or ranking member on a committee. Barton has served two terms as ranking member and one as chairman, so it's not clear whether GOP leadership would let him move back into the chairmanship.
Weighing against him could be his infamous apology to BP for the way they'd been treated during a congressional hearing on the Gulf oil spill. Rep. Fred Upton, R-Mich., is said to be waiting in the wings for a shot at the job.
But Barton has already laid out somewhat of an agenda for his yet-to-be-realized chairmanship.
In a column published Saturday in The Washington Times, he said he would scrutinize the cost effects of the health care law as well as the economic impact of the EPA's environmental regulations.
"Our first job will be to find out what's gone wrong. That's why the return of vigorous congressional oversight is going to be a top priority for me and the committee next year," he wrote. "Congress' oversight function is not a license to bully political opponents. Our permanent, constitutional and bipartisan responsibility is, however, to know what is going on in order to devise policy that takes into account actual people who have to pay for and live under our decisions."
Democrats have raised concern that California Rep. Darrell Issa, ranking Republican on the House Oversight and Government Reform Committee, could start to bully if he takes over for Democratic New York Rep. Edolphus Towns as chairman. Issa is already a thorn in the side of the Obama administration and with the chairman's gavel would be empowered to go after issues like whether the White House made an illegal job offer to Rep. Joe Sestak to get him out of the Pennsylvania Senate primary against incumbent Arlen Specter.
Sen. Al Franken, D-Minn., has warned that Issa would conduct a "witch hunt" against the Obama administration if he becomes chairman.
If it's any comfort to Democrats, Issa has gone on record against the idea of impeaching Obama.
Another high-profile seat is on the House Appropriations Committee, where there would almost certainly be a competition to replace Chairman David Obey, D-Wis.
Ranking member Jerry Lewis, R-Calif., is positioned to run, but the big earmarker is not well liked by some taxpayer watchdogs and he, too, has been either chairman or ranking member for three terms.
Rep. Harold Rogers, R-Ky., according to his hometown newspaper, the Courier-Journal, has been building his own candidacy for the seat by spreading around campaign cash to his House colleagues ahead of the midterm election. He told the newspaper last week he has the support of 19 of the 33 Republicans on the panel tasked with choosing the next chairman, "though it's an inexact science."
That leaves plenty of other high-profile changes of the guard. On the House Budget Committee, ranking Republican Rep. Paul Ryan, R-Wis., has emerged as somewhat of a superstar in the new guard of the party and would be well-positioned to take over for Chairman John Spratt, D-S.C.
On the Armed Services Committee, Rep. Buck McKeon, R-Calif., sits next to Chairman Ike Skelton, D-Mo. On Foreign Affairs, Rep. Ileana Ros-Lehtinen, R-Fla., is ranking member to Chairman Howard Berman, D-Calif. On the tax-writing Ways and Means, Rep. Dave Camp, R-Mich., is ranking member to Rep. Sander Levin, D-Mich., the acting chairman while Rep. Charles Rangel battles ethics charges.
And on Homeland Security, outspoken Rep. Peter King, R-N.Y., who helped lead opposition to the so-called Ground Zero mosque, would seem next in line to Chairman Bennie Thompson, D-Miss.