Hahn tops ethics-plagued Richardson in first round of voting
By Cristina Marcos, Chad Pergram, ,
Published December 23, 2015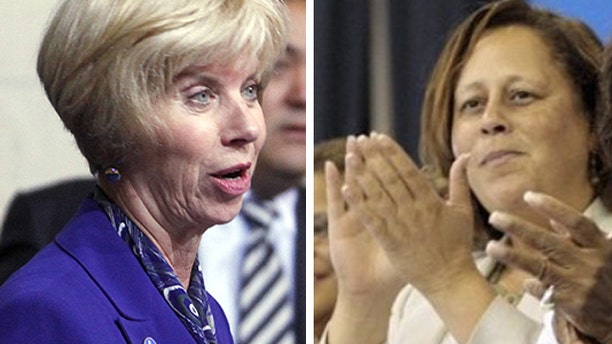 Rep. Janice Hahn, D-Calif., garnered more votes in the California primary Tuesday over embattled fellow Democratic Rep. Laura Richardson, D-Calif., to face off again in the general election this fall.
It's the first of two races pitting the two House incumbents against each other this year. California's new "jungle" primary system puts candidates from all parties on the same ballot. The candidates placing first and second, regardless of party, then compete against each other for the right to come to Washington.
The once-per-decade redistricting process by an independent citizens' commission split Richardson's district nearly in half. She then decided to run in Hahn's redrawn district, which has a large Democratic population.
In 2010, Richardson underwent a high-profile House Ethics Committee inquiry for incomplete financial disclosures and whether she improperly received a gift in the refinancing of a house. The committee ultimately cleared Richardson of the charges after a seven-month investigation. It determined that Richardson's broker committed fraud in obtaining a mortgage – but without her knowledge.
A year later, however, Richardson again found herself before the ethics committee with allegations that she used congressional staffers for campaign activities and personal errands. That investigation is ongoing.
The California Democratic Party endorsed Hahn in February 2012. In contrast, it did not pick a candidate in the other member-versus-member race between Democratic Reps. Howard Berman, D-Calif., and Brad Sherman , D-Calif.
Hahn entered Congress just under a year ago after she won a July 2011 special election to replace nine-term Rep. Jane Harman, D-Calif., who stepped down to head the Woodrow Wilson International Center for Scholars. Richardson came to Congress in a 2007 special election.
https://www.foxnews.com/politics/hahn-tops-ethics-plagued-richardson-in-first-round-of-voting