Governor's race in 'deep-blue' Maryland now among tightest, garnering big money and interest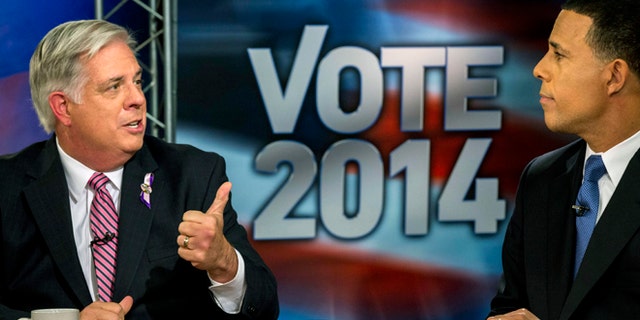 NEWYou can now listen to Fox News articles!
The campaign for Maryland GOP gubernatorial nominee Larry Hogan earlier this week enthusiastically predicted that a win Tuesday would be the surprise, upset victory of the midterm elections.
And it might well be correct.
Left off essentially everybody's list of hot governors' races, the tightening Maryland contest has now captured the national spotlight with big outside money and A-list politicians coming in to close the deal for Hogan or Democratic nominee Anthony Brown, who has served eight years as Gov. Martin O'Malley's lieutenant governor.
That Hogan, a businessman and son of a former congressman, would even be close this late is a surprise.
Democratic voters outnumber Republicans 2-to-1 in Maryland. And only two Republicans have held the governor's office the past four decades.
But a sluggish local economy and years of tax increases by the O'Malley administration -- including an infamous "rain water tax" -- appears to have voters looking for a change.
Brown had led the race by double digits from the start. But recent polls -- including one by The Baltimore Sun in mid-October that indicated Brown ahead by just 7 percentage points -- have shown his lead starting to slip.
However, the turning point seemed to occur after a Republican-sponsored poll released Monday showed Hogan trailing Brown by just 2 percentage points, 46-to-44 percent.
"It's a little crazy right now, but we believe everything is now breaking our way," Hogan said Wednesday from the campaign trail. "The timing is perfect. The momentum is there for Democrats and independents. There's a full-scale tax revolt in deep-blue Maryland."
Though the poll was commissioned by the Hogan campaign, pollsters, Democrats, Republicans and essentially everybody else with an interest in the midterms took notice.
New Jersey Gov. Chris Christie, chairman of the Republican Governors Association, arrived Tuesday in Maryland, for his third visit of the cycle, and was followed two days later by Hillary Clinton, whose many titles now include one of the most influential Democrats on the campaign trail.
And within the past four days, two of Washington's most respected, nonpartisan pollsters have changed their handicap of the race to show Brown on less-sure footing.
On Friday, the Cook Political Report moved the race into its "tossup" category. And on Wednesday, the Rothenberg Political Report shifted the race for Democrats from "favored" to the lesser "lean."
Hogan spokesman Adam Dubitsky suggests Maryland Democrats have taken Hogan too lightly, pointing out that Brown, a Harvard law school graduate who served in Iraq, said during his tough primary race that winning the general election would just be "a little bit of a mole hill."
The Brown campaign did not return calls seeking comment. However, campaign spokesman Justin Schall has downplayed the notion that the national attention suggests Brown is fading.
"That is Republicans' wishful thinking," he told The Sun.
The last Republican to win the Maryland governorship was Robert Ehrlich in 2002. He was preceded by Spiro Agnew in 1967. Ehrlich was defeated in 2006 by O'Malley, who must leave as a result of term limits and appears to be strongly considering a run for president in 2016.
President Obama, who took nearly 62 percent of the Maryland vote in 2012, has also campaigned for Brown.
The RNC and its counterpart, the Democratic Governors Association, will reportedly spend $1.5 million collectively on TV ads.
And a political action committee for former New York Mayor Michael Bloomberg has pledged to spend $500,000 on its own TV ads, to hammer Hogan's National Rifle Association endorsement.
While national political reporters largely saw Brown's biggest liability as the failed rollout of the state's ObamaCare exchange that Brown oversaw, state Republicans have clearly made the race about taxes and have tried to convince Marylanders that a vote for Brown is a vote for a third term of tax increases.
"It's not fear of raising taxes," said Rob Carter, former finance chairman for the Maryland Republican Party. "It's an absolute certainty."
O'Malley has signed into law 40 new taxes while in office, according to Forbes.com.
He signed the rain water tax bill in 2012, in response to an Environmental Protection Agency mandate on cleaning up the Chesapeake Bay. Property owners in 10 jurisdiction including Baltimore City now pay an annual fee that ranges from rough $26 to $256.
"Anthony Brown means eight more years of Martin O'Malley," Carter said. "They are two peas in a pod."