Gingrich dismisses Pelosi claim she knows 'something'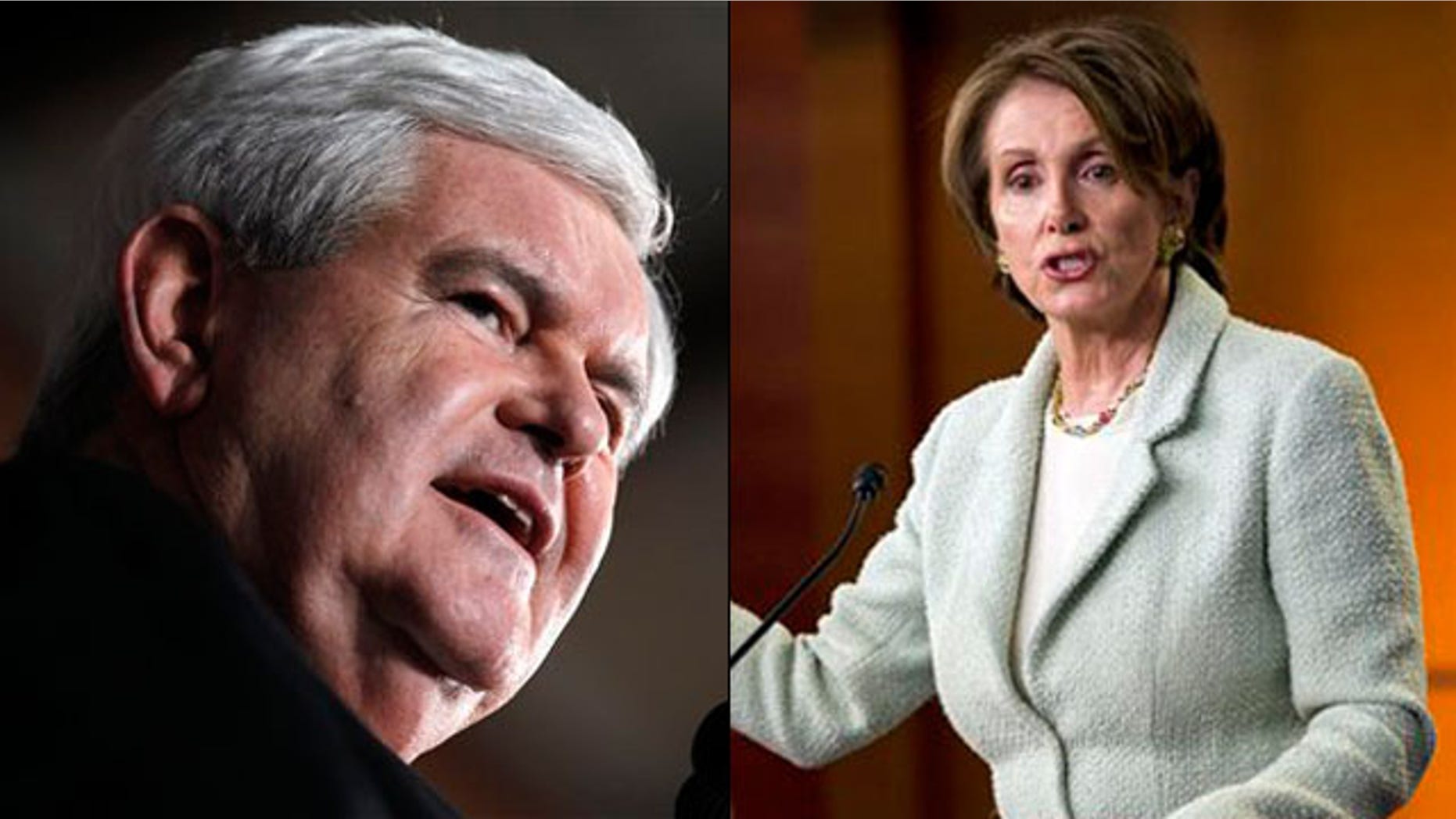 Newt Gingrich challenged Nancy Pelosi to "bring it out" if she's got any damaging information about his past, after the House Democratic leader for the second time suggested she was sitting on information that could imperil his presidential candidacy.
"I think if she knows something, she ought to say it, and if she doesn't know something, she ought to quit saying it," Gingrich told Fox News on Wednesday. "But this is baloney."
Pelosi said earlier on CNN that Gingrich, who is surging in polls in Florida and nationally following his South Carolina primary win, will "never" be president.
"That's not going to happen. Let me just make my prediction and stand by it -- it isn't going to happen," Pelosi said.
Asked why she's so sure, Pelosi answered: "There's something I know. The Republicans, if they choose to nominate him, that's their prerogative."
The remark was similar to one she made in early December. In an interview at the time, Pelosi said "we'll have a conversation about Newt Gingrich" one day, adding "I know a lot about him" and referring to her time on the investigative committee that probed Gingrich while he was speaker.
But Pelosi's office in both cases walked back any suggestion that Pelosi was planning to spill the beans on something untoward or previously undisclosed in Gingrich's past.
"The 'something' Leader Pelosi knows is that Newt Gingrich will not be president of the United States. She made that clear last night," spokesman Drew Hammill said in a statement Wednesday.
Hammill went on to say that her earlier remark was merely a reference to the "extensive amount of information that is in the public record, including the comprehensive committee report with which the public may not be fully aware."
Gingrich was ultimately fined $300,000 by the House in 1997 for ethics violations. The fine and reprimand revolved around claims that a course he taught was improperly soliciting tax-exempt contributions -- other ethics charges against Gingrich were dropped, and the IRS later cleared the group that was involved in soliciting the contributions.
While Gingrich says the probe is out in the open, and that he chose to settle the charges than continue an expensive fight to rebut them, GOP competitor Mitt Romney has called on Gingrich to release supporting documentation from the case.
Romney repeated that call following Pelosi's comment.
"If Nancy Pelosi knows those things right now, she will hand them to Barack Obama's campaign if Speaker Gingrich were our nominee," Romney told Fox News.
Gingrich, who last month said Pelosi's comments were indicative of how political the ethics process was, suggested Wednesday he's not concerned about Pelosi's claims.
"Frankly, I'd rather have her threaten me than endorse me, so I feel pretty good about it," Gingrich said. "If she has something, bring it out."
Gingrich, leading up to and following his South Carolina victory on Saturday, has soared in the polls. A new Gallup poll has him leading Romney nationally by 4 points, while other surveys show him leading or tied with Romney in Florida -- which holds its primary next week.