Friends, Critics Dispute Arizona Sheriff's Remarks on 'Political Rhetoric' in Wake of Rampage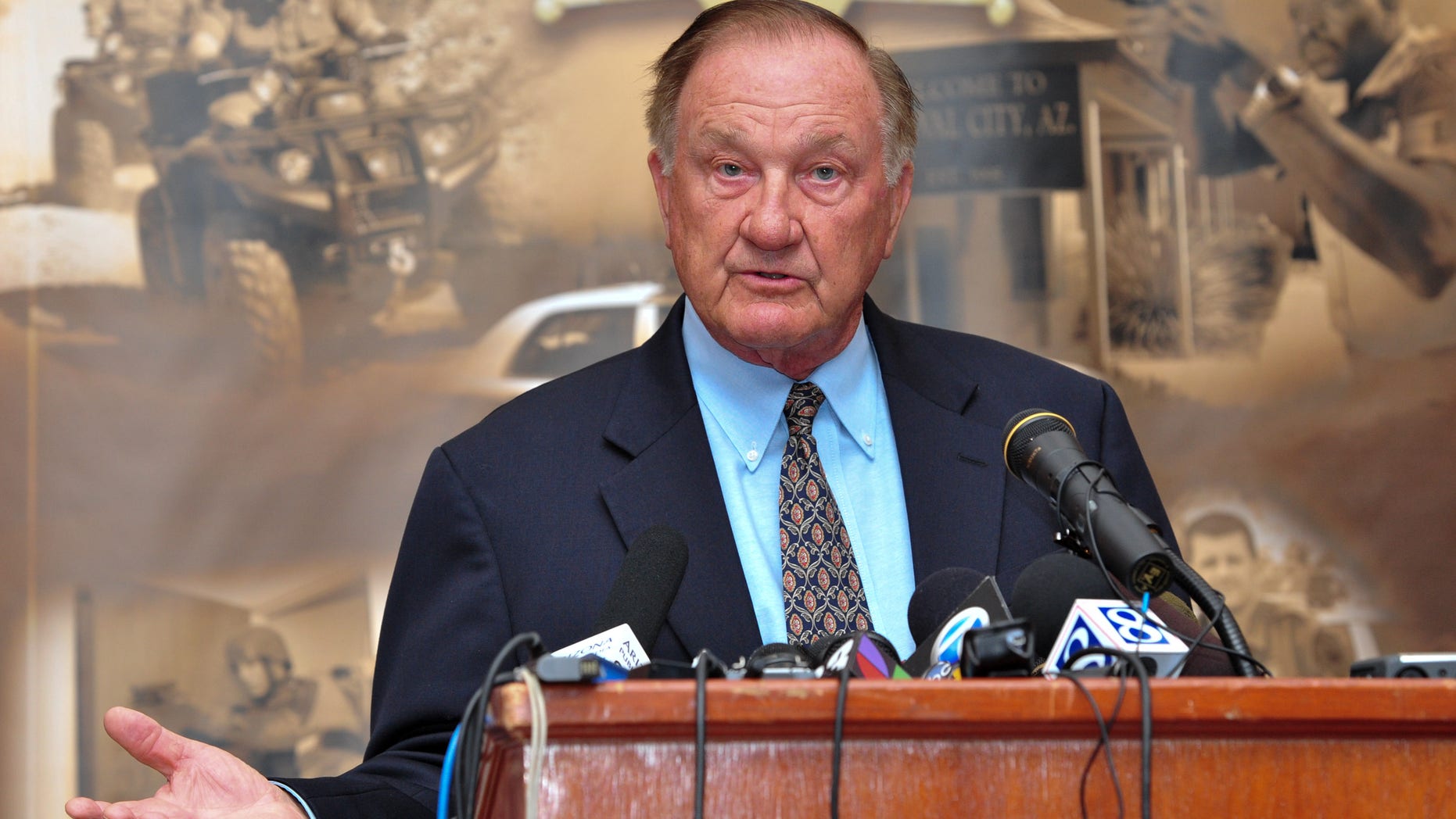 Just hours after Rep. Gabrielle Giffords, an Arizona Democrat, was shot in the head by a crazed gunman, Pima County Sheriff Clarence W. Dupnik — addressing the media for the first time — made headlines for saying that "vitriolic political rhetoric" heard on the radio and TV caused Jared Loughner to go on a bloody killing spree that left six dead and 14 wounded.
"When the rhetoric about hatred, about mistrust of government, about paranoia of how government operates, and to try to inflame the public on a daily basis, 24 hours a day, 7 days a week, it has impact on people especially who are unbalanced personalities," Dupnik said Saturday night.
The sheriff, a Democrat who has served as the county's top cop for 31 years, angered many with the remarks — including some of his friends, who felt his editorializing had no part in a news conference, typically reserved for impersonal facts and details.
Sheriff Larry Dever of  Arizona's Cochise County, which borders Dupnik's, says he considers Dupnik a close friend and mentor but can't understand what drove his latest comments.
But Dever added that he knows that Dupnik is very angry about the shootings and was close friends with the federal judge killed and with Giffords.
"He's offered me wise counsel over the years. He's not only a friend but someone I've looked up to," Dever told FoxNews.com. "But I cannot explain nor can I defend his comments on this."
Rep. Trent Franks, R-Ariz., told Fox News: "I'm especially disappointed in the sheriff because we were looking to him for straight facts and he politicized this. I don't want to be unkind but I was disappointed."
"The sheriff is supposed to investigate, not pontificate," Brad Blakeman, former assistant to President George W. Bush told Fox News on Monday. "This guy should be fired."
But this isn't the first time Dupnik has offered his brazen opinion on controversial topics, such as Arizona's controversial immigration law, the Tea Party and campaign finance.
— He called Arizona's immigration law "racist," "disgusting" and "just a stupid law" in an interview with Tucson's KGUN9-TV on Apr. 27, 2010.
In May 2010, Dupnik wrote in an opinion piece in the Wall Street Journal about SB1070 calling it unconstitutional: "I have argued from the moment that this bill was signed that it is unnecessary, that it is a travesty, and most significantly, that it is unconstitutional."
— On the Tea Party, according to the Arizona Star newspaper, he said at a local immigration forum in September:  "I think it brings out the worst in America. Instead of sitting down and getting both parties to work together, they are part of a movement designed to stop Obama from accomplishing anything."
— On gun laws, at a press conference following the mass shooting: "Well, I think we're the Tombstone of the United States of America," he said, adding, "I have never been a proponent of letting everybody in this state carry weapons under any circumstances that they want, and that's almost where we are."
— On Jan 9, 2010, Dupnik said of campaign finance reform to Fox News's Megyn Kelly: "When millions of dollars are filtered into this country to buy very vitriolic ads and they don't have to be identified to the people that are donating money to them, I think we need to take a look at it."
Critics say the sheriff needs to be the protector of the people, not a source of instigation and divisiveness.
Sheriff Paul Babeu of Pinal County, Ariz., told Fox News that Dupnik's comments only helped to fuel unsubstantiated rumors that were rampant in the hours after the shooting, including that the shooting suspect had served in Afghanistan and was a member of the Tea Party.
"All of these have been debunked," Babeu said. "I wish that everybody would take a moment and try to calm this down and that's our job. It's not to insert our opinion but find out the facts and what's truly happened."
Dupnik himself later conceded on Fox News that his blaming vitriol was his opinion, not fact. And despite his critics he isn't backing down from his statements.
"I think differences of opinion is what makes the world go round and round but it's irresponsible for us not a some point to address this kind of behavior and try to put a stop to it," Dupnik told Fox News' Kelly.
But others say the sheriff should just stick to his job.
"To ascribe political motives and then launch a political assault naming elected leaders in America and saying this is connected when there is no basis in fact does nothing to help at a time when people's hearts are broken and really trying to assess what happened here," Babeu said.
"And you and all Americans look to law enforcement to find out the facts of truly what happened and not to give an opinion. But the sheriff is an elected sheriff."