Fox News Poll: Voters think worst is yet to come on the economy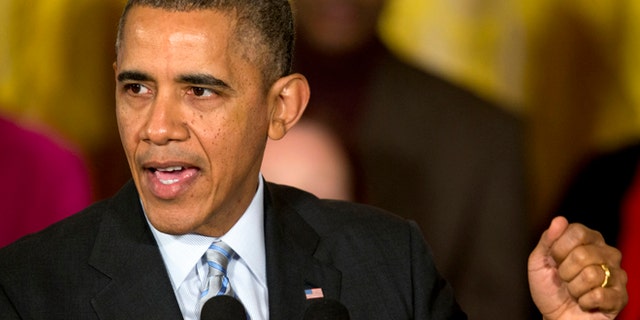 NEWYou can now listen to Fox News articles!
While most voters give President Obama a passing grade on the economy, nearly three times as many think he deserves an "F" as say he should get an "A," according to a new Fox News poll.
Meanwhile, the poll also finds an increasing number of voters think the worst is yet to come for the economy.
Click here for the poll results.
When asked to grade Obama for the job he's done on improving the economy, nine percent give him an "A," while 22 percent give him a "B" and 22 percent a "C." A sizable minority thinks he deserves a grade of "D" (14 percent) or "F" (24 percent). Another nine percent give an "incomplete."
That makes the president's grade-point average 1.78, which is a C-minus. That's about the same as Obama received in 2012.
Since his first term, Obama's grade has gone down among the party faithful: 17 percent of Democrats give Obama an "A." It was 23 percent in 2012.
Meanwhile, 41 percent of Republicans give Obama an "F," which is an improvement from the 46 percent who failed him in 2012.
Voters continue to be pessimistic over the future of the economy. A 58-percent majority thinks the worst is yet to come. Not only is that up from 52 percent a year ago, but it is also the highest level recorded since April 2009. At that time, 66 percent said the worst is yet to come.
Some 37 percent think the worst is over. While that's little changed from last year's 40 percent, it is a significant improvement from the beginning of Obama's first term when just 27 percent of voters felt that way (April 2009).
Most Republicans (72 percent) and independents (63 percent) believe the worst is ahead.
Democrats are more divided: 51 percent say the worst is over, while 44 percent say it's still to come.
Overall, President Obama's job rating holds steady this month: 42 percent of voters approve and 53 percent disapprove. That's identical to last month.
Approval of Obama among Democrats (75 percent) is lower than disapproval among Republicans (86 percent).
Among independents, 29 percent approve of the job the president is doing, while 65 percent disapprove.
The Fox News poll is based on landline and cell phone interviews with 1,006 randomly chosen registered voters nationwide and was conducted under the joint direction of Anderson Robbins Research (D) and Shaw & Company Research (R) from February 9-11, 2014. The full poll has a margin of sampling error of plus or minus three percentage points.