Fox News Poll: Voters continue to prefer a pathway to citizenship
By Victoria Balara, ,
Published August 23, 2018
Voters continue to support a pathway to citizenship for illegal immigrants currently living in the United States, although support has declined since February.  And while majorities remain concerned about certain issues linked with illegal immigration, voters are becoming increasingly less worried about them, according to the latest Fox News Poll.
The top concern voters have regarding illegal immigration is the possible drain on Uncle Sam:  69 percent are "very" or "somewhat" concerned it will overburden government programs.  That's down from 79 percent in July 2015 and a high of 87 percent in April 2006.  Other concerns include the possibility illegal immigration will lead to increases in crime (59 percent) and terrorism (55 percent), and take jobs away from citizens (50 percent), but each of those problems saw double-digit decreases since 2015 as well.
"Changing the culture of the country" was the least of voters' worries with 47 percent "very" or "somewhat" concerned, relatively unchanged from 46 percent in 2015.
READ THE COMPLETE POLL RESULTS.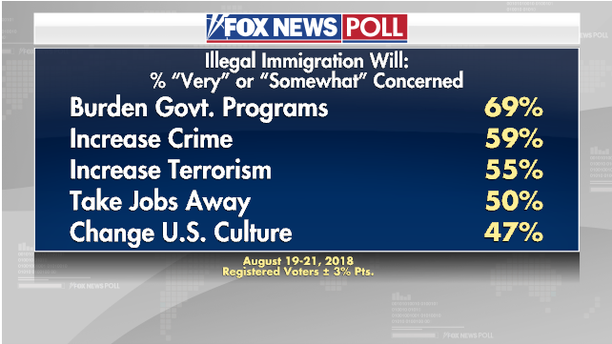 In addition, almost six-in-ten voters (58 percent) favor allowing illegal immigrants to remain in the country and eventually qualifying for citizenship (32 percent oppose).  While that's down from a record 65 percent who felt that way in February, it's still a significant change from the split recorded in October 2014 (46 percent favor vs. 44 percent oppose).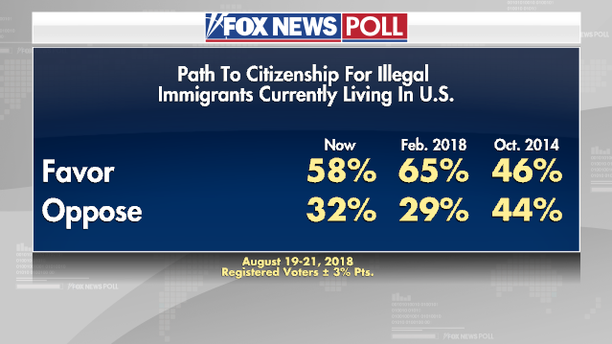 The biggest changes in support since February come from black voters (-14), Southerners (-12), and Democrats (-10).
President Trump's approval rating on immigration remains in negative territory (39 percent approve vs. 57 percent disapprove).  That matches his record low, recorded in September 2017.  Last month, it was 43-55 percent.
Trump does better on handling of border security: 44 percent approve, while 51 percent disapprove.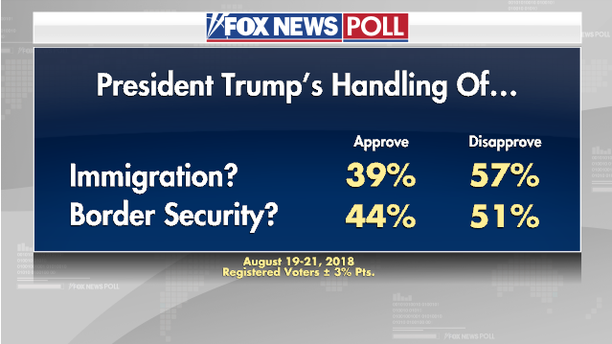 2018 Midterms
Immigration is an important issue for voters in the 2018 elections, but not the most important issue.  While 47 percent say immigration is "extremely" important to their vote, it trails health care (56 percent extremely important), which party controls the House (54 percent), the economy (53 percent), and President Trump (48 percent).
And when asked to pick the "most" important issue to their vote, just 10 percent say immigration.  The economy (18 percent), health care (18 percent), which party controls the house (14 percent), and President Trump (13 percent) rank higher.
Border security comes in last place on both measures: 42 percent say it's "extremely" important to their vote and just 5 percent say it will be the "most" important when casting their vote this November.
Voters who prioritize immigration are more likely to back the Republican candidate in their congressional district this fall by 22 points, while health care voters prefer the Democratic candidate by 42.
The Fox News poll is based on landline and cellphone interviews with 1,009 randomly chosen registered voters nationwide and was conducted under the joint direction of Anderson Robbins Research (D) and Shaw & Company Research (R) from August 19-21, 2018.  The poll has a margin of sampling error of plus or minus three percentage points for all registered voters.
https://www.foxnews.com/politics/fox-news-poll-voters-continue-to-prefer-a-pathway-to-citizenship