Fox News Poll: Romney remains top of GOP field, Clinton leads Democrats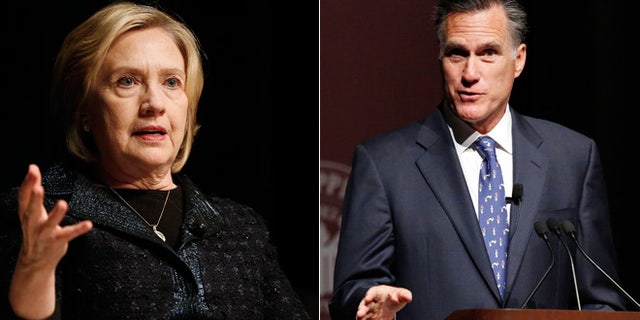 Former Massachusetts Governor Mitt Romney and former Secretary of State Hillary Clinton remain the front-runners for their respective party's presidential nominations. In addition, Romney performs best against Clinton among the Republicans tested in hypothetical head-to-head matchups, coming out dead even.
That's according to the latest Fox News poll, released Thursday.
Click for full results of the poll (pdf)
In the quest for the GOP nomination, Romney leads with 21 percent among self-identified Republicans. He's followed by Kentucky Sen. Rand Paul and former Arkansas Gov. Mike Huckabee each at 11 percent, and former Florida Gov. Jeb Bush at 10 percent.
Then the single-digit tier: retired neurosurgeon Ben Carson earns nine percent support, followed by Wisconsin Gov. Scott Walker at eight percent and Florida Sen. Marco Rubio at five percent.
New Jersey Gov. Chris Christie, Texas Sen. Ted Cruz and former Texas Gov. Rick Perry each get four percent. All others come in at two percent or less.
Romney (20 percent) is the top choice among voters who consider themselves part of the Tea Party movement, followed by Carson (13 percent), and Paul and Walker (9 percent each).
White evangelical Christians are also most likely to back Romney (15 percent), with Huckabee (13 percent), Bush and Paul (10 percent each) close behind.
The new Fox poll also asks voters their second choice candidate, so we can look at what happens to the competition if someone were to drop out of the running for the nomination. For example, if Romney decides against a third run for the presidency, Bush grabs the top spot (15 percent) and Huckabee and Paul tie for second (13 percent).
Among Democratic contenders for their party's nomination, Clinton still dominates -- although her numbers continue to slip. She now comes in at 55 percent among self-identified Democrats, down from 62 percent last month and a high of 69 percent in April 2014.
Vice President Joe Biden makes gains in the new poll. He comes in second with 17 percent. That's up from 10 percent last month. Massachusetts Sen. Elizabeth Warren is third with 12 percent -- unchanged from December.
When Clinton's name is removed, the poll shows Biden becomes the clear front-runner at 37 percent support. That's well ahead of Warren who gets 21 percent and New York Gov. Andrew Cuomo at 14 percent (even though he rates only four percent when measured against the whole field).
In hypothetical matchups for a 2016 presidential contest, Romney ties Clinton at 46 percent each. Clinton does better against the other Republicans tested: she leads Christie 48-42 percent, Bush 48-43 percent and Paul 47-44 percent.
A look at the 2012 election in the rearview mirror: 43 percent of voters think Romney would have done a better job as president than Obama, but 50 percent disagree. Most Republicans say yes, Romney would have done better (83 percent), while most Democrats reject that idea (86 percent). By a 51-33 percent margin, independents say no, Romney would not have been better than Obama.
The Fox News poll is based on landline and cell phone interviews with 1,009 randomly chosen registered voters nationwide and was conducted under the joint direction of Anderson Robbins Research (D) and Shaw & Company Research (R) from January 25-27, 2015. The full poll has a margin of sampling error of plus or minus three percentage points. The results among Democrats and Republicans have an error of plus or minus five points.