Flamboyant artist sits in Cuban jail after celebrating Fidel Castro's death
By , Liz Llorente
Published November 29, 2016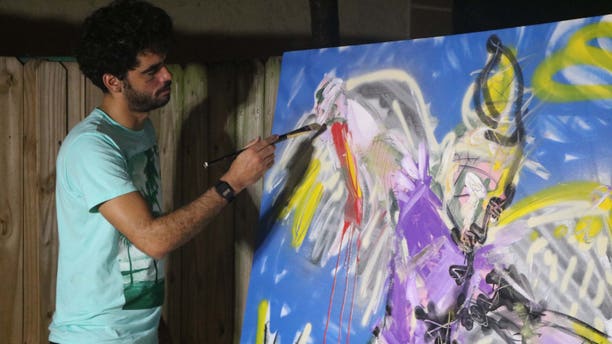 A Cuban graffiti artist whose flamboyant expressions of opposition to the communist regime have landed him in trouble remains in jail in Cuba days after he posted signs and drawings about former leader Fidel Castro's death.
The artist, Danilo Maldonado, also chanted in the streets about Castro and his brother, Raul, Cuba's president, according to his girlfriend, Alexandra Martinez.
Martinez, who spoke with Maldonado from her home in Miami before he was taken by police, said to FoxNews.com the artist had chanted "Abajo Fidel, abajo Raúl" ("Down with Fidel, down with Raúl").
"I said 'I love you, I'm telling everyone,'" Martinez said. Martinez, a Cuban-American, said that Maldonado had been trying to get permission from the Cuban government to visit Miami this week to participate in an art event there.
"The topic of the session he was going to participate in was artistic freedom," Martinez said."

Maldonado, who is known as "El Sexto" and is active on social media, spent 10 months in jail about a year ago after he posted a photo of two pigs with "Fidel" written on one and Raul on the other.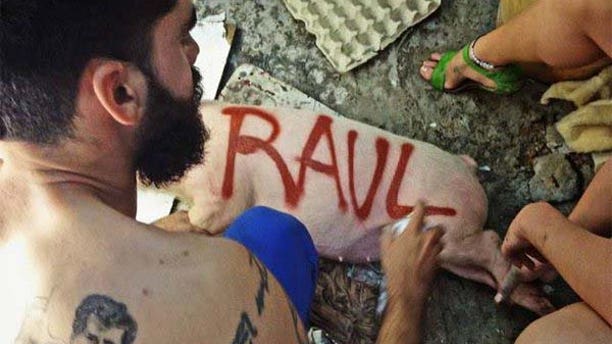 The Human Rights Foundation said on its Facebook page that the Cuban government had charged Maldonado in 2015 with "criminal defamation" for linking the Castro brothers with the pigs, which the artist had prepared for a performance of George Orwell's "Animal Farm."
Martinez, 24, said his mother has tried to visit Maldonado, 33, who was moved to a notorious jail known to hold political prisoners, but has been denied the opportunity by Cuban government officials.
The Cuban American National Foundation (CANF), based in Miami, told FoxNews.com that Maldonado continues in jail and has not been charged.
Martinez said that his mother, Maria Victoria Machado Gonzalez, said she saw security forces beat and drag her son as they took him to the police station.
"El Sexto has become a prominent target of the Cuban regime because his graffiti art is one of the elite's most feared methods of protest as it exposes their true nature," said Thor Halvorssen, president of Human Rights Foundation, in a statement on the group's Facebook page.
"El Sexto's art unmasks the tyranny in ways white papers and press accounts cannot. Now that Castro will receive a pompous farewell, the regime will take measures to silence all voices for democracy and to drown out calls for reform."
Remberto Perez, vice president of CANF, told FoxNews.com that he saw Maldonado's Facebook postings celebrating Castro's death and predicted he'd pay the consequences.
"He's one of a kind," Perez said. "The Cuban government is very worried right now that Fidel's death may provoke something, they lashing out against everyone they see as a threat."
Amnesty International declared Maldonado a prisoner of conscience, and Human Rights Foundation awarded him the Vaclav Havel Prize for Creative Dissent after he used pigs to portray the Castro brothers.

https://www.foxnews.com/politics/flamboyant-artist-sits-in-cuban-jail-after-celebrating-fidel-castros-death