FEMA Director Prepares for Widespread Power Outages from Winter Storm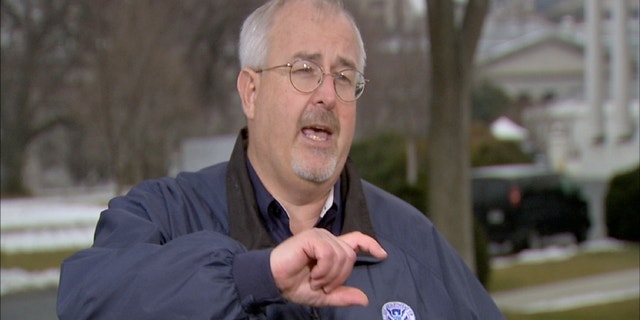 FEMA Director Craig Fugate tells Fox News that the Obama administration stands ready to help local governments prepare and recover from the massive winter storm hitting multiple states and from what Fugate has heard, they're gonna need it.
"The thing that really concerned me was when the weather service began forecasting that we could see a large area of heavy icing. This part of the storm-- the icing area-- is where historically we've seen the really severe power outages that can literally last for weeks."
Winter's grasp on a large swath in the eastern part of the country is expected to take a toll.
Fugate told Fox News White House Correspondent Mike Emanuel that he and Homeland Security Secretary Janet Napolitano briefed the president Tuesday morning on the storm's potential impact, the preparations the federal government has begun and what is being done to support state governors.
The federal government has moved about 500 generators to help local governments get infrastructure back up at places like shelters in case they lose power. The government is working alongside the Red Cross in providing water and food, as well, to support shelter operations.
Fugate has a few tips, many of which have been stated before: check on your neighbors; especially the very young and the elderly; shovel out fire hydrants to help fire fighters, and go to www.ready.gov to get ideas for the supplies you'll need while you're stuck indoors.
Fugate doesn't mind sounding like a broken record on one of his most important recommendations of all: stay off the roads.
"[W]hen you get into these blizzard-like conditions, these heavy ice conditions, let the Department of Transportation get those roads back where you can drive on 'em. Every time a car breaks down or gets stuck out there, that means somebody's gonna have to go deal with that instead of gettin' the roads ready, so do yourself a favor and everybody else a favor: stay off roads! Let the local officials get those roads back open."