Federal Lawyer: No Room for Alabama Immigration Law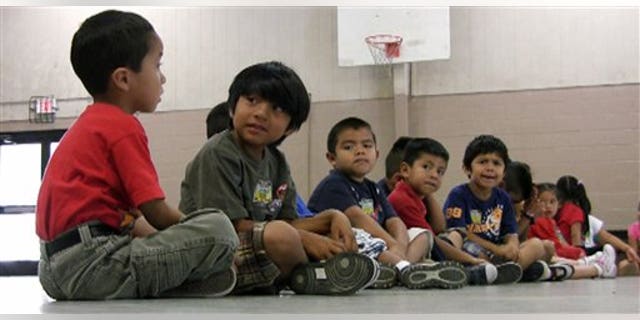 NEWYou can now listen to Fox News articles!
BIRMINGHAM, Ala. – Lawyers for the federal government and for a coalition of civil rights groups asked a federal judge Wednesday to block a new Alabama law cracking down on illegal immigration, arguing that it stomps on such basic rights as free speech and free travel.
But attorneys for the state argued the new law allows the state to regulate illegal immigration in the absence of action from the federal government and that many opponents have overreacted about the law's expected impact.
Deputy Assistant U.S. Attorney General William Orrick told U.S. District Judge Sharon Blackburn that sections of Alabama's law -- which has been described by opponents and supporters as the toughest such law in the country -- should be blocked because they conflict with federal law.
Blackburn was holding a hearing on lawsuits filed by the U.S. government, civil rights groups including the American Civil Liberties Union and Alabama church leaders that seek to block the new law signed by Gov. Robert Bentley in June. The all-day hearing in Birmingham continued Wednesday evening.
The law allows police officers, in conducting routine traffic stops, to arrest those they suspect of being illegal immigrants. Other provisions in the broad measure also make it a crime to transport or provide shelter to an illegal immigrant. It also requires schools to report the immigration status of students, a provision opponents say will make many parents afraid to send their children to school.
Orrick said the new law intrudes on the authority of the federal government, which enforces immigration policy. Judges have blocked all or parts of similar laws in Arizona, Utah, Georgia and Indiana.
"There's no room for the states to be legislating in this area," Orrick told Blackburn, who heard three hours of arguments from the law's opponents in the morning.
Alabama Attorney General Luther Strange later told the judge that the immigration law should not be seen as a sign that Alabama doesn't welcome those from other nations.
Strange said the state's recruitment in recent years of such foreign-owned businesses as Hyundai from South Korea and Mercedes from Germany shows that "nothing is further from the truth." He urged the judge to let the law take effect as planned Sept. 1.
Strange also told Blackburn that foes have exaggerated predictions of dire effects of the new law. He said it would not prevent church leaders from ministering to illegal immigrants nor deter worship and participation in religious ceremonies that is protected under state and federal constitutions.
In asking Blackburn to thrown out parts of the law, Orrick told Blackburn it makes criminals out of people who rent houses to illegal immigrants and in some cases makes it a crime to work.
Orrick also argued that the law harms the reputation of the U.S. with other countries.
"It corrodes the reputation of the United States for American values like openness and welcoming others," Orrick said.
He also criticized a section of the law that requires schools to report the immigration status of students, saying it would make parents afraid to send their children to school.
The state's attorneys defended that provision.
"We are simply gathering data," said Assistant Attorney General Misty Fairbanks. Under Blackburn's questioning, she said the provision also is not an attempt to label immigrant children.
Republican state Sen. Scott Beason -- one of the law's sponsors -- said outside court that he didn't hear any discussion of the rights of legal Alabama residents during the arguments before the judge.
"I didn't hear the federal government or the ACLU arguing about the rights of citizens of Alabama who have been displaced from their jobs by these illegal immigrants. Who's looking out for their rights?" Beason said in an interview.
During a break in the hearing, Beason als spoke with some Hispanic young people and told them Alabama's law was not intended to hurt them.
A recent high school graduate, 19-year-old Victor Palafox, told Beason the teens were worried the law would prevent them from attending college or getting good jobs. Beason told the teenagers he respects their opinions but the law does what's best for the people of Alabama.
During the hearing, ACLU attorney Cecillia Wang questioned a provision of the law allowing police to detain people after a routine traffic stop if they suspect them of being in the country illegally. She said that would turn "law enforcement officers into immigration agents" and would subject innocent citizens to detention while their immigration status is determined.
Alabama Solicitor General John Neiman said illegal immigrants are already violating federal law by being "unlawfully" in the country.
Blackburn frequently interrupted attorneys and indicated she would address the issues in depth in her written ruling. She gave no indication when she would rule.