FBI background checks soar after fatal school shootings, calls for tighter gun control
By ,
Published December 20, 2015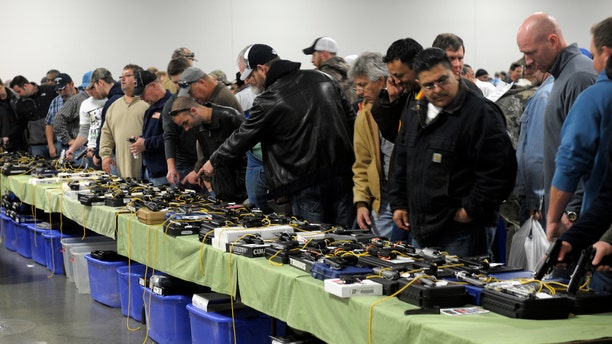 The FBI is reporting a record 2.8 million background checks for gun purchases in December – following the deadly Connecticut school shootings that prompted lawmakers to call for tighter gun control.
The December number exceeds the record 2 million checks in November, according to the agency's National Instant Criminal Background Check System.
The December number also marks a 49 percent increase over December 2011, when the record was set at 1.9 million checks, according to the agency, which started the programs in 1998 as part of the Brady Handgun Violence Prevention Act.
The fatal shooting at the Sandy Hook Elementary School occurred Dec. 14 in Newtown, Conn., killing 20 first-graders and six adults.
Within days, California Sen. Dianne Feinstein and other lawmakers called for tighter gun control, including an assault-weapon ban like the one Feinstein got Congress to approve from 1994 through 2004.
Lawmakers have also called for a ban on high-capacity ammunition clips and tighter background checks. President Obama appeared to back such measures in the immediate aftermath of the Connecticut shootings and on Sunday reiterated his push for tighter gun control.
"I'd like to get it done in the first year," he told NBC News.
Obama also is joined by a host of state-level lawmakers, including some in Georgia, Maryland and Vermont who are either proposing new gun legislation or strengthening existing laws.
New York Mayor Michael Bloomberg, an Independent who co-founded the group Mayors Against Illegal Guns, has been among the most vocal about tighter gun control.
However, such efforts are expected to face stiff opposition from Second Amendment advocates, particularly the National Rifle Association, the country's most powerful gun lobby.
Feinstein declined to say on "Fox News Sunday" when she would introduce new legislation, but said it would essentially "strengthen" the 1994 bill.
The shooter in the Connecticut tragedy, Adam Lanza, reportedly used a semi-automatic rifle in the attacks before killing himself with a handgun, as police closed in.
Lanza also reportedly had emotional problems and killed his mother at their home before going to the school.
.
https://www.foxnews.com/politics/fbi-background-checks-soar-after-fatal-school-shootings-calls-for-tighter-gun-control