Rod Blagojevich, freed by Trump commutation, leaves Colorado prison, returns to Illinois
After leaving prison Tuesday, former Illinois Gov. Rod Blagojevich expressed his "everlasting gratitude" to President Trump who commuted his 14-year corruption sentence.
Blagojevich, who served eight years behind bars in Colorado, jokingly called himself a "Trumpocrat," saying the president "saw a wrong and corrected it."
Trump said the punishment imposed on the Chicago Democrat and one-time contestant on Trump's reality TV show "Celebrity Apprentice" was excessive. "So he'll be able to go back home with his family," he said. "That was a tremendously powerful, ridiculous sentence in my opinion and in the opinion of many others."
Blagojevich was convicted in his second trial in 2011 on 18 counts, including trying to sell former President Obama's old Senate seat. His first trial ended with the jury unable to reach a verdict, except for a single conviction, for lying to the FBI.
TRUMP PARDONED, COMMUTED SENTENCES FOR THESE PEOPLE: THE FULL LIST
"I've got this thing and it's f------ golden. And I'm just not giving it up for f------ nothing," Blagojevich said about Obama's seat on an infamous wiretap recording.
"I didn't do the things they said I did and they lied on me," Blagojevich told Chicago's WGN-TV as he walked through O'Hare airport shaking the hands of travelers who welcomed him home.
As he exited the airport doors he was rushed by media and supporters, signing a few autographs before getting into a white SUV and speeding out of the airport toward his Ravenswood home. There he was rushed through a crowd of journalists and supporters to his front door. He said he was happy to be home with his wife and children before disappearing into the house.
Blagojevich said he would have more to say in a Wednesday news conference.
Trump expressed some sympathy for Blagojevich when he appeared on "Celebrity Apprentice" in 2010, before his first corruption trial started. When Trump "fired" Blagojevich as a contestant, he praised him for how he was fighting his criminal case, telling him, "You have a hell of a lot of guts."
Blagojevich testified during his trial, calling himself a flawed dreamer grounded in his parents' working-class values. He said the hours of FBI recordings were the ramblings of a politician who liked to think out loud.
BERNIE KERIK PARDONED: WHAT TO KNOW ABOUT FORMER NYPD COMMISSIONER'S CASE
After he was released, the former governor said he learned how unfair the criminal justice system can be during his time in prison, especially for people of color. He also said he was drawn closer to God. "There is divine intervention in all of this," he told reporters.
"I'm going to fight against the corrupt criminal justice system that all too often persecutes and prosecutes people who did nothing wrong, who over-sentences people, show no mercy, and who are in positions who have no accountability," Blagojevich said. "They can do whatever they want. They can put you into prison for things that aren't crimes."
Illinois Gov. J.B. Pritzker rebuked the president's commutation in a statement.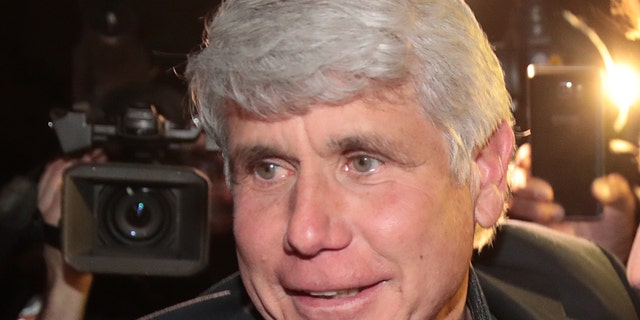 TRUMP'S COMMUTATION OF BLAGOJEVICH SENTENCE SPARKS ANGER FROM ILLINOIS HOUSE REPUBLICAN LEADER
Trump "has abused his pardon power in inexplicable ways to reward his friends and condone corruption, and I deeply believe this pardon sends the wrong message at the wrong time," he said.
Chairman of the Illinois GOP, Tim Schneider, agreed. "In a state where corrupt, machine-style politics is still all too common, it's important that those found guilty serve their prison sentence in its entirety," he said.
Trump made clear that he saw similarities between efforts to investigate his own conduct and those who took down Blagojevich.
"It was a prosecution by the same people — Comey, Fitzpatrick, the same group," Trump said. He was referring to Patrick Fitzgerald, the former U.S. attorney who prosecuted Blagojevich and now represents former FBI Director James Comey, whom Trump fired from the agency in May 2017.
Blagojevich became the first Illinois governor to be removed by lawmakers in a nearly unanimous vote after he was impeached in 2009.
He entered prison in March 2012.
In 2015, the 7th U.S. Circuit Court of Appeals in Chicago tossed out five of his convictions, including ones in which he offered to appoint someone to a high-paying job in the Senate.
MICHAEL MILKEN, 'JUNK BOND KING,' AMONG NUMEROUS TRUMP PARDONS
A joint statement from the lead prosecutors at Blagojevich's trial, none of whom work in the U.S. Attorney's Office in Chicago anymore, stopped short of criticizing Trump's decision. But they highlighted the convictions, including trying to shake down a children's hospital, saying, "Mr. Blagojevich remains a felon."
CLICK HERE TO GET THE FOX NEWS APP
Blagojevich Tuesday evening said he's made mistakes but never broke any laws. "I crossed no lines. And the things I talked about doing were legal and this was routine politics and the ones who did it are the ones who broke the laws and the ones who frankly should meet and face some accountability."
The Associated Press contributed to this report.