Drawn-out GOP primary battle has Romney back on fundraising circuit
By ,
Published December 23, 2015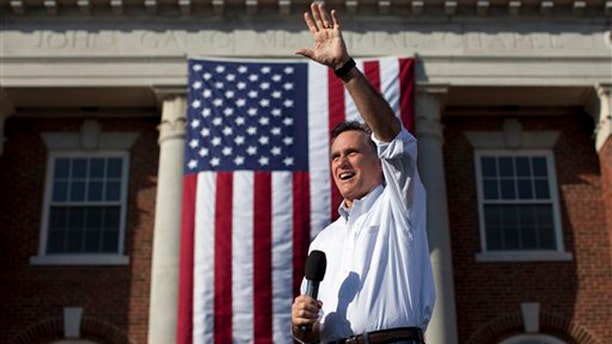 The long and increasingly messy Republican presidential contest is starting to hit Mitt Romney where it hurts most: his wallet.
New signs of financial stress are emerging in Romney's campaign, which has built a wide lead in delegates thanks in part to the might of his bank account. As rival Rick Santorum's surprising strength keeps extending the nomination battle, Romney has scaled back expenses, trimmed field staff and begun to count more on free media coverage. He's still relying on an allied super political action committee to supplement his spending on expensive TV ads.
This week, the former Massachusetts governor was forced to spend two days courting donors in the New York area, even as his Republican rivals were wooing voters ahead of pivotal elections in places like Illinois -- where Romney hasn't been in four months -- and as President Obama was stockpiling cash for the fight before the November general election.
On Wednesday, Romney had five events in New York, all packed, raising about $3 million, with more set for Thursday.
It's unclear if he will tap his own personal wealth.
The former financial executive, whose wealth is estimated at between $190 million and $250 million, loaned his 2008 presidential campaign $42 million. Top aide Eric Fehrnstrom said Romney has not loaned his campaign any new funds this cycle and has no plans to do so.
Romney had hoped to have wrapped up the nomination by now, giving him the freedom to raise money for the general election against Obama.
As Romney continues to focus on the Republican fight, his chief rival, Santorum, is showing new fundraising success. For the month of February, Romney boasted his second-best fundraising month ever, taking in $11.5 million, but Santorum, who has a vastly smaller organization, wasn't far behind, with $9 million.
For months, the former Pennsylvania senator's campaign had depended on passionate but inexperienced volunteers. Santorum has finally opened a national headquarters, and he's added several paid staff.
Romney aides acknowledge they're looking at ways to reduce costs.
The campaign has stopped conducting expensive polling, and Romney stopped using the 150-seat plane that could accommodate the press after the 10-state vote known as Super Tuesday earlier this month. Instead, he is flying with a small group of aides and Secret Service agents on a smaller, cheaper aircraft.
Publicly, Romney and his senior team have offered no hint of financial stress.
"We started March with more cash on hand than any of our opponents," Fehrnstrom said. "Our fundraising continues to be healthy. We have all the resources we need to remain competitive in this race."
Santorum hopes to maintain momentum after wins in Mississippi and Alabama this week by defeating Romney on Sunday in Puerto Rico's Republican primary, which offers candidates the opportunity to score points with Hispanic voters.
Illinois, which hosts a primary on Tuesday, is the next big test.
Romney is showing little sign of abandoning his traditional dominance in paid advertising, thanks in part to the Romney-aligned Restore Our Future super PAC.
Romney and that group have been running Illinois television advertising that, combined, exceeds $2.4 million. Santorum's aligned super PAC is spending $400,000 there so far.
https://www.foxnews.com/politics/drawn-out-gop-primary-battle-has-romney-back-on-fundraising-circuit