Did 'hotshot' NY Times reporter Ali Watkins simply benefit from top-secret pillow talk?
By Brian Flood, ,
Published June 13, 2018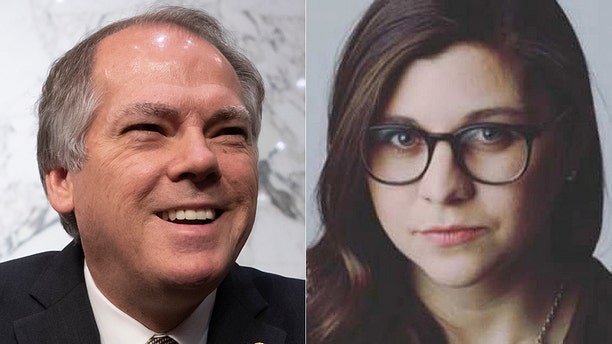 New York Times reporter Ali Watkins' swift rise to prominence in Washington, D.C. journalism circles happened quickly by industry standards, as she is still only 26 years old. But now the media industry is wondering if some of her success is due to top-secret pillow talk — and ethical lapses that may have come with it.
Last week, a shock indictment revealed that prior to joining the Times, Watkins had a three-year romantic relationship with former Senate Intelligence Committee aide James A. Wolfe, 58, who was accused by federal prosecutors of lying about leaks of sensitive information to journalists, including Watkins herself. And now the New York Times has announced it is investigating Watkins' conduct, just as the young reporter is leaving the office for a "pre-planned vacation."
Watkins began her career in 2013 at McClatchy Washington Bureau, where she was a finalist for the coveted Pulitzer Prize less than three years after she started as an intern while she was still earning her journalism degree from Temple University, according to her LinkedIn page. Along with two colleagues, Watkins and her team were finalists for the 2015 national reporting Pulitzer for "timely coverage of the Senate Intelligence Committee's report on CIA torture." She then landed at The Huffington Post and bolted to BuzzFeed and eventually Politico, all by 2017. She stayed at each news organization for a brief time, covering national security.
McClatchy brass told the Washington Post they were not aware of Watkins' relationship with Wolfe, and vice president Tim Grieve told the Post he wasn't sure if she used her lover as a source. The Post pointed out that several stories she wrote for McClatchy were related to the Senate Intelligence Committee.
When Wolfe and Watkins were dating in 2017, the young journalist sent several tweets that appeared to place blame on attorneys for President Trump over various media disclosures. She once wrote, "Trumpster lawyers will leak info about upcoming appearances, blame the committee, then use as a pretext not to cooperate."
Watkins is believed to have started dating the committee aide while she was still an intern at McClatchy, and for years afterward would report on the committee. During her time at BuzzFeed, she published a report mentioned in the indictment which revealed Russian spies attempted to recruit former Trump adviser Carter Page — who eventually be subpoenaed by the Senate Intelligence Committee for his alleged role in Russia's 2016 election meddling (he asserted his Fifth Amendment right to remain silent).
"I've watched your career take off even before you ever had a career in journalism," Wolfe said in a text message to Watkins, according to the indictment. "I always tried to give you as much information that I could and to do the right thing with it so you could get that scoop before anyone else."
BuzzFeed editor Ben Smith won't comment on a reporters sources "in the middle of an unjustifiable leak hunt," while a Politico spokesperson told Fox News that Watkins "did not disclose the personal nature of her relationship early on in her tenure" but once it was disclosed she was "managed accordingly." The HuffPost did not immediately respond when asked if they were aware of her relationship with Wolfe.
Much like fellow star reporter Glenn Thrush, Watkins eventually migrated from Politico to The New York Times. Also like Thrush, her romantic life is the subject of an investigation by Times associate managing editor Charlotte Behrendt.
Thrush was suspended and demoted last year after Behrendt's inquiry into allegations of inappropriate sexual behavior that allegedly occurred when he was a rising star at Politico. While Thrush was accused of sexual misconduct against a colleague, Watkins was in a consensual relationship with a potential source.
The Times announced on Tuesday that it is reviewing Watkins' work history after her email and phone records were seized by prosecutors as part of a federal leak investigation. Watkins informed The Times about the prior relationship after she was hired and before she started working, the paper reported.
She received a letter back in Feb. notifying her that the Justice Department obtained her records, but the star reporter did not inform the Times until late last week — at the advice of her lawyer, according to the paper.
Watkins has denied that Wolfe gave her information illegally during their relationship, according to the Times.
Regardless of who knew, Watkins' is now being accused of unethical conduct by just about every journalism guru to chime in. New York Post columnist Michael Goodwin recently unearthed a quote by famed Times editor Abe Rosenthal when discussing the situation surrounding Watkins.
"I don't care if you f–k an elephant on your personal time, but then you can't cover the circus for the paper," Goodwin recalled Rosenthal once saying in a column headlined, "New York Times reporter broke the biggest rule in journalism."
Media Research Center Vice President Dan Gainor pointed to the Society of Professional Journalists Code of Ethics, which cautions journalists to "Avoid conflicts of interest, real or perceived" and "disclose unavoidable conflicts."
"No sane person could say her actions met that criteria. Yet, incredibly she worked for several top news outlets," Gainor said.
Watkins' attorney Mark MacDougall did not return Fox News' request for comment, but in statement released last week said: "It's always disconcerting when a journalist's telephone records are obtained by the Justice Department — through a grand jury subpoena or other legal process. Whether it was really necessary here will depend on the nature of the investigation and the scope of any charges."
Fox News' Alex Pappas and Andrew O'Reilly contributed to this report.
https://www.foxnews.com/politics/did-hotshot-ny-times-reporter-ali-watkins-simply-benefit-from-top-secret-pillow-talk