Democrats Weigh Benefits, Drawbacks of Tarring Romney With Health Care Law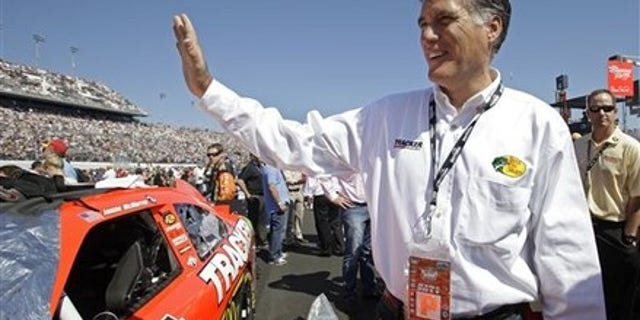 NEWYou can now listen to Fox News articles!
BOSTON -- President Barack Obama and other top Democrats have been quick to lavish praise on former Massachusetts Republican Gov. Mitt Romney for signing the sweeping health care law in 2006 that laid the groundwork for Obama's national health care overhaul.
The fact that repeal of the national law, derided as "Obamacare," was a rallying cry for Republicans in last year's midterm election hasn't been lost on Democratic loyalists who hope to taint Romney by tying him too closely to what is a highly unpopular law among GOP voters.
Some analysts are wondering if that strategy could end up backfiring if Romney wins the Republican nomination for president and has to reach out to independents and moderate Democrats -- especially if those voters start warming up to the national law and its Massachusetts precedent.
"Democrats need to be careful of that strategy of praising him too much," said Julian Zelizer, professor of history and public affairs at Princeton University. "Once he has the nomination he'll be playing to moderates and independent voters and he could use that in his favor."
Boston University communications professor Tobe Berkovitz also warned that Romney could eventually use Obama's comments to appeal to the same voters Obama needs for a second term.
"The fact is, Romney has proven himself to be a very adept politician when it comes to dealing with problematic voters," he said, noting Romney's success in Democratic Massachusetts. "He could take the pushing by the Democrats and flip it around."
Romney has walked a fine line on the 2006 health law, which he once considered a crowning achievement of his single term as Massachusetts governor.
As he weighs another run for the White House, Romney has cautiously defended his decision to sign the health care initiative even as he criticizes the national health law, essentially arguing that the decision to expand insurance coverage should be left up to the states, not the federal government.
A top Romney aide has recently gone a step further, saying Romney is "proud" of what the state law has accomplished. Massachusetts has the highest number of insured residents of any state in the country, with more than 98 percent coverage.
The Democratic plaudits haven't escaped Romney's notice.
During a speech at a recent Republican dinner in New Hampshire, Romney joked about Obama and Democrats spending "more time talking about me and Massachusetts health care than Entertainment Tonight spends talking about Charlie Sheen."
The kudos has been piling up fast.
Addressing a recent meeting of the National Governor's Association, Obama not only credited Romney for providing a blueprint for the federal law, but also said he agreed with Romney that states should take more of a lead on overhauling health care.
"I agree with Mitt Romney, who recently said he's proud of what he accomplished on health care in Massachusetts and supports giving states the power to determine their own health care solutions. He's right," Obama said. "Alabama is not going to have exactly the same needs as Massachusetts or California or North Dakota. We believe in that flexibility."
Obama pointed to another Massachusetts Republican, Sen. Scott Brown, who wants to let states seek a waiver from the federal health care law sooner than the law now allows as long as the states provide coverage of the same quality and affordability as mandated by the national law.
"That's a reasonable proposal," Obama said. "I support it."
Massachusetts Gov. Deval Patrick, who plans to stump for fellow Democrat and friend Obama in next year's election, has also applauded Romney, saying "one of the best things he did was to be the co-author of our health care reform."
As he gears up for an expected 2012 presidential bid, Romney has appeared unsure about whether to distance himself from the law he signed.
At a recent Republican dinner in New Hampshire, Romney vowed to repeal the federal health care law if elected president while saying individual states should be the incubators of new health care approaches.
"Our approach was a state plan intended to address problems that were in many ways unique to Massachusetts," Romney said. "Our experiment wasn't perfect. Some things worked. Some didn't. And some things I'd change.
"One thing I would never do is to usurp the constitutional power of states with a one-size-fits-all federal takeover," Romney said.
While Democrats have been quick to congratulate Romney, his potential GOP challengers have pounced on the same issue.
Former Arkansas Gov. Mike Huckabee has said Romney should offer an apology for the Massachusetts law.
"He has to say either 'I love it,' 'I hate it,' or, 'Hey I tried it, it didn't work and that's why I would say to you, let's not do it nationally,"' Huckabee said last month. "He's got to figure out how he wants to deal with it."
One of the most contentious elements of a national law -- the so-called individual mandate that requires that nearly everyone has insurance or face penalties -- was a key element of the Massachusetts law.
Another Democrat, Massachusetts Attorney General Martha Coakley, who lost a special Senate election to Brown last year, pointed to Romney's support for the individual mandate in an amicus brief her office recently filed in the 4th U.S. Circuit Court of Appeals to support the federal health care law.
The brief quotes Romney's own words in defense of the individual mandate.
"This personal responsibility principle means that individuals should not expect society to pay for their medical costs if they forego affordable health insurance options," Romney wrote in a letter accompanying the health care bill he would later sign.
Romney's ongoing hesitation to fully embrace the law reflects the wider ambivalence among the American populace for the national health law.
If sentiment toward the law warms as next year's election approaches, especially among key independent voters, Romney hesitancy to embrace the law may make him seem out of step with his own legacy. If voters stay cool, Romney's distance may help him.
Whether the Democratic penchant for praising Romney backfires may ultimately depend on Romney himself, according to Paul Watanabe, a political science professor at the University of Massachusetts.
"That strategy would have greater credence if Romney were embracing all the accolades that Obama and Patrick have been giving him," Watanabe said. "But he has been resisting. He's been attempting to divorce himself from it."