Democrats Scramble for Winning Strategy in Final Three Weeks of Election Season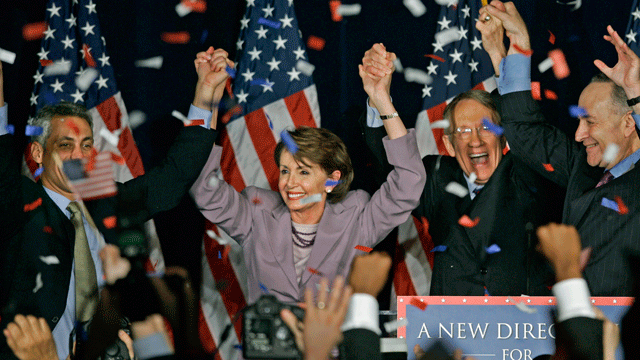 Three weeks from Tuesday, voters will go to the polls to determine whether the political complexion of Congress changes – an outcome widely expected in the House, possibly in the Senate -- ratcheting up pressure on campaigns to avoid any last-minute stumbles or to deliver a Hail Mary.
But election analysts say three weeks probably isn't enough time to alter the course of this campaign season.
"I would not expect anything to happen between now and the election to shift the outlook," said Alan Abramowitz, a political scientist at Emory University and expert on congressional elections.
"The economy is not going to suddenly get better in the next three weeks," he said. "That's the main thing people are upset about."
Michael Franc, the vice president of government relations at the Heritage Foundation and a scholar on midterm races, said the election will be a "referendum on the most ambitious experiment in government activities we've seen in over half a century."
"And it will answer a lot of questions about where Americans reside on what role they would like government to play in their lives," he said. "It looks like there's a decided thumbs-down coming from the heartland about what this administration and president have done over the last two years."
That hasn't stopped Democrats from swinging for the fences. Right now, it's the money game – candidates burning through cash to stay competitive or pull ahead. Democrats are expected to flood the airwaves with any dirt they've found on their opponents in campaign ads released at the 11th hour to avoid thorough scrutiny, analysts say.
It's also time for the parties' campaign committees to leverage their resources and cut bait on some losing candidates to focus on races that are still within reach. Democrats canceled all of their ad reservations in at least six districts where their chances of prevailing seem to be fading, the Washington Post reported Tuesday.
The Democratic Congressional Campaign Committee canceled all of its remaining reservations for districts held by Reps. Suzanne Kosmas of Florida, Kathy Dahlkemper of Pennsylvania and Steve Driehaus of Ohio, along with open seats in Indiana's 8th district, Tennessee's 8th district and Kansas's 3rd district, sources told the newspaper.
The DCCC has also retreated from districts where it is confident of victory – Rep. Joseph Cao's seat in Louisiana and an open at-large seat in Delaware, the newspaper reported.
Republicans need to capture 40 seats to retake the House.
Franc said he'll be closely watching moderate House Democrats like Rep. Bobby Bright of Alabama who have consistently voted against Obama's marquee initiatives to see if they can survive the anti-incumbent wave.
Abramowitz said if Republicans are picking up a lot of seats in New York, Pennsylvania and Ohio early on Election Day, "that would be a good indication that they're going to make big gains by the time the night is over."
On the Senate side, where Republicans need to win 10 seats to gain control, both analysts said they'll be closely watching how Tea Party candidates do in Nevada, Kentucky, Alaska, Colorado, Florida and Delaware, races in which some say Republican establishment candidates would have performed better.
"Tea Party candidates may give Democrats a chance where they otherwise might not have chances," Abramowitz said.
Franc said the new breed of conservative candidates, including Joe Miller in Alaska, Ken Buck in Colorado, Marco Rubio in Florida and Pat Toomey in Pennsylvania, boast some "very strong intellectual power."
"These are not a bunch of guys who fell off the turnip truck," he said, adding that if elected, "they're going to raise the average IQ in the Senate by a lot."
Franc said he hopes the intensity and energy among voters that he says he's never seen like this before has a ripple effect on incumbents, compelling those who return to Congress to be more humble and motivated.
"There's something going on that we haven't seen before," he said. "And it's not just about a single issue. It's about the future of the country."