Democrats Doug Jones and Tina Smith sworn in as senators
By Joseph Weber, ,
Published January 03, 2018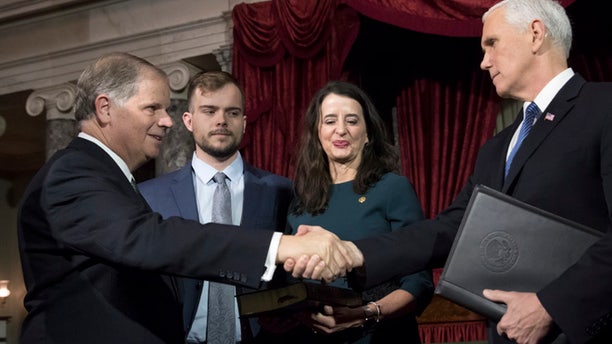 The Senate's newest members were sworn in Wednesday, as Democrats Doug Jones, of Alabama, and Minnesota's Tina Smith took their oaths.
Jones, who won a bruising special election against Roy Moore, and Smith, appointed to temporarily replace disgraced former lawmaker Al Franken, were both sworn in by Vice President Pence.
The 63-year-old Jones, who was accompanied on the Senate floor by his family and former Vice President Joe Biden, will occupy the Senate seat left open by Republican Jeff Sessions, who last year became U.S. attorney general. Jones' stunning victory narrowed the GOP's Senate majority to 51-49.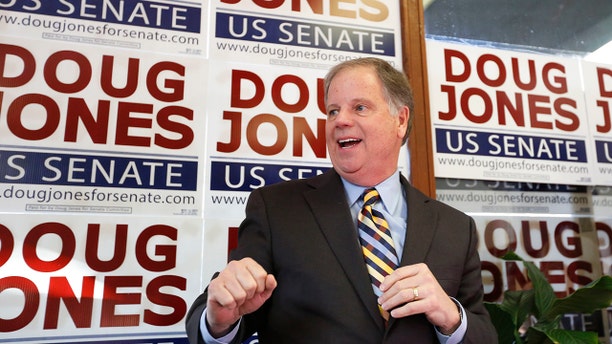 He arrives after one of the most controversial special Senate elections in recent history -- defeating Moore, whose general election bid was toppled in the closing weeks by allegations of sexual misconduct earlier in his political career.
Republicans had held the seat for roughly 25 years, before Moore, a firebrand conservative, lost in mid-December. The seat is up for reelection again in 2020.
Republican Luther Strange occupied the seat until Jones' victory. Strange, as the preferred candidate among Washington Republicans, lost a primary bid against Moore to keep the seat for the GOP.
Jones, a former federal prosecutor, has vowed to make a top priority of getting long-term funding for CHIP, formally known as the Children's Health Insurance Program.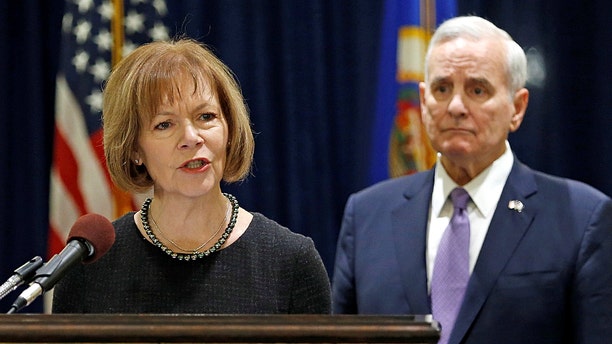 Congress, as part of the temporary spending bill it passed last month, gave $3 billion to restart the program and keep it running through March. Congressional Democrats and Republicans support the program, which ran out of money in September 2017, but the parties disagree over how to keep it going.
Jones recently told Fox News that he supports liberal-backed issues like continued protections for young illegal immigrants and not using taxpayer money for a U.S.-Mexico border wall. But he suggested he wanted to wait until being sworn in before taking on such "complicated" issues.
Still, he has acknowledging winning in conservative-leaning Alabama with bipartisan support and has expressing a willingness to find "common ground" with congressional Republicans on legislative issues.
The senators and the guests chatted on the Senate floor for several minutes after the brief swearings-in and before going to the Old Senate Chamber to allow photographers to take pictures.
Sen. Chuck Grassley, was among five GOP senators to attend the event. "Chuck Grassley from Iowa," he said while shaking Jones's hand.
Biden then jumped in. "He's a good guy," he said of Grassley.
The other GOP senators were Senate Majority Leader Mitch McConnell, Kentucky, and Sens. John Barasso, Wyoming; Thom Tillis, North Carolina, and Susan Collins, Maine. There were about 20 Democrats in the chamber.
The 59-year-old Smith was Minnesota's lieutenant governor until appointed last month by Democratic Gov. Mark Dayton to serve in place of Franken.
Franken left Congress last month and officially resigned Tuesday, amid allegations of sexual misconduct. He apologized but says he has a different recollection of at least some of the encounters.
Smith said when appointed that she intends to compete in the special election in November to serve the final two years of Franken's term.
She is considered a liberal Democrat and expected to largely support Senate Democratic leadership's agenda.
Former Minnesota GOP Rep. Michele Bachmann added some early drama to the upcoming race when she expressed interest in running for the seat.
In the Old Senate Chamber, former Vice President and Minnesota Democratic Sen. Walter Mondale, who accompanied Smith, said, "This was a forgotten room when I was here. I used to come over a lot."
Pence also spoke briefly with Mondale, noting how Mondale was the first vice president to live full time in the vice president's residence.
"Come over any time," Pence told Mondale. "We'd love to have you."
Pence also called being with two other vice presidents on Capitol Hill "very humbling."
Fox News' Chad Pergram contributed to this story.
https://www.foxnews.com/politics/democrats-doug-jones-and-tina-smith-sworn-in-as-senators