Democratic groups gearing up for a Hillary Clinton presidential campaign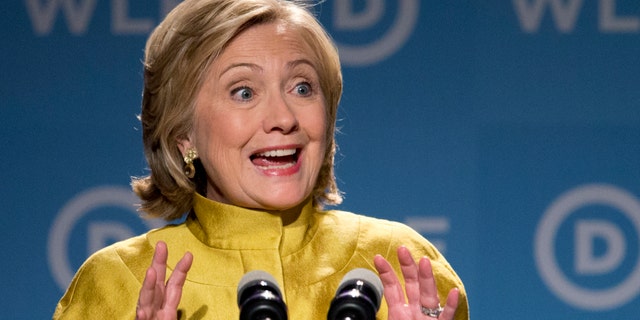 A large amount of Democratic groups are preparing for Hillary Clinton to announce her plans to run for president in the 2016 election.
An unaffiliated super PAC, Ready for Hillary, is meeting with Clinton insiders Friday to prepare strategies aimed at helping Clinton win the election, if she decides to run. Clinton has not made any plans to seek the presidency yet.
Ready for Hillary will join leaders of Democratic groups Priorities USA Action, American Bridge 21st Century and Correct the Record to review the 2014 elections and prepare for next year. In some cases, the groups will be wrapping up their efforts while others are beginning to ramp up.
"Everyone has a lane," said former Michigan Gov. Jennifer Granholm, the co-chair of Priorities USA Action and an adviser to Ready for Hillary. "We are going to work together and seamlessly so there's no infighting."
The super PAC already has more than 1.5 million people promising to help Clinton if she runs. The group has raised more than $10 million to gain volunteers for the potential run. If Clinton does decide to run, the group plans to transfer its data to her campaign.
Agriculture Secretary Tom Vilsack, a former Iowa governor who backed Clinton's presidential campaign, will speak at the meeting as a private citizen, aides said.
Donors will also hear from Democratic strategists who could play senior roles in a future Clinton campaign, including Guy Cecil, the executive director of the Senate Democrats' campaign arm and a former Hillary Clinton campaign aide; Stephanie Schriock, the president of EMILY's List; Ace Smith, a California-based Democratic strategist who directed Hillary Clinton's 2008 primary campaigns in three states; and Mitch Stewart, a former Obama campaign aide who has advised Ready for Hillary.
Supporters of the former secretary of state argue that, despite having eschewed the rough and tumble of politics for six years, she used her time on the stump this fall to good effect, forging new and strong ties with local party chieftains in states where such connections will prove valuable to a presidential run in two years.
"I think Hillary Clinton did yeoman's work in campaigning out there for Democrats," said Patti Solis Doyle, a former Clinton campaign manager in 2008, in an interview with Fox News. "She did what she could to help her friends, and very strong Democrats out there. She raised money for them; she campaigned for them."
Solis Doyle, who recalled chatting amiably with Clinton at a Georgetown event last month, thought her former boss effectively used the midterms cycle to regain her footing as a stump speaker after a long absence from the trail and the difficulties of the "Hard Choices" rollout.
"There has been some criticism over the book tour," Solis Doyle said. "But I think what was good about that is that it was able to get some of the, you know, not-great performances out of the way, and she's sort of back in her game. ... I thought her performance on the stump during the 2014 midterm elections was pretty good."
The Associated Press contributed to this report