Democrat Wendy Davis running for Texas governor
By ,
Published December 20, 2015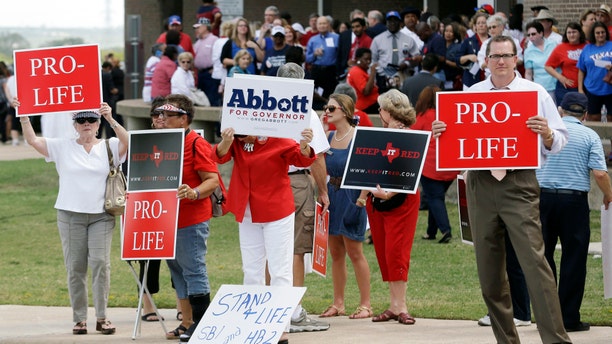 Democratic state Sen. Wendy Davis declared her candidacy for governor of Texas on Thursday, promising to focus on the needs of average Texans.
In an email to supporters, Davis said she would focus on education, economic development and health care.
Davis has said that her experience going from being a single teen mother to a successful Harvard-trained attorney informs her political views and her commitment to Texas' middle-class residents.
The Fort Worth lawmaker rose to national prominence in June for her nearly 13-hour filibuster against new abortion restrictions in Texas.
Davis' opponents plan to use her support for abortion rights to rally conservative Christian voters next fall. About 40 anti-abortion demonstrators marched outside the venue where Davis was speaking Thursday, and Texas Right to Life plans to begin airing an ad over the weekend that calls her an "abortion zealot."
If her defense of abortion rights angered the right, it inspired Democrats who urged her to run for governor in 2014 and reinvigorate a party that hasn't won statewide office since 1994. Her speech in the Legislature also added to her donor list, both in Texas and across the country.
"I thought the filibuster was inspiring and it seems like she really cares about people," said Amanda Fisher, a 24-year-old from Dallas. Fisher said she was considering volunteering for a political campaign for the first time.
Davis must raise money quickly to compete with the front-runner for the GOP nomination, Attorney General Gregg Abbott. He has already raised $25 million to her more than $1 million.
Experts say Davis and the political action committees supporting her will need to spend about $40 million to make it a competitive campaign in Texas, where Democrats have not won more than 42 percent of the vote in the last three elections.
But national Democratic support and changing state demographics give Davis a chance to end the party's 20-year losing streak in Texas, Democratic consultants say.
Davis' personal story -- from a trailer park to Texas Christian University to the Harvard Law School -- has captured the imagination of many of her supporters.
She was a successful attorney when she decided to enter politics by challenging a veteran Republican state senator in Tarrant County in 2008. She narrowly won that race and a tough re-election bid in 2012, when most voters in her district cast ballots for GOP presidential candidate Mitt Romney.
Observers say her ability to win Republican crossover votes will be critical if she expects to beat Abbott, who has the full strength of the GOP establishment behind him.
Davis originally promised to announce her intentions by Labor Day, but her father became ill following complications from abdominal surgery and died Sept. 5.
https://www.foxnews.com/politics/democrat-wendy-davis-running-for-texas-governor