De Blasio's European trips costs NY taxpayers over $40G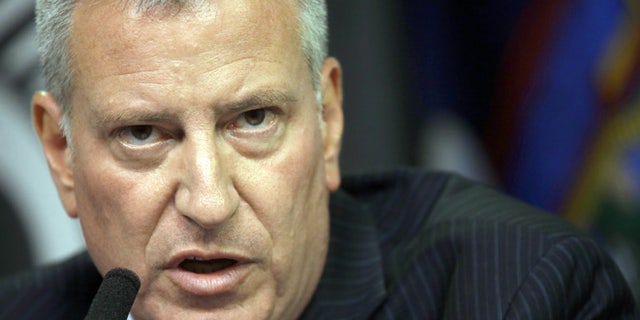 NEWYou can now listen to Fox News articles!
Three trips to Europe for New York City Mayor Bill de Blasio have cost city taxpayers over $40,000, according to public records obtained by the Washington Free Beacon.
De Blasio's most recent excursion to Rome for a two-day meeting on climate change in July cost $17,731.42 for him and two aides, who stayed at a luxury hotel next to the Vatican, drank prosecco, and ate tiramisu on the taxpayer's dime.
De Blasio did not meet Pope Francis, who hosted the event, though he said it was "fun even to be close to him."
The Democratic mayor's overnight flight on July 20 from JFK to Fiumicino cost $2,607.80, and his return less than two days later ran to $1,901.30.
De Blasio stayed at the Palazzo Cardinal Cesi, a palace hotel that dates back to the 1400s. Monica Klein, Michael Carey, and Penny Abeywardena, three city officials, also stayed with the mayor at the hotel.
"The Palace was built in 1400 and was bought by Cardinal Pierdonato Cesi who had it restructured and refurbished, turning it into an antiques and art museum, and installing a well-endowed library," according to the luxury hotel's website. "Today, the Generalate of the Salvatorians has converted part of the building into an elegant and exclusive 'welcoming home,' with 30 rooms all fully equipped with every amenity. Each room is a small cosy haven, furnished with taste and style [sic]."
"Here the guests can personally experience the spirituality of this unique place, drenched in history at the very heart of Christendom, with the enormous privilege of being able to stay so close to the Holy Father's residence," the hotel said.