CNN's April Ryan misquotes Sarah Sanders to imply she wanted physical fight: 'It was street'
By Brian Flood, ,
Published May 04, 2018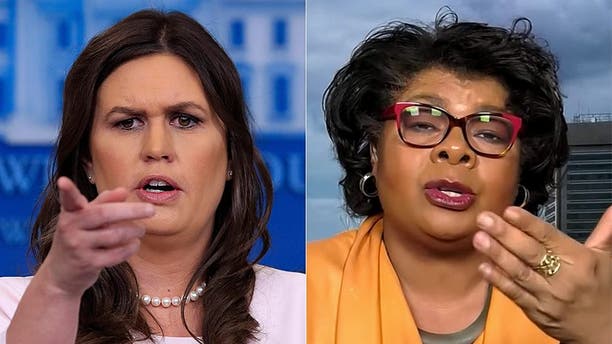 CNN political analyst April Ryan twisted Sarah Sanders' words on Thursday night in order to make the absurd suggestion that the White House press secretary is looking for a physical confrontation with the star reporter.
After Ryan asked a combative question during Thursday's press briefing, accusing her of being "blindsided" by comments Rudy Giuliani recently made on Fox News, Sanders told Ryan, "Well, with all due respect, you actually don't know much about me in terms of what I feel and what I don't."
Ryan misquoted Sanders while speaking to CNN colleague Don Lemon on-air afterwards, claiming the press secretary said, "You don't know me," before declaring the phrase to be fighting words.
"For Sarah Huckabee Sanders, the presidential spokesperson, the mouthpiece for the President of the United States, to say, 'You don't know me,' in certain quarters in this nation, that starts a physical fight," Ryan said. "I was very shocked. It was street. I will even go beyond that, it was gutter."
Sanders did not immediately respond to request for comment.
Sanders, who is from Hope, Ark., soon found herself catching Twitter shade from none other than former Democratic Baltimore Mayor Stephanie Rawlings-Blake – as first reported by Daily Caller's Amber Athey – who offered Baltimore native Ryan an "unsolicited comeback suggestion."
Rawlings-Blake recommended that next time, Ryan should say, "I may not know you, but I damn sure know a LIE! And you are wearing it Sis, all over your face -oh wait is that a smudge in your liner."
The "liner" remark is a callback to the controversial standup routine during the White House Correspondents' Dinner when Michelle Wolf poked fun at the press secretary's eye liner.
Ryan quickly responded, "Lol stop. Bmore in the house I know you have my back. That you don't know me stuff begins fist fights. She needs to know what she is saying. I am not the one."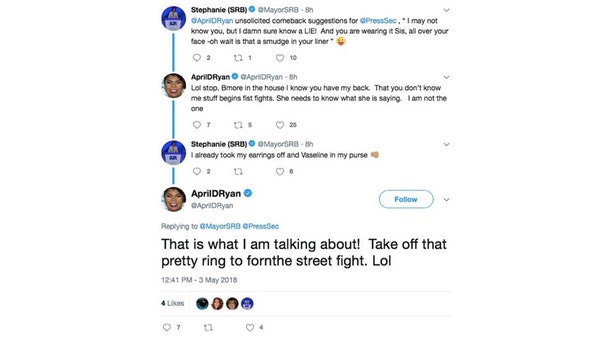 Rawlings-Blake then responded, "Already took my earrings off and Vaseline in my purse," and added a fist emoji, to which the CNN political analyst fired back, "That is what I am talking about! Take off that pretty ring to fornthe [sic] street fight. Lol."
Ryan and Sanders have been involved in verbal altercations in the past. Sanders recently slammed Ryan, who is American Urban Radio's White House correspondent, for asking if President Trump has thought about stepping down.
Sanders fired back, "No, and I think that's an absolutely ridiculous question."
Ryan also famously accused Sanders of lying about whether or not she baked a pie for Thanksgiving.
The United States Secret Service directed Fox News to CNN and the White House when asked if they consider the latest comments a threat. CNN did not respond to request for comment.
Fox News' Brooke Singman contributed to this report.
https://www.foxnews.com/politics/cnns-april-ryan-misquotes-sarah-sanders-to-imply-she-wanted-physical-fight-it-was-street