Clinton: Obama Administration Has Done More for Israel Security Than Any Other U.S. Administration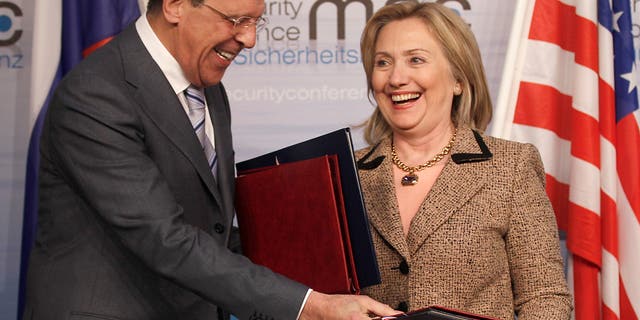 NEWYou can now listen to Fox News articles!
With Egyptian unrest flaring over Israel's shoulder and Palestinian demands for a capital in East Jerusalem ringing through Mideast peace process talks, U.S. Secretary of State Hillary Clinton said Sunday the Obama administration has done more for Israel's security than any other U.S. presidency.
Speaking to reporters during a trip home from Munich where she attended a global security conference of more than 70 nations, the top U.S. diplomat said the nation is "unalterably, unequivocally committed to Israel's security."
"In fact, this administration, under President Obama, has done more in two years for Israel's security than any administration in the past. So we not only talk about Israel's security, we have delivered and will continue to deliver," she said.
Asked to provide an example of how the administration has ensured Israel's security, Clinton responded: "I think that the facts speak for themselves about what we have done to help buttress and support Israel's security. Some of it is unclassified, some of it is classified."
Adding that the administration is "on a constant outreach campaign," Clinton said she is "not going to put any value statement" on her claim.
Clinton's comments followed a weekend meeting of members of the Quartet responsible for trying to forge a peace process between Israel and the Palestinians.
Afterward, the group issued a statement citing unrest in Egypt as an example of "how further delay in the resumption of negotiations is detrimental to prospects for regional peace and security."
It also emphasized the need for the parties "to undertake urgently the efforts to expedite Israeli-Palestinian and comprehensive Arab-Israeli peace."
Israel is on high alert as it deals with the potential of a new Egyptian regime coming into power that would end the 30-year peace agreement between Israel and Egypt and stop trade. On Saturday, a pipeline between Egypt and Israel exploded. Egyptian Judge Abdel Nasser el-Tayeb reportedly issued an investigative study Monday that concluded that four men stormed a terminal, restrained two guards and set off explosives by remote control.
Meanwhile, the Jerusalem Post reported Monday that Israel has refused to allow more Egyptian troops into the Sinai, which is demilitarized Egyptian territory ceded by Israel in the 1979 peace accord. Last week, Israel approved the movement of 800 Egyptian troops to the area on Israel's southern border.
"We do not want it to seem as if the peace treaty is meaningless, particularly at a time when there could be a regime change in Egypt, which could renounce the treaty altogether," a senior military source told the Jerusalem Post.
As Israel looks askance at the potential security problems Egypt's unrest may cause, it has offered Palestinians a series of goodwill measures to get the peace process going, including approval of new Arab housing projects in eastern Jerusalem, an extension of Palestinian Authority presence in the West Bank through the construction of schools and health clinics, and desalinization plants and gas field development in Gaza that would require shipping construction materials into Hamas-led territory.
But Palestinian negotiator Saeb Erekat reportedly has rejected the offer calling it "tricks and procrastination."
Construction of 16 new apartments in East Jerusalem was approved by a building committee Monday. The Quartet statement added that it "regrets" Israel's decision not to renew its 10-month moratorium on building. It also condemned rocket fire from Gaza on Israel.