CIA pick Haspel wins key Dem endorsements ahead of confirmation vote
By Brooke Singman, ,
Published May 15, 2018
President Trump's pick to lead the CIA Gina Haspel picked up endorsements from key Democrats Tuesday ahead of a confirmation vote expected later this week.
Vice Chairman of the Senate Intelligence Committee Mark Warner, D-Va., Sen. Heidi Heitkamp, D-N.D., and Sen. Bill Nelson, D-Fla., all offered support to Haspel on Tuesday afternoon.
"I'm going to support Gina Haspel's nomination to be Director of the CIA. I also respect my colleagues who have made a different decision," Warner said in a statement, acknowledging that his endorsement was a "difficult decision" and citing "valid questions" raised throughout the process about Haspel's history.
Heitkamp also said she is "planning to vote to confirm" Haspel on Wednesday.
"This was not an easy decision. Ms. Haspel's involvement in torture is deeply troubling, as my friend and colleague, John McCain, so eloquently reminded us," Heitkamp said in a statement. "However, Ms. Haspel explained to me that the agency should not have employed such tactics in the past and has assured me that it will not do so in the future."
Nelson said Haspel "has earned the respect and backing of former intelligence chiefs from the Bush and Obama administrations."
"I will vote to support her nomination to be the next director of the CIA," the Florida senator said.
These endorsements follow Haspel support from Democratic Sens. Joe Manchin and Joe Donnelly. All but Warner are facing tough re-election races this year.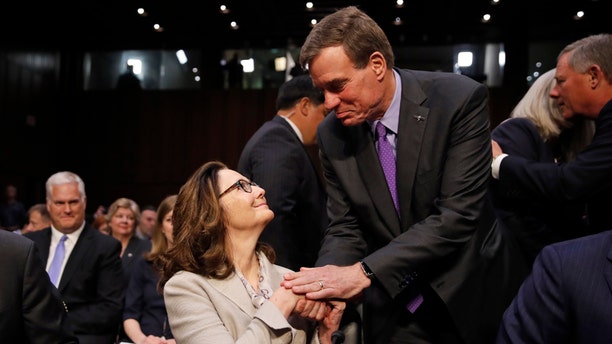 Haspel was nominated to replace former CIA director and now-Secretary of State Mike Pompeo. Senate Majority Leader Mitch McConnell, R-Ky., said her confirmation vote will be held this week. A committee vote is expected Wednesday.
Haspel appears to have the votes for confirmation, despite opposition from GOP Sen. Rand Paul. Ailing Sen. John McCain, R-Ariz., also opposes Haspel but is unlikely to vote
Haspel has proven to be a controversial pick for the president, over her history at the CIA and the agency's use of harsh interrogation tactics.
But in a letter to Warner on Monday, Haspel wrote that "the enhanced interrogation program is not one that the CIA should have undertaken."
"I believe she is someone who can and will stand up to the President if ordered to do something illegal or immoral—like a return to torture," Warner said.
In the letter, Haspel wrote that she would not "condemn" those who made the "hard calls" after the 9/11 terror attacks. But she added that the interrogation program "ultimately did damage to our officers and our standing in the world."
Fox News' Chad Pergram and Kaitlyn Schallhorn contributed to this report. 
https://www.foxnews.com/politics/cia-pick-haspel-wins-key-dem-endorsements-ahead-of-confirmation-vote