Capitol Hill buried in clutter, days before new Congress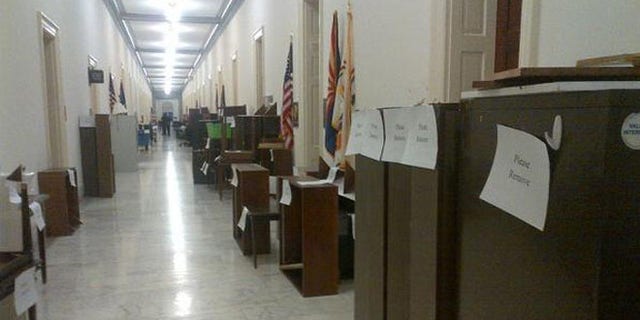 Congress is a mess. And not in the way you might think.
There's a forest of desks arrayed in an otherwise vacant, subterranean service corridor of the Rayburn House Office Building. A maze of office chairs haphazardly abandoned in the basement of Longworth. A series of 22 black-and-silver file cabinets line a wall in a tunnel below Cannon. No fewer than 18 separate pieces of office furniture -- from bookshelves to desks to chairs to lamps to TV sets each festooned with a computer-printed sign reading "Please Remove" -- occupy Cannon's second floor.
Making law is messy. But legislating is nothing compared to what goes into making Capitol Hill ready for a new Congress to next week.
Hundreds of congressional offices are on the move. More senior lawmakers matriculating to more commodious suites. Retiring or defeated lawmakers ceding their offices. Offices prepped, painted, wired and appointed for freshmen members who'll be sworn-in January 6.
Workers channeling Andy Warhol dotted a repeated pattern of five Benjamin Moore "Wet Paint" signs in a row in a third-floor Rayburn hallway. Nearby, a giant cart implores passersby "Please Do Not Remove." Yet the cart's contents are limited to a crushed Dunkin' Donuts box and the carcass of an empty Doritos bag.
Most people cancel their papers when they go on vacation over the holidays. But seemingly no one in Congress cancels the papers when lawmakers head out on vacation.
Capitol Hill becomes the world's largest collection of unread newspapers around the holidays. Want to know if a congressional office is open or closed? It's probably shuttered and hasn't been visited in days if a prodigious stack of newspapers, all bound together with twine, blocks the doorway. You'll find copies of The Washington Post, Wall Street Journal, New York Times and USA Today. The office of Rep. Lamar Smith, R-Texas, includes a copy of Investor's Business Daily.
Someone in Rayburn raided a copy of The Washington Post from the stash of papers deposited outside the office of Rep. Judy Chu, D-Calif. Perhaps they actually just wanted the ads. Parts of the paper are strewn about the hallway. And perhaps they only wanted some of the ads. A Walgreen's flier remains, splayed open, on the floor as well.
Some congressional offices feature seasonal decorations besides the newspaper stacks. A large holiday wreath adorns the main entranceway to the office belonging to Rep. Rosa DeLauro, D-Conn., on the fourth floor of Rayburn. Over on the sixth floor of Longworth, the doors to the office of Rep. Grace Napolitano, D-Calif., are dressed in wrapping paper. One door is emblazoned with a toy soldier pattern. The other with Christmas trees. A welcome mat reading "Joy!" rests at the base of the door in place of the de rigueur newspaper stacks found at other offices.
Any item someone could possibly use in an office can now be found in the hallways. Appliances are particularly big. In Rayburn, eight Toshiba and RCA TV's are stacked up in the basement. Several "Micro Fridges" are stowed in the hall between the offices of Reps. Ann Kirkpatrick, D-Ariz., and Kathy Castor, D-Fla., in Longworth. Four floor lamps stand erect (sans shades), a coat tree and three couches without cushions are found in the hall by the office of Rep. Bill Flores, R-Texas.
Back in the Rayburn basement, one can stumble upon a comically high stack of what must be hundreds of plastic carpet protectors for rolling chairs, latched together with plastic straps. Two large canisters of Ricoh toner -- one yellow, one red -- stand upright in a corner. Around another bend sits a stack of broken down table legs strung together like cordwood. A black office chair is tagged with a special sticker reading "Clean in Place." Someone scribbled in Magic Marker on the underside of a desk "Pierluisi 1217." Another piece of furniture bears a similar inscription in ink. "Contact Angeline, 1213." Several office dividers feature tags reading "Paint all ceilings" and "Getting new paint."
A discarded map of Colorado lies against a wall nearby.
Late December transforms congressional corridors into a bizarre treasure trove. It's like some twisted scavenger hunt, worthy of urban explorers who usually spend their time spelunking abandoned sanitariums and subway stations.
Stroll past the line of Allsteel file cabinets in the Cannon basement and you'll find various drawers labeled "Approps" (short for Appropriations, the committee that determines how to spend federal dollars).
Someone slapped a "Colorado Brewers Guide" sticker on one cabinet. A sticker for "Betelnut Radio" is affixed to another drawer (some research reveals that Betelnut Radio is an online radio station featuring Polynesian and island music). Other drawers are categorized as Obama Flags, Military Special Projects, Press and Empty. Another drawer features a sign reading A Young Person's Guide to the U.S. Capitol.
A Capitol worker ambles by and pulls open a few of the drawers just to see if there are any contents inside. He finds nothing.
The file cabinets may yield little of value. But that's not always the case when it comes to the hallways of Congress. Some seemingly innocuous items are quite valuable (to the unscrupulous eye) -- if someone knows what to look for.
In the new Congress, Room 1213 of the Longworth House Office Building will belong to Rep.-elect Gwen Graham, D-Fla. In fact Graham's name is already stamped on the nameplate. Resident Commissioner Pedro Pierluisi, a Democrat and the non-voting delegate to Congress from Puerto Rico, previously held this office and has now abandoned it for other digs. Yet sitting against one of the doors is a tall stack of oversized yellow-orange envelopes. Pierluisi's pre-printed signature is etched in the upper right-hand corner where a stamp belongs. This is what's called a congressional "frank," authorized by the Constitution.
A franking privilege is where lawmakers can send official mail by simply scribbling their name on the envelope to cover the postage. That's how members did it in the old days. Now all of the stationary and envelopes come with the name already inscribed. And franked envelopes lying askew in the hall could tempt an ethically-challenged someone who may want to send out some official mail.
The office of Rep.-elect Dan Newhouse, R-Wash., on the sixth floor of Longworth also presents an interesting offering. The office is locked up tight. But there on top of a copy of The Washington Times rests a pair of maroon, women's flats with a little bow above the toe -- there for the taking.
The Cannon House Office Building has five floors. And the fifth has long been considered to be the equivalent of Congressional Siberia. The offices are generally more cramped, less opulent and even have a series of steel "cages" across the hall where some aides and interns toil. And it's hard to get to that floor. Not all of the elevators in the building travel to the top floor. Some detractors -- sometimes not-so-jokingly - say the elevator deficiency is a metaphor for the people who work on the fifth floor.
A lot in Congress is based on seniority. So it's no surprise that freshmen lawmakers are relegated to Cannon's fifth floor. And when they gain seniority, many desert this stratum as fast as they can. For this Congress, Reps. Dan Benishek, R-Mich., and Paul Gosar, R-Ariz., begin their third terms in Congress as fifth-floor holdovers. But many other senior lawmakers left.
New occupants will include freshman Reps.-elect Tom Emmer, R-Minn., David Young, R-Iowa, Glenn Grothman, R-Wis., Norma Torres, D-Calif., and Evan Jenkins, R-W.V.
Grothman's office features a sign declaring that "Congressman Swalwell has Moved to 129 Cannon." Young's doorway carries a similar message informing visitors that "The office of Rep. Alan Lowenthal has Moved to 108 Cannon HOB."
And then there is 512 Cannon. Freshman Rep.-elect Elise Stefanik, R-N.Y., is setting up shop here. But for now, her door bears this message: "THE OFFICE OF MICHAEL G. GRIMM (NY-11) HAS MOVED TO 1725 LONGWORTH."
And sure enough, Rep. Michael Grimm, R-N.Y., who pleaded guilty last week to felony tax evasion and is now planning to resign, is now over in Longworth.
For the time being.
Three signs can be found outside Grimm's office. One announces that the office is closed through "Monday, December 21." Another instructs those wishing to reach Grimm's office to phone the district office on Staten Island "if there is an emergency." And finally, a third sign informs visitors dogs are sometimes present inside.
"Please Enter with Care," reads the sign.
Capitol Attitude is a weekly column written by members of the Fox News Capitol Hill team. Their articles take you inside the halls of Congress, and cover the spectrum of policy issues being introduced, debated and voted on there.