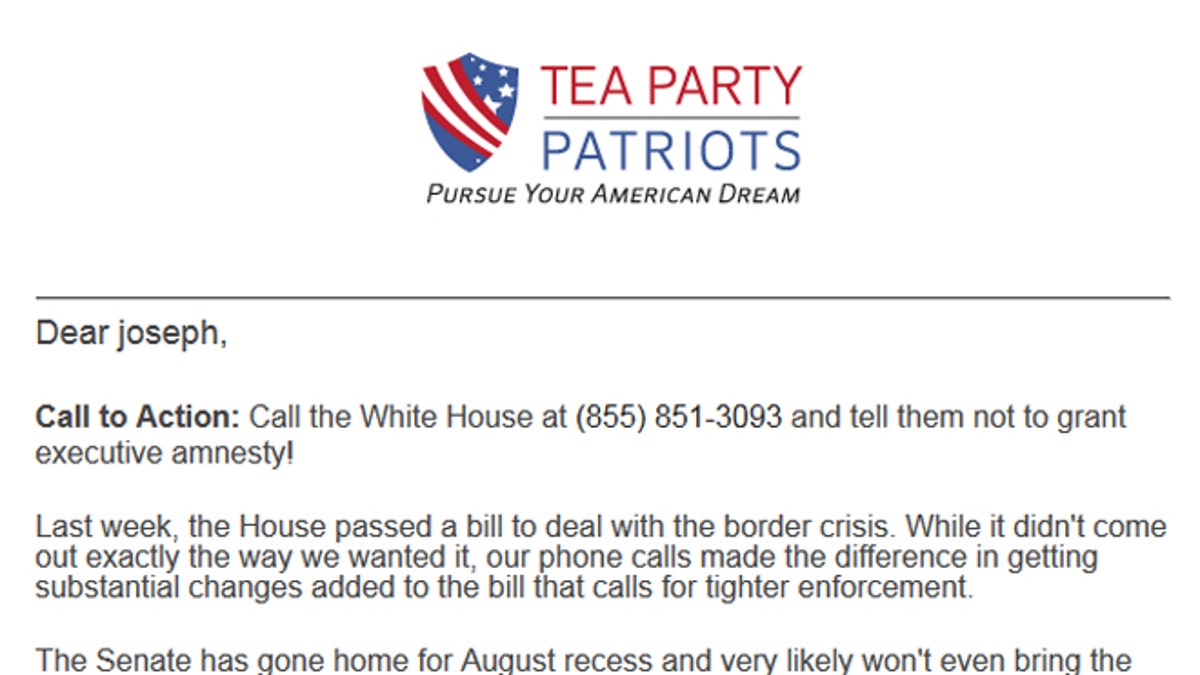 With emails that appear more like pleas from a penniless buddy or an ex-girlfriend, political campaigns are resorting to more personal- and desperate-sounding messages to make final fundraising pleas.
"Need to reach you," reads the subject line of one recent email.
How could anybody delete an email that could be from their mom stranded on the highway with a flat tire, right?
Bill Scheel -- part of the campaign for Arizona Democratic gubernatorial candidate Fred DuVal that sent the email -- acknowledges that one and others are indeed part of a trend to connect with potential donors in a more specific way.
"We want to be as personal as possible," he told FoxNews.com on Tuesday. "It's all part of a tremendous science that is now very important to campaigns."
Still, Scheel says, the DuVal campaign draws the line at sending "doom and gloom" emails -- like one this summer from Tea Party Patriots.
"The tears are starting to flow," the message begins, perhaps with the intent of making a recipient think he forgot his toddler's birthday.
"I just think that sends the wrong message," Scheel said. "We're sending positive, upbeat messages. That's what our campaign is all about."
Former Bush campaign and White House aide Taylor Griffin argues the science goes well beyond subject lines to include email content and all of social media.
"Technology has been a real game-changer in voter contact," said Griffin, a strategist-turned-first-time candidate who lost a close GOP primary this summer to North Carolina Rep. Walter Jones.
"The more you can personalize and segment different voters, the more you can communicate with them about specific issues."
Campaigns typically hire firms that specialize in such work, which includes phone canvasing, culling voter rolls and acquiring membership lists.
Strategists give the example of sending a straightforward, pro-gun message to potential voters listed in the membership rolls of a Second Amendment advocacy group.
Griffin points out that Facebook is also powerful in crafting narrowly focused messages to potential voters.
Candidates can place a specific ad on the Facebook homepage of specific, potential voters based on their Internet profiles, essentially an online history that includes where they shop and which websites they have visited.
"These are highly effective ways to connect with voters on issues," Griffin said.
The one email that perhaps most connected with message-weary voters this year began with the subject line: "Would You Like Us to Leave You Alone?"
This inbox chestnut was sent eight days before election night by the Conservative Campaign Committee.
The beginning of the message is also compelling, the story of a long-time female conservative -- describe as a "true patriot" but now sick and tired of all the emails.
However, the narrative eventually tacks to a standard fundraising pitch that includes the lines: "You can contribute any amount. … If you can afford a contribution of $100 or more JUST CLICK HERE."
Scheel understands how the woman could be frustrated over such emails, cleverly crafted or not, which is why those from the DuVal campaign and others allow recipients to unsubscribe.
He also points out that too many unopened or rejected emails can create problems for campaigns with Internet watchdogs.
"It's not to our advantage to keep sending emails that people won't open," Scheel said.