California Group Seeks to Curb Flow of Legal Immigration Until Jobless Rate Falls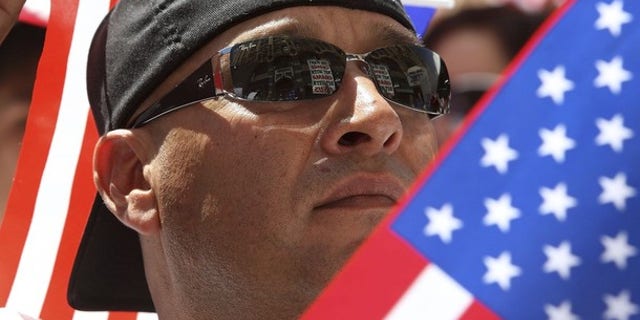 NEWYou can now listen to Fox News articles!
A group in California is calling for a reduction in the number of legal immigrants allowed to work in the state until more Californians are working again.
Californians for Population Stabilization says the federal government continues to admit more than 1 million immigrants and temporary workers a year "to take American jobs despite the country's highest unemployment levels since the Great Depression."
The group launched a TV campaign last month, with ads airing in San Francisco, San Luis Obispo and Bakersfield, where the group says the jobless rate exceeds 16 percent but has topped 18 percent within the last year.
In the ad, a man separates the first two letters from the word "illegal."
"Attention is turning to the millions of illegal workers in the state. It's about time," he says. "But what about these workers: legal foreign workers?"
Marilyn DeYoung, the group's board chairman, told Fox News Latino that she wants to lower the number of all foreign work visas, from those given to seasonal agricultural workers harvesting fruit to the H1B's given to highly-skilled workers, such as foreign engineers who come to work in Silicon Valley.
"Of course people who have a degree from Sri Lanka would like to come here because they get the experience and they get much better wages," she told Fox News Latino. "But the employer is paying half of what they would an American worker. And Mr. Sri Lanka doesn't come alone. He comes in and he brings his parents, his grandparents, his children. It's chain migration, it's not just him."
In the press releases announcing the ads in the cities, DeYoung calls out Rep. Kevin McCarthy, the No. 3 Republican in House, saying it's time for him to "stand up" for California workers.
A spokesman for McCarthy did not respond to a request for comment.
California is forced to borrow $40 million a day from the federal government to pay unemployment benefits while the federal government continues to flood the state with legal immigrants and temporary workers, the group said, citing recent studies by the Pew Hispanic Center and Northeastern University that show new immigrants are landing jobs while Americans are losing them.
But the Coalition for Humane Immigrant Rights of Los Angeles strongly disputed the group's message and said it only revealed the true intentions of the anti-illegal immigration movement.
"Many of these organizations have said their only problem was with illegal immigrants. What they're now showing in fact is they also have a problem with legal migration," said Angelica Salas, the coalition's director told FoxNews.com.
"For the state of California, it has a high level of immigration," she said. "It's really a matter of how do we fully integrate immigrants and support immigrants with their entrepreneurial spirit so they can contribute more for our community to thrive and our economy to thrive."